Updated September 15, 2023
A New Hampshire LLC operating agreement includes the policies, procedures, and ownership of the company. It is not required by law but is highly recommended for rules and ownership to be established by the members. The company should be run in accordance with the operating agreement and if any changes are made they should be reflected in an amendment. Each member should keep a copy of an agreement and is not filed with any government office.
Is an Operating Agreement 

REQUIRED

in New Hampshire?
No. New Hampshire state law does not mandate that businesses must implement an operating agreement.
By Type (2)
---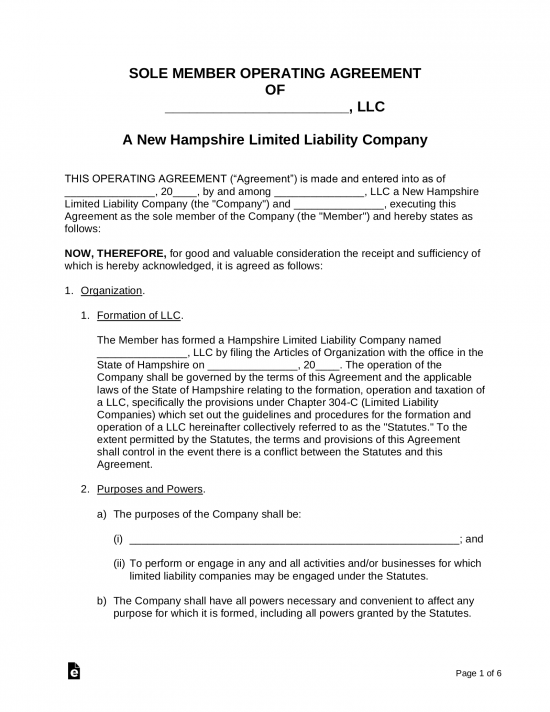 Single-Member LLC Operating Agreement – To be used for companies with only one (1) owner. The document, once filed, will separate the owner's assets from the business. It will also establish company procedures and activities. This form helps separate the owner's assets from the business's debts.
Download: PDF, MS Word (.docx), OpenDocument
---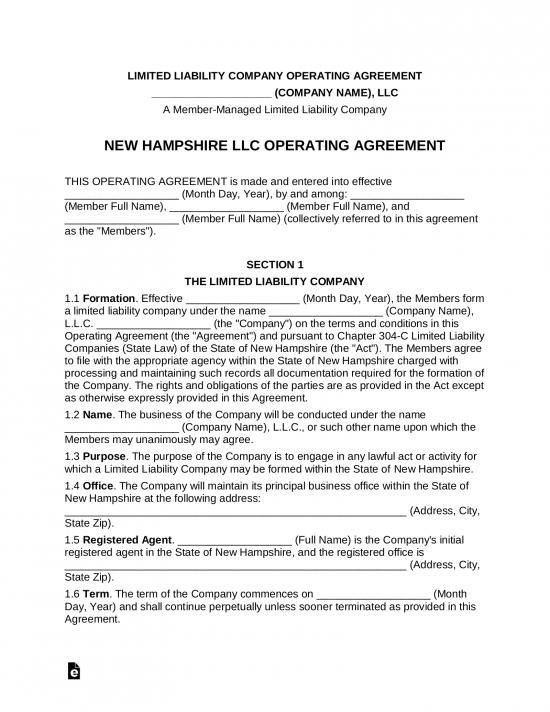 Multi-Member LLC Operating Agreement – Use this form for companies that will have more than one (1) owner/managing member, to outline the various functions of the company policies and procedures.
Download: PDF, MS Word (.docx), OpenDocument
---
How to Form an LLC in New Hampshire (6 steps)
Filers attempting to register a Domestic or Foreign LLC in the State of New Hampshire should investigate the availability of their operating name before commencing the LLC filing process. The Secretary of State's Corporation Division allows filers to Search the State Records to ensure the availability and uniqueness of any particular business name.
2. LLC Type
The specific filings you submit to the State will depend on the category of LLC being filed. Review the information below to understand which LLC type is suited to your business.
Domestic LLC – An LLC being formed within the State
Foreign LLC – A preexisting LLC expanding into New Hampshire
3. Complete the Application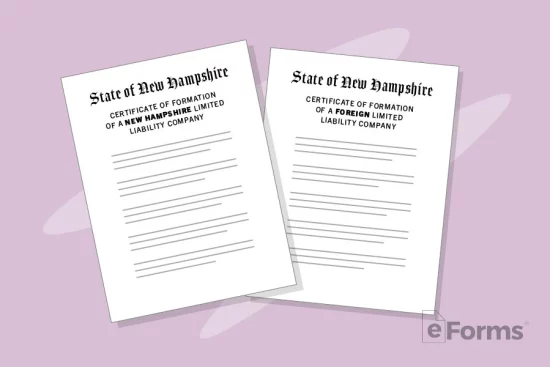 Select the application below which corresponds with your LLC type. If you want to file online, you'll need to create an account
here
.
Domestic – Articles of Incorporation
Foreign – Application for Registration
*To pay the filing fee, enclose a check made out to the 'State of New Hampshire.' All forms filed electronically carry a $2 handling charge.
4. Submit your Filings
The last step of the LLC filing process is to submit your documents to the Secretary of State's Corporation Division. If filing by mail, send your documents to the following address:
Corporation Division, NH Dept. of State, 107 N Main St, Rm 204, Concord, NH 03301-4989
Alternatively, you may hand-deliver your filings to the Corporation Division. Their operating hours are Monday through Friday, 8:30am – 4:00pm, and they are located at the below address.
State House Annex, Room 317, 25 Capitol Street, 3rd Floor, Concord, NH 03301
The fee for filing is $100.
5. Operating Agreement
LLC owners are advised to draft an operating agreement once successfully filed with the Secretary of State's offices. The form is not required, though implementing an agreement of this nature provides documentation of each member's financial interest in the company as well as other provisions established by the managing member(s).
6. Employer Identification Number (EIN)
The Internal Revenue Service issues an Employer Identification Number to business entities for the purpose of reporting tax information. Applying for an EIN is free of charge and will enable your LLC to hire employees and otherwise conduct a variety of legal financial transactions.
To apply for an EIN, you may:

Laws
"Operating Agreement" Definition
"Operating agreement" means any agreement, including any amendments or restatements, whether referred to as a limited liability company agreement, operating agreement, or otherwise, of the member or members as to the internal affairs of a limited liability company or the conduct of its business.
Video