Updated August 28, 2023
A Wyoming LLC operating agreement is a legal document that manages the rights and duties of each member in regard to running the operations of the company. it should include the rights of each member in addition to their ownership. All appointments of officers, managers, and agents must be agreed to at the inception of the agreement. Any changes made must be done by written amendment. After signing, each member is required to keep a copy of the operating agreement for their records.
Is an Operating Agreement 

REQUIRED

in Wyoming?
No. Businesses in Wyoming are not legally mandated to adopt an operating agreement.
By Type (2)
---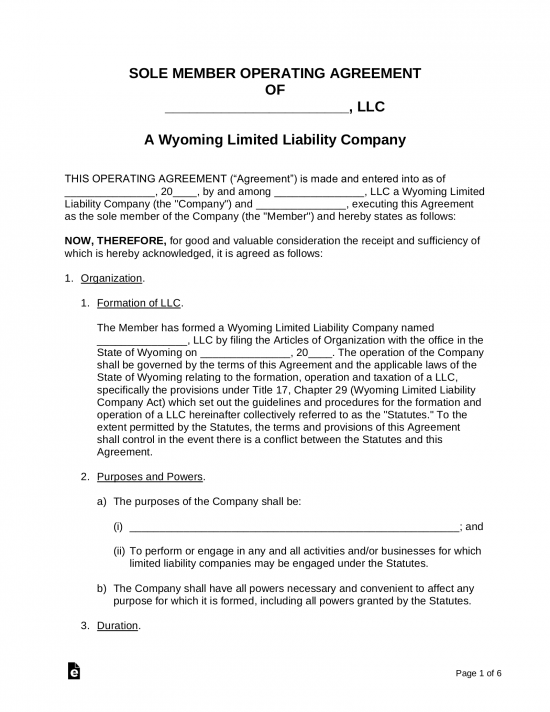 Single-Member LLC Operating Agreement – This document is to be used for sole proprietors so that they may organize their basic policies and procedures appropriate to smaller entities.
Download: PDF, MS Word (.docx), OpenDocument
---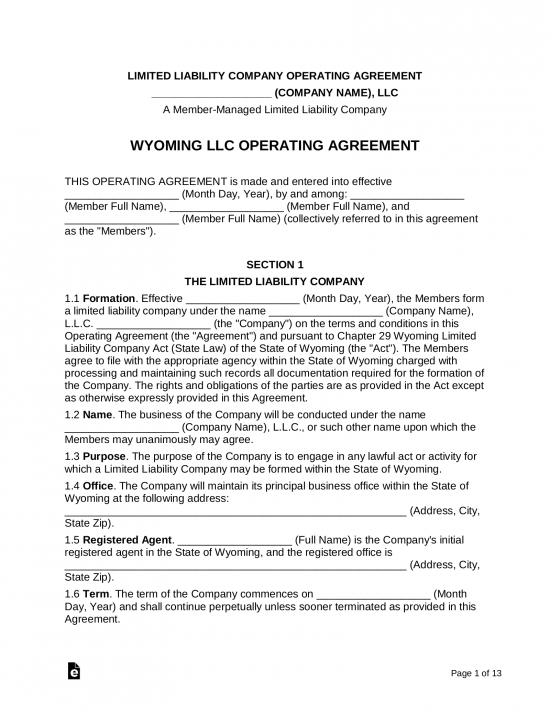 Multi-Member LLC Operating Agreement – Use this particular form if the business is one that will have more than one (1) managing member.
Download: PDF, MS Word (.docx), OpenDocument
---
How to Form an LLC in Wyoming (5 steps)
The first step to the LLC filing process is the selection of an operating name which has not already been taken by another business. The name must also be distinguishable from that of any other entity currently registered in Wyoming (i.e. not deceptively similar). Therefore, you should conduct a Search for your Business Name to ensure its availability and uniqueness.
1. Elect a Registered Agent
Each LLC will need to elect a Registered Agent to receive state filings and to act as a contact in the event of legal action against the company. Choose your registered agent based on the criteria set forth in § 17-28-101 of the Wyoming Statutes.
Note: The Wyoming Secretary of State has provided a list of Commercial Registered Agents.
2. Complete the Application
From the following options, select the one that corresponds with your LLC type and complete the subsequent application:
Domestic – Articles  of  Organization
Foreign – Application  for  Certificate  of  Authority
Foreign Filing Requirements:
A certified copy of the initial articles of organization and all amendments certified within the past six (6) months by the appropriate official in the initial jurisdiction
A copy of the company resolution which authorizes the continuance of the LLC into Wyoming
3. Filing Fee
The Secretary of State demands a $100 filing fee in order to process LLC applications.
If applying online, you will be prompted to pay the fee with your credit card before completing the application process
If you are submitting a paper application, attach a check made payable to the 'Wyoming Secretary of State' and send your filings to the following address:
Wyoming Secretary of State, 2020 Carey Avenue, Suite 700, Cheyenne, WY 82002
4. Operating Agreement
An LLC operating agreement is not required in Wyoming, however, drafting this document will allow you establish a suitable operating system for your company. The form can be used to outline policies as well as any other provision not defined in the initial formation articles.
5. Employer Identification Number (EIN)
Most businesses operating in the country will need to obtain an Employer Identification Number (EIN) in order to conduct certain financial transactions legally. An EIN may be obtained for free on the Internal Revenue Service's Website or through the mail using Form SS-4.
Laws
"Operating Agreement" Definition
"Operating agreement" means the agreement, whether or not referred to as an operating agreement and whether oral, in a record, implied or in any combination thereof, of all the members of a limited liability company, including a sole member, concerning the matters described in W.S. 17-29-110(a). The term includes the agreement as amended or restated.
Video