Updated August 25, 2023
A Tennessee LLC operating agreement is created by the members of a company that is used to conduct its business affairs. The agreement also includes terms related to the members including ownership and responsibilities. There is no other document, privately or filed with the state, that registers the ownership of the entity. After all members have signed, a copy should be kept by each member.
Is an Operating Agreement 

REQUIRED

in Tennessee?
No — LLCs in Tennessee are not legally required to adopt an operating agreement.
By Type (2)
---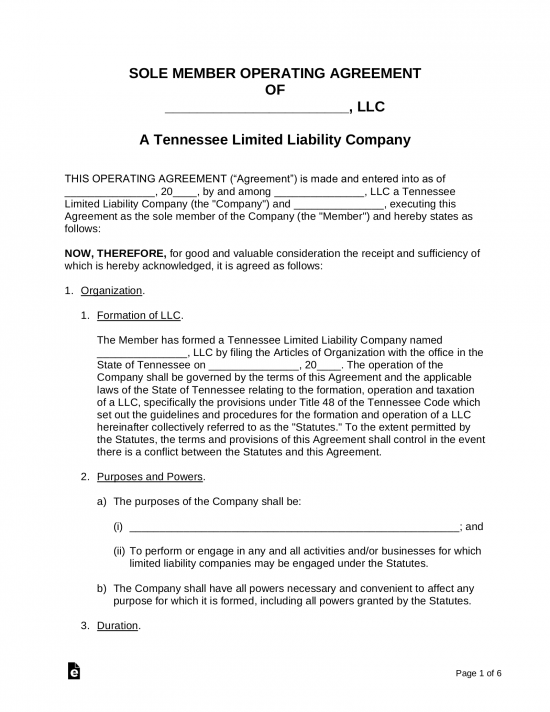 Single-Member LLC Operating Agreement – For use specifically by a sole owner who would like to outline their policies and procedures and create the protective separation between their private assets and their company.
Download: PDF, MS Word (.docx), OpenDocument
---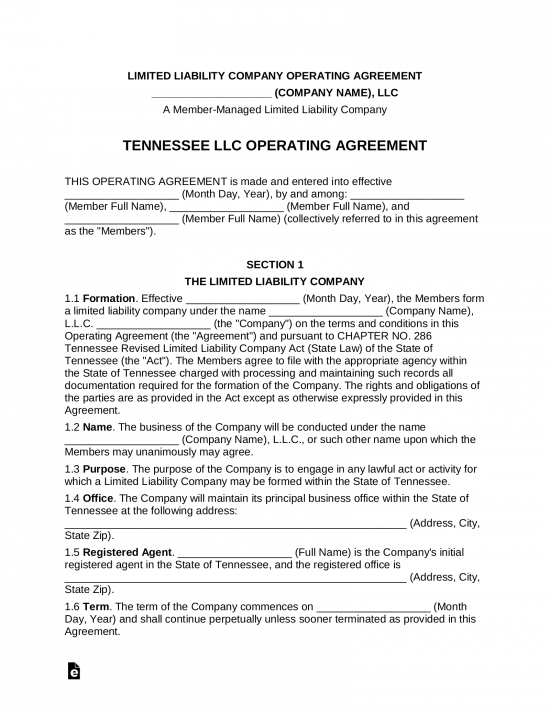 Multi-Member LLC Operating Agreement – For use by companies with more than one (1) member who would be interested in setting forth their company policies in writing and offering protection to their members.
Download: PDF, MS Word (.docx), OpenDocument
---
How to Form an LLC in Tennessee (5 steps)
Individuals attempting to file an LLC in Tennessee should first ensure that their operating name is available and distinct in the Secretary of State's records. Any duplicate or deceptively similar names will be rejected by their offices. Because of this, it is best to conduct a Preliminary Search for the name to confirm its availability.
1. Elect a Registered Agent
Each LLC must elect a third-party representative, known as a Registered Agent, to receive official documents on the company's behalf. State law demands that the Registered Agent be one of the following:
An individual who resides in Tennessee
A qualified business transacting business in Tennessee
2. Registration Documents
Select your LLC type and complete the registration documents that follow.
Domestic – Articles  of  Organization

Online – select Limited Liability Corporation from the drop-down menu

*Foreign – File an existing company initially formed

outside

Tennessee

Online – select Limited Liability Corporation from the drop-down menu
*Foreign applicants must include with their filings a Certificate of Existence (or similar document) which has been authenticated by an official in the initial jurisdiction and dated within two (2) months of filing.
3. Filing Fee
The State demands a filing fee of $50 per member (minimum $300 – maximum $3,000).
Online Payment – Follow the prompts to pay the fee with your credit card
Paper Payment – Enclose a check/money order and send all articles to the following address:
Secretary of State, Snodgrass Tower, ATTN: Corporate Filing, 312 Rosa L. Parks AVE, Nashville, TN 37243
4. Operating Agreement (optional)
LLC owners are advised to draft an operating agreement after filing with the Secretary of State's offices. The agreement allows the managing member(s) to put in place provisions which will govern the general operation of the company (e.g. set meeting times, outline the responsibilities of each member).
5. Employer Identification Number (EIN)
The Employer Identification Number is a nine-digit number issued to a business by the Internal Revenue Service for the purpose of reporting tax information. Once obtained, the EIN will enable your business to legally pay employees and conduct a variety of financial transactions.
Laws
"Operating Agreement" Definition
"Operating agreement" means a written agreement described in § 48-206-101 among the members concerning the LLC.
Video