Updated April 14, 2023
A Washington D.C. LLC operating agreement is written among the members of a company that establishes how it will be run and the relationship between the members. It should include the officers, voting rights (of members), and the company's ownership. An operating agreement is the only document that records the ownership of the company and is recommended for a copy to be held by each member. It is not filed with the District of Consumer and Regulatory Affairs.
Is an Operating Agreement 

REQUIRED

in Washington D.C.?
No. LLCs are not legally required to adopt an operating agreement in Washington D.C.
By Type (2)
---
Single-Member LLC Operating Agreement – For LLCs with only one member. Accomplishes the same functions as an operating agreement for a bigger LLC, but consolidates power and responsibility in a single member.
Download: Adobe PDF, MS Word (.docx), OpenDocument
---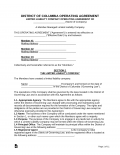 Multi-Member LLC Operating Agreement – For LLCs that will have more than one member. This agreement allows for the identification of multiple members and the assignment of their roles and obligations.
Download: Adobe PDF, MS Word (.docx), OpenDocument
---
How to Form an LLC in Washington D.C. (6 steps)
All LLCs must have an official legal name. Once possible names are chosen, before filling out any paperwork, it's a good idea to make sure that another business entity is not already using that. Consult the Washington D.C. Business Info database to assure that the name is available.
Step 1 – Choose a Registered Agent
A Registered Agent, sometimes called a statutory agent, is a person who will receive official communications on behalf of the LLC. The registered agent may be a person, or another business entity. If the agent is to be a person, that person must be a resident of Washington D.C.; if the agent is to be a business entity, that entity must be registered in the District. There are companies specifically set up to help foreign LLCs meet this requirement.
Step 2 – Fill out Articles of Organization
A "domestic" LLC is one that is formed in the District, while a foreign LLC is formed elsewhere. Both types are required to file Articles of Organization in order to transact business in the District, but they have distinct applications.
Domestic – Articles  of  Organization

Online – create profile, access the online services main page, and proceed

Foreign – Foreign  Registration  Statement
Step 3 – Pay the Filing Fee
Domestic – $99
Foreign – $220
If paying online, payment must be made via credit card. Those applying via Adobe PDF may apply either in person, or mail the required documents to:
Department of Consumer and Regulatory Affairs, Corporations Division, PO Box 92300 Washington, DC 20090
Step 4 – Create an Operating Agreement
Washington D.C. does not require limited liability companies to have an operating agreement, but it is highly advisable to create one as soon as possible after registering. Along with the liability protections described in the introduction, operating agreements make it easier to attract interest and funding by providing assurance of stable management practices.
Step 5 – Secure an Employer Identification Number (EIN)
An Employer Identification Number (EIN) is a number assigned to a business entity by the Internal Revenue Service (IRS). An LLC should obtain one as soon as possible after formation. An EIN enables a business to make financial transactions in its name, and without one, it will be maintain bank accounts, pay employees or obtain lines of credit. Applying for an EIN may be done online or through the mail using Form SS-4.
Laws
"Operating Agreement" Definition
"Operating agreement" means the agreement, whether or not referred to as an operating agreement and whether oral, in a record, implied, or in any combination thereof, of all the members of a limited liability company, including a sole member, concerning the matters described in § 29-801.07. The term includes the agreement as amended or restated.