A Montana advance directive is a document that lets a person designate a health care agent to make decisions on their behalf and to outline special directions for treatment. The form only becomes available for use after the patient has been confirmed to be incapacitated. In such an event, the agent selected would be able to make health care decisions for the patient in accordance with their defined medical wishes.
Advance Directive Includes
Table of Contents
Laws
Statute – Title 53, Chapter 21 (Mental Health Care Advance Directives)
Signing Requirements (§ 53-21-1304(2)(d)) – Two (2) witnesses and a notary public.
State Definition (§ 53-21-1302(3)) – "Directive" means a mental health care advance directive or any part of a mental health care advance directive.
Versions (6)
---
Download: Adobe PDF
---
Download: Adobe PDF
---
Download: Adobe PDF
---
Download: Adobe PDF
---
Download: Adobe PDF
---
Download: Adobe PDF
Registry
After an individual completes an advance directive it is recommended to be registered with the declaration registry (§ 50-9-501). This can be completed by filling-in the Consumer Registration Agreement (Spanish (Español) Version) and send to the following address:
Office of Consumer Protection P.O. Box 201410 Helena, MT 59620-1410
After approximately 2-3 weeks the Office of Consumer Protection will send back the form along with wallet cards and other supplements. This is a 100% free service provided by the State of Montana.
How to Write
Download: Adobe PDF
Step 1 –
Related Forms
---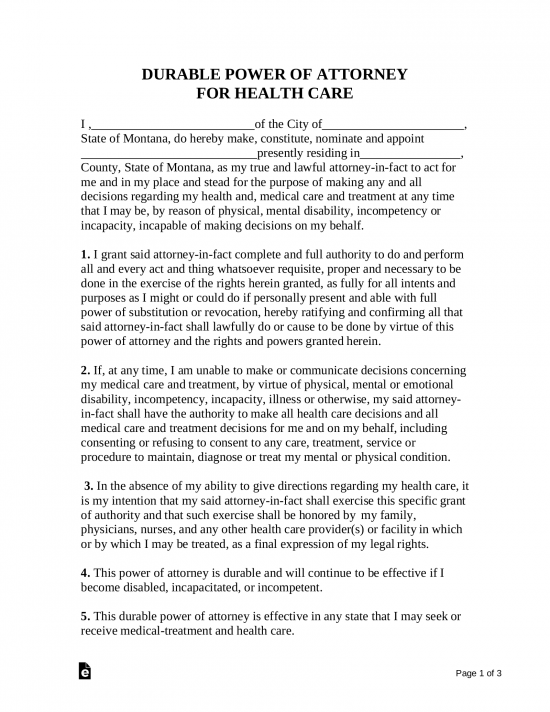 Durable Financial Power of Attorney
Download: Adobe PDF, MS Word, OpenDocument
---
Download: Adobe PDF, MS Word, OpenDocument