Updated November 15, 2023
A Colorado last will and testament is a legal document that allows a testator (the person to whom the will belongs) to communicate their wishes with regard to the distribution of personal, fiduciary, or real property upon their death. Under Colorado law, a will document must be signed by the testator before two or more competent witnesses or before a notary public.
Signing Requirements
Must be signed by
at least two individuals
within a reasonable time after they witnessed the testator's signing of the will. Or it can be signed before a
notary public
or another individual authorized by law.
[1]
State Definition
"Will" includes any codicil and any testamentary instrument that merely appoints an executor, revokes or revises another will, nominates a guardian, or expressly excludes or limits the right of an individual or class to succeed to property of the decedent passing by intestate succession.
[2]
Related Forms
---
Download: PDF
---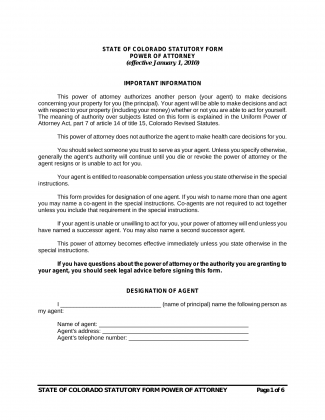 Durable Financial Power of Attorney
Download: PDF
Sources