Updated March 16, 2023
A Colorado last will and testament is a legal document that allows a testator (the person to whom the will belongs) to communicate their wishes with regard to the distribution of personal, fiduciary, or real property upon their death. This document ensures all property left behind will be properly dispersed in accordance with the testator's instructions among family, friends, domestic partners, charities, or whomever else the testator names as a beneficiary. Under Colorado law, a will document must be signed by the testator before two (2) or more competent witnesses or before a notary public.
Laws
Signing Requirements
At least two (2) individuals, each of whom signed within a reasonable time after he or she witnessed the testator's signing of the will; OR it can be signed before a notary public or another individual authorized by law. (§ 15-11-502)
State Definition
"Will" includes any codicil and any testamentary instrument that merely appoints an executor, revokes or revises another will, nominates a guardian, or expressly excludes or limits the right of an individual or class to succeed to property of the decedent passing by intestate succession.
Related Forms
---
Download: Adobe PDF
---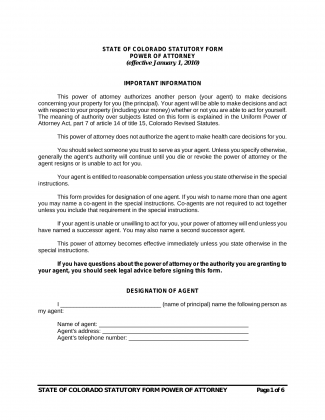 Durable Financial Power of Attorney
Download: Adobe PDF