The Colorado last will and testament is a legal document that allows the testator to communicate your wishes with regard to how you would wish to distribute any aspect of your personal, fiduciary, real property. This document will ensure all that you leave behind, that is intended for the care of your family, friends, domestic partners, charities or whomever else you may choose, will be properly directed according to your wishes and desires. This document will require the witness of two people and witness of a notary public.
Definition – § 15-10-201(59)
Laws – CRS Title 15 (Probate, Trusts, and Fiduciaries)
Signing (§ 15-11-502) – At least two individuals, each of whom signed within a reasonable time after he or she witnessed the testator's signing of the will or it can be signed before a notary public or other individual authorized by law.
Related Forms
---
Download: Adobe PDF
---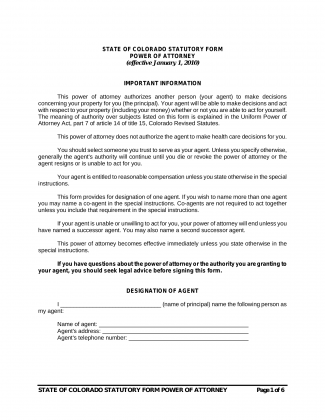 Durable Financial Power of Attorney
Download: Adobe PDF
---
How to Write
Step 1 – Place the name of the Testator at the top of the form and continue by entering the following
Testator
City
County
Testator must review the remaining information
Read the "Expenses and Taxes" area of the form
Step 2 – Appoint an Executor –
Enter the full name of the appointee
City
County
State
Alternate Executor – provide an alternate executor and their information in case an alternate is needed
Name of alternate
City of alternate's residence
County and State of alternate's residence
Step 3 – Disposition Property
Beneficiaries – Provide all of the following information for each beneficiary listed as follows:
Name
Current Physical address
Relationship to testator
Enter the last four digits of SSN for each beneficiary
Testator must provide property being bequeathed to each beneficiary individually
Testator must review the remaining information regarding how testator's property may be distributed if a beneficiary dies before the testator
Step 4 – The following titled sections of the form must be reviewed by the testator
Omission
Bond
Discretionary Powers of Personal Representative A through K
Contesting Beneficiary
Guardian Ad Litem  Not Required
Gender
Assignment
Governing Law
Binding Arrangement
Step 5 – Signatures/Witnesses – Signatories must all be present prior to providing the following information:
Testator's name
Date the testator's signature  – dd/mm/yyyy format
Testator Signature
Print the Testator's name
Witnesses – Read the brief statement –
Date the document in dd/mm/yyyy format
Enter the name of the Testator
Witness 1 – 
Witness Signature
Witness' address
Witness 2 –
Witness Signature
Witness' address
Step 6 – Testament Affidavit – All parties must carefully review the affidavit and complete the following:
State
County
Name of testator
Name of Witness 1
Name of Witness 2
AND ENTER
Testator Signature
Witness 1 Signature
Witness 2 Signature
Step 7 – Notarization – Once all signatures have been entered, the notary public will complete the form with acknowledgement