Updated July 17, 2023
A New Jersey last will and testament is a document used for estate-planning purposes, which outlines instructions on how a person wants his or her estate to be distributed upon death. This individual, known as the "Testator," can utilize a will to dictate the distribution of assets– such as real and personal property, fiduciary assets, life insurance policies, cash-on-hand, and many others– among friends, family, and even charitable organizations. A testator may also appoint a chosen executor or personal representative who shall manage the estate in accordance with the will terms. Under New Jersey law, wills must be witnessed and signed by two (2) credible witnesses in order to be legally executed. Wills may be revoked or changed by the testator at any time, as long as they are of sound mind to do so.
Laws
Signing Requirements
Signed by Two (2) Witnesses. (Section 3B:3-2)
State Definition
"Will" means the last will and testament of a testator or testatrix and includes any codicil and any testamentary instrument that merely appoints an executor, revokes or revises another will, nominates a guardian, or expressly excludes or limits the right of a person or class to succeed to the property of the decedent passing by intestate succession.
Related Forms
---
Download: PDF
---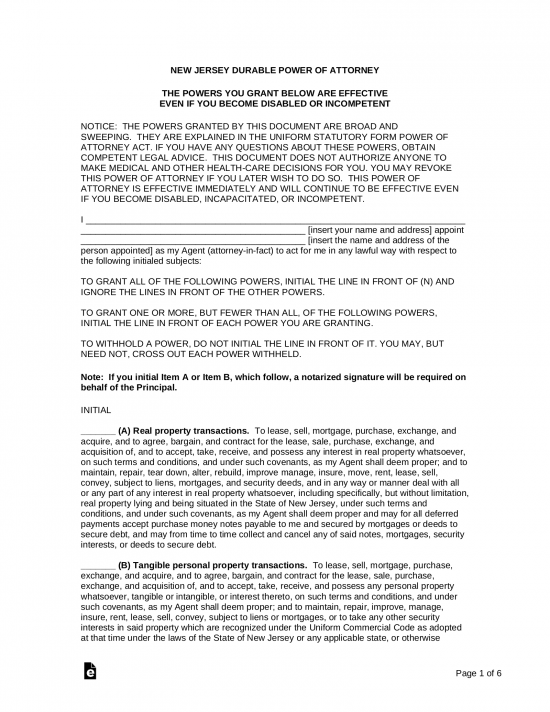 Durable (Financial) Power of Attorney
Download: PDF