Updated March 16, 2023
A North Carolina last will and testament is a legal document set forth by a testator (person to whom the will belongs) to ensure their estate is properly distributed upon their death in accordance with their wishes. A testator can determine how their real estate, fiduciary assets, personal property, and even digital property shall be dispersed among family, friends, and organizations– all according to the testator's personal intentions and not those imposed by state law upon the death of an individual with no will.
A will in North Carolina, once drafted, must be signed by two (2) witnesses who have acknowledged the testator's signature. The document can also be notarized if the testator wishes to add an extra and optional layer of legal protection. It should be understood that as long as the testator is of sound mind, they may elect to change or revoke the document at any time.
Laws
Signing Requirements
Signed by the testator and attested by at least two (2) competent witnesses. (G.S. 31-3.3)
State Definition
"Will" includes an attested written will that complies with the requirements of G.S. 31-3.3 or a holographic will that complies with the requirements of G.S. 31-3.4.
Related Forms
Download: Adobe PDF
---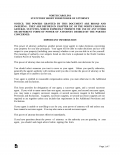 Durable (Financial) Power of Attorney
Download: Adobe PDF