Updated November 27, 2023
A self-proving affidavit is used to confirm that a will or codicil was created of the testator's own free will. The affidavit also includes language that verifies, under oath, that the witnesses viewed the testator signing the will or codicil in their presence. After creation, the self-proving affidavit should be attached and made part of the document.
Main Purpose
A self-proving affidavit's main purpose is to confirm a last will was signed in accordance with state law. This is in case a third party questions the validity of the last will.
By State
Louisiana*
Maryland*
Ohio*
Washington D.C.*
*Not permitted under state law.
Is a Will Valid Without a Self-Proving Affidavit?
Yes — a will is considered valid as long as it is created in accordance with state laws and signed in the presence of two witnesses who are not a part of the will.
While a self-proving affidavit is not required by law, it is highly recommended to expedite the probate process.
How to Make a Self-Proving Affidavit (3 steps)
2. Meet with a Notary Public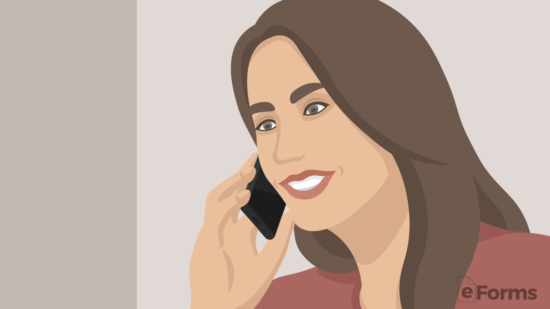 The testator will need to make arrangements to make a time with a notary public with the witnesses.
It's recommended to use any of the following:
Signing Requirements
| | Signing Requirements | Statutes |
| --- | --- | --- |
|  Alabama | Two witnesses and a notary public. | § 43-8-132 |
|  Alaska | Two witnesses and a notary public | § 13.12.504 |
|  Arizona | Two witnesses and a notary public | § 14-2504 |
|  Arkansas | Two witnesses and a notary public | |
|  California | One witness | § 8220 |
|  Colorado | Two witnesses and a notary public | § 15-11-504 |
|  Connecticut | One or more witnesses and a notary public | § 45a-285 |
|  Delaware | Two witnesses and a notary public | § 12-13-1305 |
|  Florida | Two witnesses and a notary public | § 732.503 |
|  Georgia | Two witnesses and a notary public | § 53-4-24 |
|  Hawaii | Two witnesses and a notary public | § 560:2-504 |
|  Idaho | Two witnesses and a notary public | § 15-2-504 |
|  Illinois | Two witnesses | § 755-5-6-4 |
|  Indiana | Separate affidavit not required. | § 29-1-5-3.1 |
|  Iowa | Two witnesses and a notary public | § 633.279(2) |
|  Kansas | Two witnesses and a notary public | § 59-606 |
|  Kentucky | Two witnesses and a notary public | § 394.225 |
|  Louisiana | Not permitted. | No statute. |
|  Maine | Two witnesses and a notary public | § 2-503 |
|  Maryland | Not permitted. | No statute. |
|  Massachusetts | Two witnesses and a notary public | § 2-504 |
|  Michigan | Two witnesses and a notary public | § 700.2504 |
|  Minnesota | Two witnesses and a notary public | § 524.2-504 |
|  Mississippi | At least one witness and a notary public | § 91-7-7 |
|  Missouri | Two witnesses and a notary public | § 474.337 |
|  Montana | Two witnesses and a notary public | § 72-2-524 |
|  Nebraska | Two witnesses and a notary public | § 30-2329 |
|  Nevada | Two witnesses and a notary public | § 133-050 and § 133-055 |
|  New Hampshire | Separate affidavit not required. | § 551-2-a |
|  New Jersey | Two witnesses and a notary public | § 3B:3-4 |
|  New Mexico | Two witnesses and a notary public | § 45-2-504 |
|  New York | Two or more witnesses and a notary public | § 1406 |
|  North Carolina | Two witnesses and a notary public | § 31-11.6 |
|  North Dakota | Two witnesses and a notary public | § 30.1-08-04 |
|  Ohio | Not permitted. | No statute. |
|  Oklahoma | Two witnesses and a notary public | § 84-55(5) |
|  Oregon | One or more witnesses and a notary public | § 113.055 |
|  Pennsylvania | Two witnesses and a notary public | § 3132.1 |
|  Rhode Island | One or more witnesses and a notary public | § 33-7-26 |
|  South Carolina | One or more witnesses and a notary public | § 62-2-503 |
|  South Dakota | Two witnesses and a notary public | § 29A-2-504 |
|  Tennessee | One or more witnesses and a notary public | § 32-2-110 |
|  Texas | Two witnesses and a notary public | § 251-104 |
|  Utah | Two witnesses and a notary public | § 75-2-504 |
|  Vermont | Two witnesses and a notary public | § 14-3-108 |
|  Virginia | Two witnesses and a notary public | § 64.2-452 |
|  Washington | Two or more witnesses and a notary public | § 11.20.020 |
| West Virginia | One or more witnesses and a notary public | § 41-5-15 |
|  Wisconsin | Two witnesses and a notary public | § 853-04 |
|  Wyoming | Two witnesses and a notary public | § 2-6-114 |