Updated August 02, 2023
A Rhode Island self-proving affidavit form is a sworn statement that may be attached to an individual's last will and testament so that the attesting witness(es) will not need to testify in court during the probate process. State law allows one (1) or both witnesses to sign a self-proving affidavit, however, if one (1) witness does not sign, they may still be asked to give testimony if the Will is contested. Such an affidavit can be made before or after the death of the Settlor (the individual whose Will is being attested) and must be made before a notarial officer who is authorized to administer oaths.
Laws
Statute

– § 33-7-26

Signing Requirements

– One (1) or more witnesses and a notary public.
How to Write
Step 1 – Download in PDF, MS Word (.docx) or OpenDocument.
Step 2 – Enter the location in which the document is being drafted. Next, in the paragraph below, provide the name(s) of the individuals who are making a sworn statement and the name of the instrument (the Will). This document can be signed and sworn by the Settlor and one (1) or both Witnesses.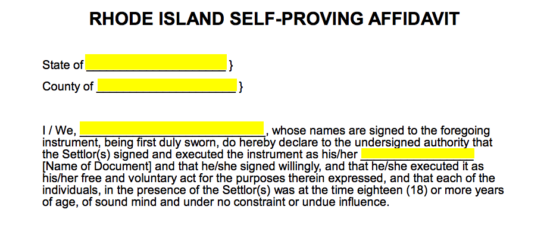 Step 3 – All of the individuals making the sworn statement must sign their name and put the Date next to their signature.

Step 4 – Once the affidavit has been signed by the Settlor and/or Witness(es), a Notary Public must fill out the "Notary Acknowledgment" portion of the form. They must provide the date, the name of the Signatory, their commission expiration date, their signature, and their printed name. If the Notary has an official stamp or seal, they should affix it as well (not a State requirement).
Step 5 – Once the affidavit has been completed, it can be attached to the Last Will and Testament.