Updated January 11, 2023
A Wyoming self-proving affidavit form is a sworn statement that is subscribed to by the testator and two (2) witnesses of a last will and testament. The affidavit states that the testator executed their will freely and without undue influence. Once the form has been completed and signed by all parties and a notary public, it can be attached to the will thus rendering it self-proving. A self-proving will "proves" the attestation of the testator and witnesses by the presence of the attached affidavit and therefore the witnesses will not be required to present personal testimony in court when the will goes to probate.
Laws
Statute

– § 2-6-114

Signing Requirements

– Two (2) witnesses and a notary public.
How to Write
Step 1 – Download in Adobe PDF, MS Word (.docx) or OpenDocument.
Step 2 – The Testator must fill out the statement at the top of the form, supplying their Name and the Day, Month, and Year on which the affidavit is being made. When providing their signature on the line next to "Testator's Signature," a Notary Public must be present.

Step 3 – In the second statement, the Two (2) Witnesses will need to enter their names in the two (2) blank spaces. The Notary Public is required to witness both of the Witnesses' Signatures. The Witnesses will also have to print their names on the lines where "Print Name" is written.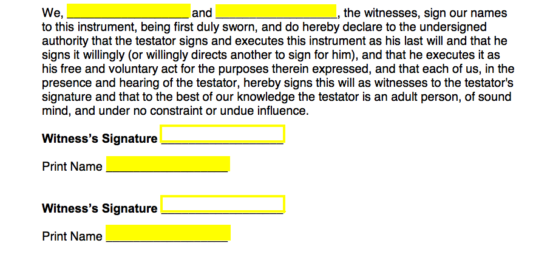 Step 4 – After the Notary Public has witnessed the signatures of the Testator and Two (2) Witnesses, they will need to certify the Affidavit by filling out the Notary Acknowledgment section of the form. They will need to enter the Location where the document was signed, the Name of the Testator, the Names of the Two (2) Witnesses, the Date, their Notary Signature, their Printed Name, and their Notary Seal.

Step 5 – Once the Affidavit has been filled out, signed, and notarized, it must be attached to the Testator's Last Will and Testament to make the Will "Self-Proving."