The South Carolina self-proving affidavit form is an instrument that is attached to a Last Will and Testament to attest the signatures of the Witnesses and the Testator (the individual whose Will is being attested) and help shorten what can be a possibly lengthy probate process. Once the Will goes to probate, the affidavit acts as sworn testimony of the Witnesses, thus eliminating the need for them to testify in court. To be considered legally validated, the document must be signed by the Testator and the two (2) Witnesses in the presence of a Notary Public (who must also sign in addition to affixing their notarial stamp).
Last Will and Testament – Gives instructions on how an individual's estate should be distributed at death.
Laws – § 62-2-503
Signing Requirements – Two (2) Witnesses and a Notary Public
How to Write
Step 1 – Download in Adobe PDF, Microsoft Word (.docx) or Open Document Text (.odt). This document must be signed and sworn by all parties in front of a Notary Public.
Step 2 – The Testator must provide their name and the date in the first paragraph at the top of the form and sign their name in the indicated field below.

Step 3 – Next, the Witnesses will need to supply their names and signatures where indicated.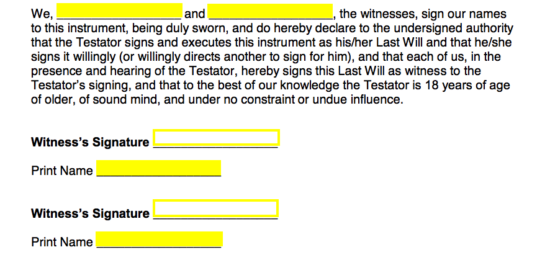 Step 4 – After witnessing the signing and swearing of all three (3) parties, the Notary Public will need to fill out the "Notary Acknowledgment" section, providing their location, the names of the Testator and two (2) Witnesses, the date, and their name. Finally, the Notary must supply their signature and affix their official notary seal to the document.