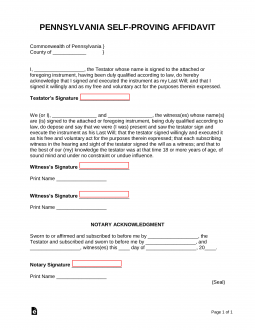 The Pennsylvania self-proving affidavit form is a legal instrument which acts as sworn testimony on behalf of two (2) witnesses and the Testator for the Testator's Last Will and Testament. By attaching the affidavit to the Will, the witnesses will not be needed to testify in probate court when the Testator's estate is divided amongst its beneficiaries. Both witnesses must be impartial and, therefore, cannot be named beneficiaries themselves. The document must be signed by the Testator, both witnesses, and a registered notary public.
Last Will and Testament – This document is used by Pennsylvania residents to give instructions on how their estate will be divided when they die.
Laws – § 3132.1
Signing Requirements – Two (2) Witnesses and a Notary Public
How to Write
Step 1 – Download in Adobe PDF, Microsoft Word (.docx) or Open Document Text (.odt).
Step 2 – Provide the location in which the document is being signed at the top of the page. Below that, the Testator must print their name and supply their signature where indicated.

Step 3 – Next, the names and signatures of both Witnesses must be entered into the appropriate fields.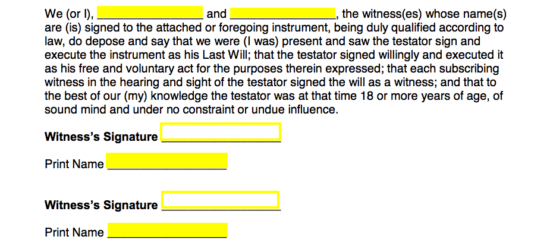 Step 4 – The "Notary Acknowledgement" section must be completed by a Notary Public. They will need to the names of the Testator and two (2) Witnesses, along with the date. Below that, the Notary must supply their signature, printed name, and official seal.

Step 5 – Once the affidavit has been signed by all parties and notarized, it can be attached to the Last Will and Testament or a copy thereof.