Updated August 02, 2023
A Texas self-proving affidavit form is a sworn statement used to validate a last will and testament when the will goes to probate. State law requires that two (2) disinterested individuals bear witness to the signing of the will by the testator or another individual who the testator has instructed to sign on their behalf. Normally, when a testator dies, their will goes to probate at which the witnesses may be called to testify that the will is genuine. By attaching a signed and notarized self-proving affidavit to the will, the witnesses will not need to give any further testimony.
Laws
Statute

– § 251-104

Signing Requirements

– Two (2) witnesses and a notary public.
How to Write
Step 1 – Download in PDF, MS Word (.docx) or OpenDocument.
Step 2 – In the first paragraph of the Affidavit, the following information must be entered into the four (4) blank fields in this order: name of Testator, name of first Witness, name of second Witness, and the Title of Instrument.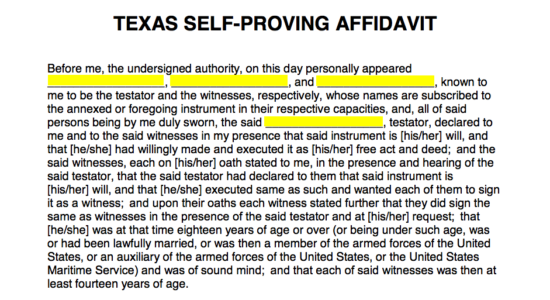 Step 3 – The Testator and the two (2) Witnesses are required to sign the Affidavit in front of a Notary Public. Each witness should also print their name on the line below their signature.

Step 4 – Once the Notary Public has witnessed all three (3) signatures, they must fill out the "Notary Acknowledgment" portion of the form to notarize the document. They will need to provide their County, the name of the Testator, name of the first Witness, the name of the second Witness, and the Date. Below that, the Notary will supply their Signature, Printed Name, and their Notary Stamp or Seal.

Step 5 – Once the Affidavit form has been properly signed and notarized, it may be attached to the Testator's Last Will and Testament to make it a Self-Proving Will.