Updated March 16, 2023
A New Mexico last will and testament is a legal document set forth by a testator (the person creating the will) who wishes to provide instructions for how their estate shall be distributed upon death. All aspects of the testator's estate– such as financial accounts, fiduciary funds, life insurance policies, as well as real, personal, and even digital property– can all be bequeathed to beneficiaries as stipulated on the testator's will and carried out by the chosen executor.
A testator ensures peace of mind when creating a will as it protects their estate and transfers portions or all to the appropriate individuals. Beneficiaries of the testator's will are usually their spouses, children, friends, blood relatives, and even charitable organizations. A will must be signed by the testator in the presence of two (2) or more witnesses in order to be legally executed under New Mexico law. Both these witnesses will also provide their signatories after attestation. Though optional, a testator can have their will acknowledged by a state-authorized notary public for another layer of legal protection.
Laws
Signing Requirements
Two (2) or more Witnesses. (Section 45-2-502)
State Definition
"Will" includes codicil and any testamentary instrument that merely appoints a personal representative, revokes or revises another will, nominates a guardian or expressly excludes or limits the right of an individual or class to succeed to property of the decedent passing by intestate succession. "Will" does not include a holographic will.
Related Forms
Download: Adobe PDF
---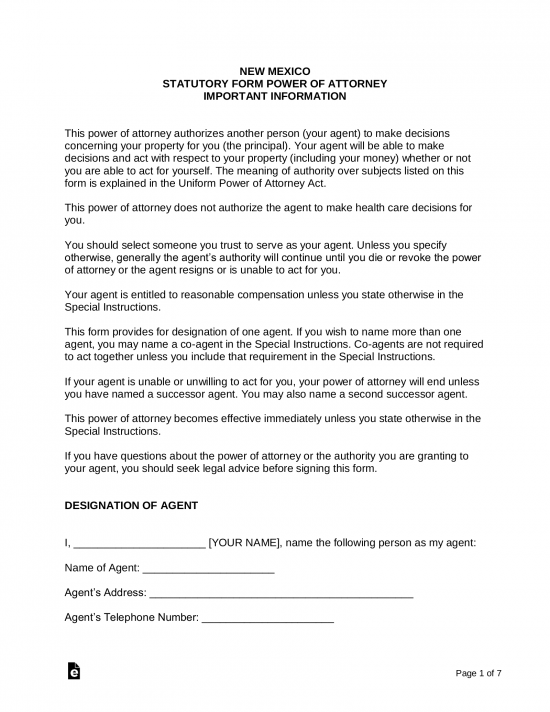 Durable (Financial) Power of Attorney
Download: Adobe PDF
---
Download: Adobe PDF