Updated August 09, 2023
A New Mexico advance directive is a document that lets a person outline their medical preferences and designate a health care agent to carry them out. An advance directive is common with the elderly and those dealing with health issues. The document gives a plan to medical staff to the person's treatment choices in the event they can no longer speak for themselves.
Three (3) Parts
Naming your Primary Physician.
Laws
Statute – Chapter 24, Article 7A ( Uniform Health Care Decisions)
Signing Requirements (§ 24-7A-2(B), § 24-7A-4 (Part 3)) – Principal only is required. Although, § 24-7A-4 states that two (2) witnesses are recommended.
State Definition – (§ 24-7A-1(A)) – "advance health-care directive" means an individual instruction or a power of attorney for health care made, in either case, while the individual has capacity.
Versions (6)
---
Download: PDF
---
Download: PDF
---
Download: PDF
---
Download: PDF
---
Download: PDF
---
Download: PDF
How to Write
Download: PDF, MS Word, OpenDocument
Designation Of Agent
(1) Name Of Agent. Once you have determined who your New Mexico Health Care Agent should be, you must record his or her name to the appointment section. Naturally, this should be a Person that you communicate with regularly regarding your medical treatment preferences and beliefs.
(2) New Mexico Agent Address.
(3) Telephone Number(s) Of New Mexico Agent.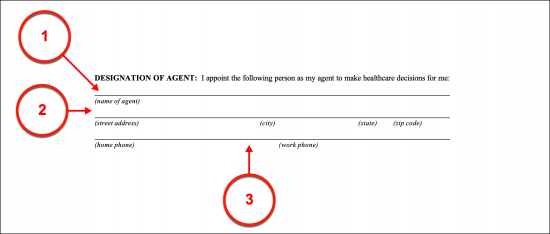 (4) Name Of First Alternative Agent. The New Mexico Health Care Agent may not be able to represent you when Physicians in this state contact him or her. This can be a result of his or her powers being revoked, of being unreachable, or of refusing to act when called upon. In any case, it is recommended that a couple of Alternate Agents be named to succeed the New Mexico Health Care Agent as a precaution. The First Alternate Agent will be contacted for this role upon your current Agent's refusal or disqualification and may only receive the principal powers of this document if he or she must act as your New Mexico Health Care Agent.
(5) First Alternative Agent Address.
(6) Telephone Number(s) Of First Alternative Agent.
(7) Name Of Second Alternative Agent. As discussed, a Second Successor Agent can be designated to act as your New Mexico Health Care Agent if (and only if) your originally named New Mexico Health Care Agent and First Alternative cannot, will not, or does not wish to dispense your medical decisions to Physicians in New Mexico on your behalf. Dispense the entire name of the Party you wish for the Second Successor Agent role.
(8) Address Of Second Alternative Agent.
(9) Second Alternative Agent's Telephone Number(s).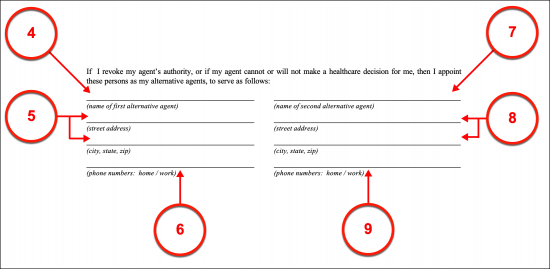 Agent's Authority
(10) Review And Discuss The Health Care Agent Authority. The New Mexico Health Care Agent will be able to act by making, effecting, and conveying treatment decisions on your behalf using the authority you grant through this document. A list of the types of procedures and actions that your New Mexico Health Care Agent can decide upon for you has been provided. Review this list. If any item defines an area that you do not grant your New Mexico Health Care Agent, then you may cross it out to restrict it from your Agent's abilities. If preferred, you may use the next section to document these restrictions.
(11) Specific Limitations. A space has been provided so that you may document the limitations that you will place on your New Mexico Health Care Agent's principal powers or obligate this Agent to follow definitive instructions that you present.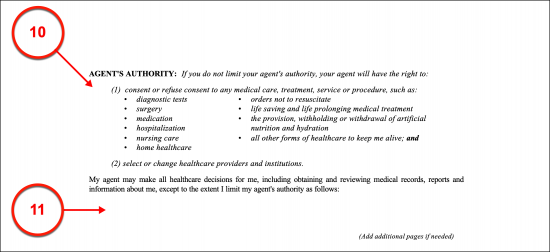 When Agent's Authority Becomes Effective
(12) Setting The First Date Of Effect. The approval you grant your New Mexico Health Care Agent through the sections above will need to be attached to a date of effect (or start date). Many will choose to allow this document to set the date as the first day you are diagnosed with a serious illness while you are uncommunicative or are in a vegetative state however if preferred, you can set this date of effect to be the same day as the signature date you record when you sign this paperwork. To set this option in motion and set your signature date as the effective date of the powers being granted, mark the checkbox to this the declaration statement provided. 

Nomination Of Guardian
(13) Agent As Guardian Option. This directive enables a nomination for Court-Appointed Guardian to be made. By default, the New Mexico Health Care Agent will be nominated for this role should New Mexico Courts decide that such an appointment must be made. It should be mentioned this nomination will not affect any guarantee that your Health Care Agent will also be appointed by the courts as your Guardian, but such a nomination would usually be taken seriously. If, however, you do not wish to nominate your New Mexico health Care Agent to be appointed as your Guardian by New Mexico Courts, then cross out, delete, or remove the fifth article of this document.

Part 2: Instructions For Health Care
End-Of-Life Decisions
(14) Choose Not To Prolong Life. It is generally recommended that you solidify your decisions regarding life-prolonging treatment when you are suffering an end-of-life event or are in a permanent coma. If you have decided that you do not wish life-prolonging treatment administered when there is no hope of recovery, then inform New Mexico Physicians of this decision by selecting the first directive statement.
(15) Choose To Prolong Life. If you have decided to receive life-support to extend your life when you are near death or in persistently unconscious (i.e., coma), then deliver such authorization by initialing the second declaration of this section.
(16) Choose To Let Agent Decide. Since medical science can make sudden significant advances in treatment technology, this paperwork will allow you to declare that your New Mexico Health Care Agent has the power to decide whether life-prolonging treatment should be administered or withheld/withdrawn.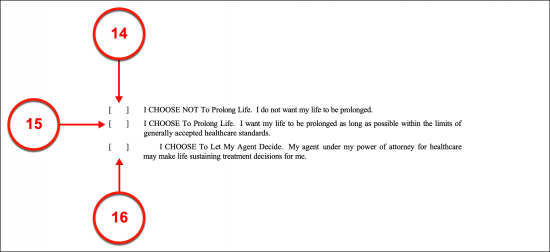 Artificial Nutrition And Hydration
(17) Artificial Nutrition Refusal. If you are enduring a serious and incurable medical condition or are permanently unconscious, your body will eventually need nutrients delivered medically. This will prevent death by starvation and will likely extend your if allowed. You can inform New Mexico Physicians that you do not authorize nutrition delivered to your system medically (for example, by use of a tube or an I.V.) by initialing the first statement on this topic.
(18) Artificial Nutrition Approval. Conversely, if you intend to authorize the administration of medically delivered nutrition to prevent starvation when you are permanently unconscious or diagnosed with a life-threatening and untreatable condition, then you must initial the second statement.
(19) Artificial Hydration Refusal. This discussion continues with the topic of artificial hydration. Commonly, this will be the delivery of fluids (i.e., water, saline solution, etc.) using an I.V. or a tube. You can refuse all hydration attempts made with such methods by initialing the appropriate refusal statement.
(20) Artificial Hydration Approval. If you initial the final statement, you will grant New Mexico Doctors the approval needed to deliver fluids and water directly to your GI tract or bloodstream through any means available to prevent dehydration while you are permanently unconscious or diagnosed with a fatal medical condition.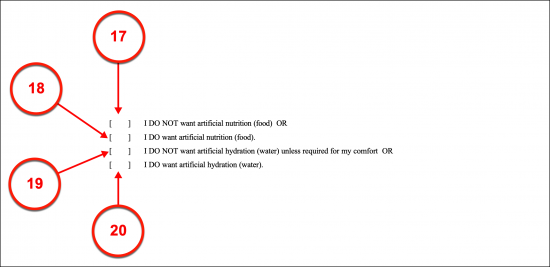 Relief From Pain
(21) Pain Management Directive. The statement requesting that pain management techniques be employed whenever necessary to keep you comfortable can be expanded upon in the space provided or removed. Be advised that state laws will mandate certain comfort procedures be administered (i.e., to maintain hygiene for instance) however you can list any pain management techniques or medications that you do not authorize.

Anatomical Gift Designation
(22) Anatomical Gift Authorization. You have the ability to use this document to declare the intention of authorizing organ donations and anatomical gifts upon your death by selecting the declaration statement provided.
(23) Partial Authorization Of Anatomical Gifts. If you wish to authorize some organs, tissues, muscles, or body parts for donation but not all, then initial the second displayed choice. Make use of the space that follows to list authorized donations.
(24) Anatomical Gift Restriction. You may use this document as an instrument to declare that you do not authorize any anatomic gifts made upon death by initialing the third provided option in this section.
(25) New Mexico Agent Power To Decide. If desired, initial the final statement to refrain from making or refusing to make anatomical donations and to put this choice in the hands of your New Mexico Health Care Agent.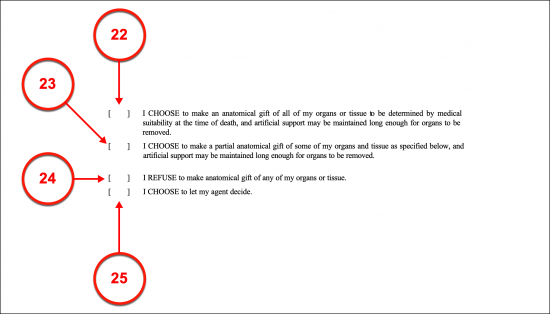 Other Gifts
(26) Direct New Mexico Principal Orders. If you have other directions for New Mexico Medical Professionals or your health Care Agent, then document your treatment instructions to the area labeled "Other Wishes." This section can also be used to address concerns that you may have when you are unable to speak/communicate, when you have been diagnosed with a fatal medical condition, near an end-of-life event, and/or are in a vegetative state.

Part 3: Designation Of Primary Physician(s)
(27) Name Of Physician. If you have a Primary Physician that can aid attending New Mexico Physicians with information regarding your current care and, if possible, assume providing your medical care, then list his or her full name.
(28) Address And Phone Number Of Primary Physician. The address and telephone number of the Practice or Facility where your Primary Physician can be reached must accompany his or her name.
(29) Name Of Alternate Physician. Much like your New Mexico Health Care Agent, there may be a time when your Primary Physician is unreachable or otherwise unable to take over your care. If you have an Alternate Physician that you wish contacted as a replacement for your Primary Physician, then document your Alternate Physician's full name.
(30) Alternate Physician's Address And Phone Number.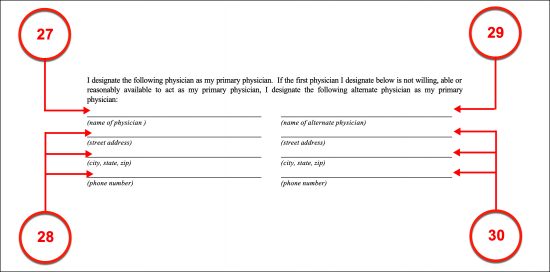 Signature Of Principal
(31) Your Signature. The State of New Mexico requires that you sign this document to place it in effect. It is strongly recommended that you have your act of signing witnessed by two adults. Thus, give a thorough review of this completed directive then sign your name if you are satisfied with its content.
(32) Signature Date. Document the current calendar date when you sign your name as the New Mexico Principal to execute this form.
(33) Print Your Name.
(34) Your Social Security Number (Optional). An optional report in this signature area requests your social security number as a means to establish your identity to New Mexico Doctors reviewing this document. Supply it at your discretion.
(35) Your Address.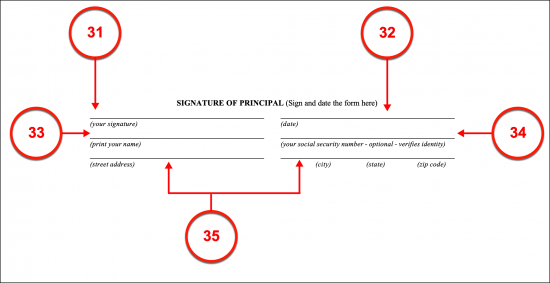 Signature Of Witnesses
(36) Signature And Signature Date Of First Witness. Two Witnesses, who are adults, can be used to prove that you have signed this document while fully cognizant and able to understand your actions. Such testimony requires that each sign his or her name. The First Witness must sign his or her name, date this signature, then continue down his or her respective column.
(37) Printed Name And Address Of First Witness.
(38) Second Witness Signature And Signature Date. The Second Witness attending your signing should attend the next column by signing his or her name then reporting the current date as his or her signature date.
(39) Printed Name And Address Of Second Witness.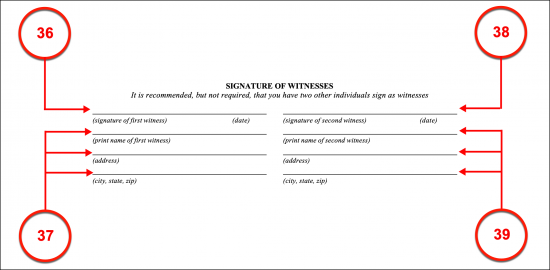 Related Forms
---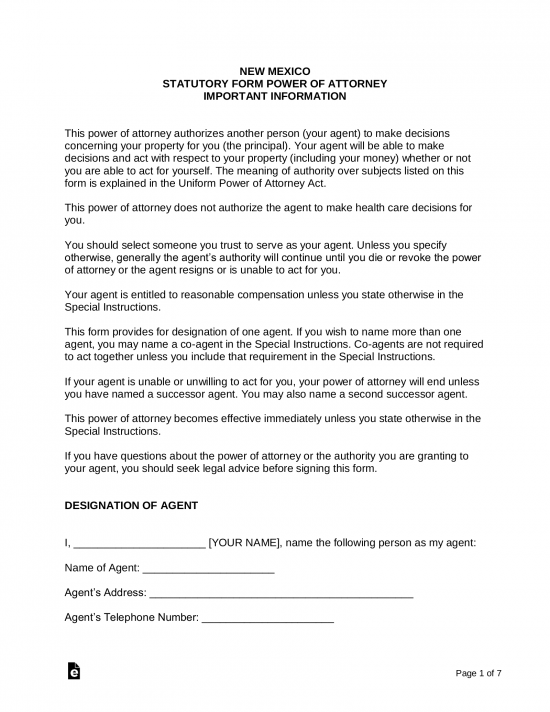 Durable (Financial) Power of Attorney
Download: PDF, MS Word, OpenDocument
---
Download: PDF, MS Word, OpenDocument