0.0 Stars | 0 Ratings
52 Downloads
Updated July 27, 2023
An Iowa advance directive is a collection of forms that allows a person to outline their healthcare goals and choose a medical agent to act on their behalf in case they become unable to make decisions for themselves. The form must be notarized or signed with at least two witnesses present. Afterward, the advance directive should be stored in a safe and accessible place for use in the event of an emergency.
Advance Directive Includes
Laws
Statutes – Chapter 144A (Life-Sustaining Procedures)[1]
Signing Requirements – Two witnesses or a notary public.[2]
Versions (6)
---
Download: PDF
---
Download: PDF
---
Download: PDF
---
Download: PDF
---
Download: PDF
---
Download: PDF
How to Write
Download: PDF
Power Of Attorney For Health Care Decisions
(1) Name Of Iowa Principal. Before the appointment of your Health Care Agent can begin, you must record your full name to identify yourself as the Iowa Principal issuing this appointment.
(2) Birth Date Of Iowa Principal. Solidify your identity to the Iowa Physicians that will review this document by presenting the date of your birth.
(3) Health Care Agent. The identity of your Iowa Health Care Agent must now be attached to receive the principal power you are delivering. This person should be someone who is both fully abreast of your basic health care or treatment philosophy and reliable enough to carry out your instructions. Present the full name, the complete address, and all telephone number(s) where he or she can be reached. Bear in mind that an Iowa Physician looking over this document to learn of your health care preferences may be doing so because you are unable to communicate and require treatment. Therefore, it is crucial that the contact information for your Iowa Health Care Agent is accurately recorded.

(4) Alternate Health Care Agent. It is important to try to anticipate the various scenarios that may occur when you are suffering from a traumatic medical event or are entirely incommunicative while requiring life-saving medical treatment. For instance, should your Health Care Agent be revoked over the course of time, has refused to carry out your directives when asked, or is unable to effectively discuss and deliver your health care directives, then Iowa Physicians may have no other choice than to look to the default treatment options defined by state laws or hospital policy. To avoid this scenario, designate a Successor to the Iowa Health Care Agent by documenting his or her name, address, and phone number.

Additional Provisions
(5) Iowa Principal Directives. As a general rule, Iowa Physicians will assume that your Health Care Agent can use the full scope of principal decision-making powers over your treatment as defined by this document. If you wish to place restrictions on this use of power to discuss your medical needs or remove the Health Care Agent's ability on certain matters, then such provisions must be clearly discussed in this paperwork. A distinct area is available for this task and may be expanded upon by using an attachment to present every specific and general instruction you have regarding the Health Care Agent's use of principal power and the medical procedures you will allow or deny as treatment.

Maintaining Anatomical Gifts
(6) Iowa Principal Approval Or Refusal. If you are a registered Iowa Organ Donor, then it may be necessary to keep your body alive for the sole purpose of successfully completing an organ donation. This is especially true when the viability of an organ is lost upon death. To grant approval for life-sustaining procedures to be employed solely for this purpose, select the box labeled "Yes." To prevent life-sustaining procedures to be used only to complete an organ transfer, select the "No" checkbox.

Iowa Principal Signature
(7) Signature Date. Complete the appointment of your Iowa Health Care Agent with a dated signature that is also witnessed or notarized. Review the above document to satisfaction then, on the day you sign this directive, report the current calendar date.
(8) Iowa Principal Signing. Sign your name to the completed appointment before two Witnesses.
(9) Printed Name.
(10) Iowa Principal Address.

Notary Public Form
(11) Notarization. If you have opted to have your signature notarized then, release the signed appointment to the Notary Public overseeing the signing. He or she will make use of the next area to satisfy the notarization requirement.

Witness Form
(12) Signature Of First Witness. If your signing is observed by two Witnesses, then the First Iowa Witness must confirm his or her qualifications, as discussed in the Witness declaration, and verify that its description of your signature is accurate by signing and printing his or her name then documenting his or her address.
(13) Signature Of Second Witness. The Witness statement must be proven as true by two Witnesses. Therefore, the Second Witness must sign his or her name as a testimony then provide his or her printed name and address.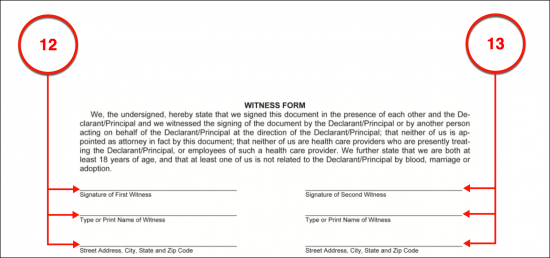 Authorization For Release Of Protected Health Information
(14) Power Of Attorney Date. Your sensitive medical information is protected by law. Thus, for your Iowa Health Care Agent to be able to access it, direct authorization will be needed – even if you are incapacitated. You can grant consent to release your sensitive medical information to your Iowa Health Care Agent (regardless of its source) through the next portion of this document. Begin by furnishing the formal date of your Combined Living Will And Medical Power Of Attorney.

Authorization To Release Information
(15) Specific Medical Record Access. To release your medical records to your Health Care Agent discussing STD (sexually transmitted diseases), AIDS (Acquired Immunodeficiency Syndrome, and HIV (Human Immunodeficiency Virus), you must mark the first checkbox. The second and third checkboxes should be selected if you will authorize your Iowa Health Care Agent to access medical files containing information about any behavioral or mental health issues and substance abuse issues or conditions you may have.
Iowa Signature Execution
(16) Signature Of Principal. Your signature as the Iowa Principal must be supplied to give your Health Care Agent the consent needed to access the medical information you approved above.
(17) Signature Date.
HIPAA Personal Representative Appointment
(18) Signature Date. You must give additional approval to appoint your Iowa Health Care Agent as your HIPAA (Health Insurance Portability And Accountability Act of 1996). This approval must be provided to the next section and begins with a report of your signature date to this area.
(19) Grantor Signature. Formally designate your Iowa Health Care Agent as your HIPAA Representative by signing this document as the Grantor of the principal power needed to act in this manner.

Iowa Principal Wallet Card
(20) Agent Information. A convenient method of informing Iowa First Responders and Physicians that you have appointed a Health Care Agent is by carrying a card in your wallet that is easily visible. Such a card has been provided and may be detached and stored appropriately (in your wallet). Complete the first portion of this card by reporting your Agent's name, address, and telephone number.
(21) Iowa Principal Dated Signature. Verify that the Party you identified above is your current Iowa Health Care Agent by dating and signing this portion of the wallet card.
(22) Living Will Status. If you have a living will set in place that dictates your denial of life-sustaining treatment when you have been diagnosed with a fatal and incurable medical condition or as permanently unconscious, then you must complete the verification statement in the second segment of the wallet card. This requires a record of your full name and current address where requested.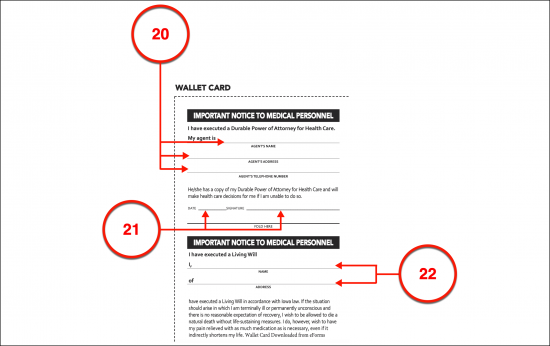 Related Forms
---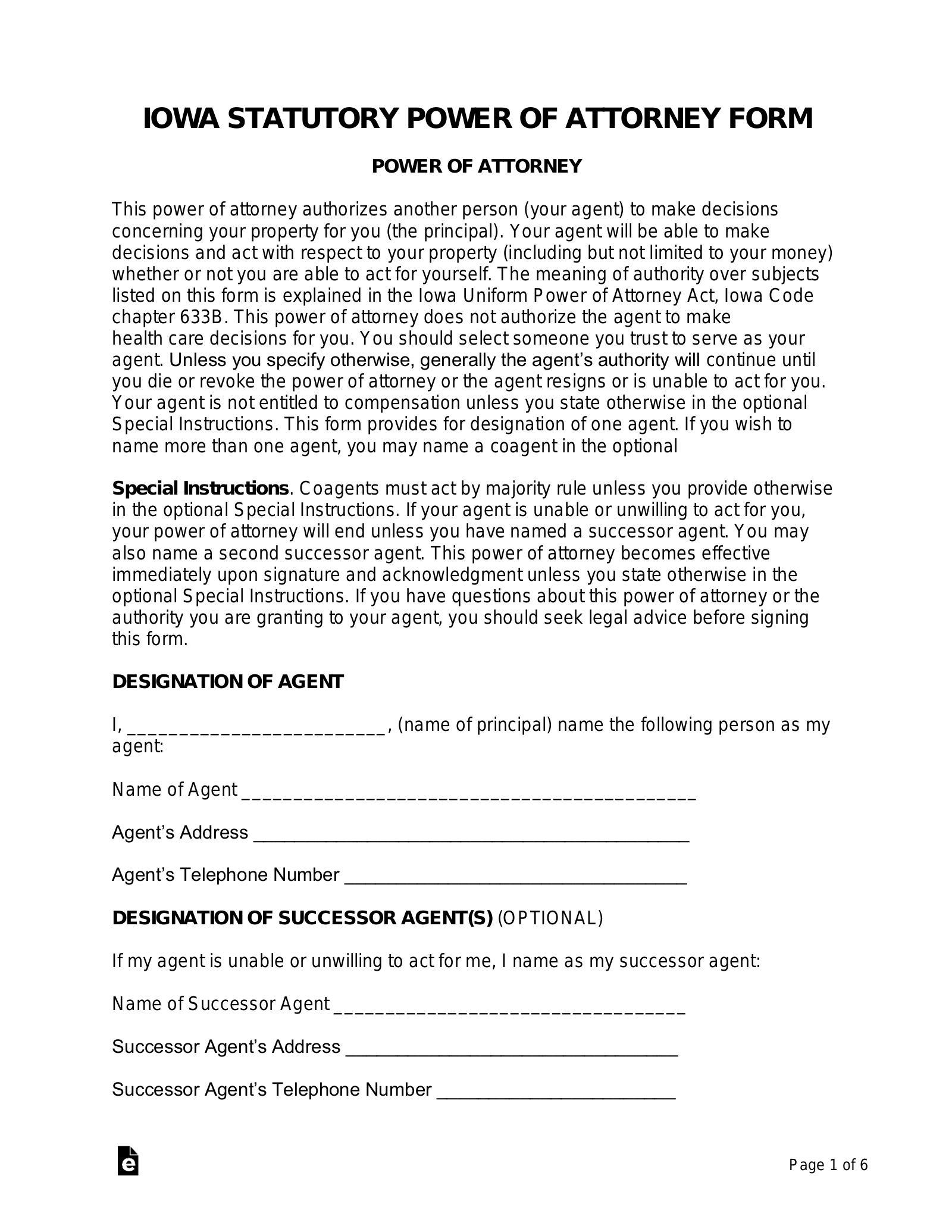 Durable (Financial) Power of Attorney
Download: PDF, MS Word, OpenDocument
---
Download: PDF, MS Word, OpenDocument
Sources