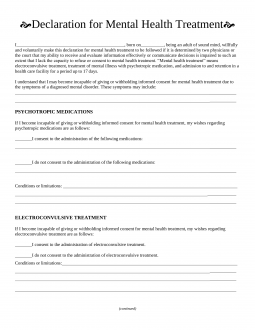 An Illinois advance directive is a document that lets a person choose a medical agent to handle health care decisions in the chance they cannot do so for themselves. The agent is instructed to make decisions in accordance with the person's health care goals and needs listed in the living will declaration portion of the form. After signing with two (2) witnesses the form is authorized for use.
Advance Directive Includes
Table of Contents
Laws
Statutes
Signing Requirements (755 ILCS 35/3(b)) – Two (2) witnesses.
Versions (5)
---
Download: Adobe PDF
---
Download: Adobe PDF
---
Download: Adobe PDF
---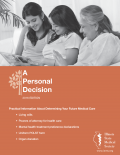 Illinois State Medical Society
Download: Adobe PDF
---
Download: Adobe PDF
How to Write
Download: Adobe PDF
Step 1 – Obtain The Illinois Advance Directives As A PDF File
The Illinois Advance Directives Template displaying through this site's preview images is available as a "PDF" document through the labeled button on this page or through the underlined text link "Adobe PDF."
Step 2 – Begin With Your Declaration For Mental Health Treatment
Once downloaded, gather any information you may need to complete this document. When you are ready to issue your Illinois Declaration For Mental Health treatment, open your advanced directives package then refer to the first page. The first paragraph of this issue will seek the full name of its Declarant. As the individual who has decided to set your instructions to Illinois Psychiatric and Medical Personnel, produce your name on this line then disclose your date of birth on the empty line after the words "…Born On."
Step 3 – Declare The Mental Disorder Symptoms Requiring This Document's Action
Review the wording presented in the opening that follows your entries. The next area requiring a report allows you to continue your declaration with a list of the exact or general symptoms that you believe should place your directives as active. The blank lines placed below the words "These Symptoms May Include…" are set to complete this statement with behaviors, statements, states of mind, body posturing, and any other such description of a symptom that should indicate to attending Illinois Psychiatric and Medical Staff that you will no longer be able to represent yourself or will shortly no longer be able to represent yourself. By documenting these symptoms, you can verify to anyone reviewing this paperwork, that is should be followed and referred to when determining the treatments to be administered.   
Step 4 – Approve Or Disapprove Of Specific The Psychotropic Medication Treatments
When rendered unable to speak, maintain cognizance or consciousness, or fallen to a persistent (i.e., long-term) vegetative state, then it will generally be preferable that treatment options regarding "Psychotropic Medications" that should be administered in response to a mental health crisis be defined by you. This subject matter will be discussed in the next area through a presentation of two definitive statements. To begin, locate the words "I Consent To The Administration" in the section titled "Psychotropic Medications" then initial the blank line that precedes it. This statement has now become part of your declaration to Illinois Psychiatric and Medical Staff however, it is incomplete. Continue to the set of blank lines immediately below this statement then list the medications that you approve of receiving when rendered unable to communicate your preferred medications. 
If you have determined that you do not wish to be treated with certain psychotropic medicines under any circumstances, then initial the line corresponding to the phrase "I Do Not Consent To The Administration Of…" Populate the blank lines that follow with a full listing of every psychotropic medication you wish to refuse. This list may also define medicines with only a psychotropic side effect (on you) but not normally considered a psychotropic. For instance, an allergy medication that is known to induce a severe anxiety reaction when administered to you.  
If desired you can place "Conditions Or Limitations" on when medications can be administered, when you will refuse them, or both. This option enables you to continue discussing the listed medications you approve and disapprove of. For instance, there may be medications that should not be administered when you have low blood pressure. 
Step 5 – Produce Directives Regarding Electroconvulsive Treatment
There may be times when you are incapacitated or unable to communicate but may respond to "Electroconvulsive Treatment." When Illinois Psychiatric and Medical Staff make such a decision, they must seek your approval. The next section can be used to grant such authorization or to deny this treatment before you are rendered unable to do so. If you wish to authorize the use of "Electroconvulsive Treatment" then initial the blank line attached to the statement "I Consent To The Administration Of Electroconvulsive Treatment…" 
If you wish to deny or refuse electroconvulsive treatments, then initial the second statement of this section.  
You may wish to receive ECT ("Electroconvulsive Treatment") but only under certain conditions or only for a limited number of sessions. You dictate such "Conditions Or Limitations" to the administration of this treatment using the blank lines making up the final part of this section.   
Step 6 – Include A Discussion Regarding Mental Health Treatment Facility Admittance
If you wish to deliver a declaration of "…Consent To Being Admitted To A Health Care Facility For Mental Health Treatment" then initial the first statement in the section titled "Admission To And Retention In Facility" 
You can refrain from counting to admission to a Health Care Facility (for the purpose of mental health treatments or care) by initialing the second statement in the "Admission To A Retention In facility"
As with the previous sections, there may be "Conditions Or Limitations" you wish applied to the scenario where Illinois Psychiatric and Medical Personnel determine that you should be admitted for mental health care to a specific facility. For instance, a Declarant may not wish to be admitted for this purpose if she becomes pregnant or may wish to be admitted for mental health care if his or her Spouse is pregnant. The blank lines displayed at the end of this section ("Admission To And Retention In Facility").  
Step 7 – Appoint A Specific Physician To Diagnose Your Inability To Communicate
Many suggest that you name a Physician that is familiar with your medical and psychiatric history to be called on when there is a question to your ability to represent yourself. This diagnosis will require two Illinois Physicians, one of which may be chosen by you. The "Selection Of Physician" is optional and may be left blank. However, if you wish to name a specific Illinois Physician to participate in such a diagnosis then record his or her name after the term "…I Choose Dr." then furnish the name of the medical facility where he or she can be contacted to the space set before the phrase "To Be One Of The Two Physicians…" 
Step 8 – Provide Mental Health Instructions To Be Followed When Incapacitated
If "Additional References Or Instructions" concerning your health care or treatments received for your mental health should be supplied to the available space making up the next section. you may make specific requests in this area or call for additional Parties to participate For example you may wish contact made with a Family Member who has been successful in aiding you during a mental health crisis in the past but is not being named as your Attorney-in-Fact.   
Step 9 – Formally Name Your Illinois Mental Health Attorney-in-Fact
The "Attorney-in-Fact" states your intention to designate a trusted Family Member or Friend to be your Mental Health Attorney-in-Fact when you are unable to communicate effectively with Illinois Psychiatric or Medical Staff. The "Name" line introducing this section requires the legal identity (first, middle, and last "Name") of the Mental Health Attorney-in-Fact that will be granted the same authority over mental health treatment decisions that you carry.   
Step 10 – Dispense Your Mental Health Attorney-in-Fact's Contact Information
Naturally, it may be crucial that attending Illinois Psychiatric and Medical Staff be able to contact your Attorney-in-Fact when needed.   
To this end, continue to the second blank line in the "Attorney-in-Fact" section to furnish his or her "Address" to this section.
The final available line of the "Attorney-in-Fact" seeks the "Telephone #" where this Party may be contacted in a reliable and immediate manner.  
Step 11 – Reserve An Alternative To The Attorney-in-Fact
The Attorney-in-Fact just named will act in your name should you require Mental Health Treatment, are unable to comprehend or convey your wishes, or incapable of delivering informed consent then the Attorney-in-Fact holding the authority you designated will speak for you with Illinois Psychiatric or Medical Staff. This can a powerful tool when seeking peace of mind but if your Attorney-in-Fact is unavailable or you have revoked his or her authorization then the Party you identify on the blank line labeled "Name" below the statement "If The Person Named Above…" will be granted the role of "Attorney-in-Fact." This is only in name only since the Party named here will have no ability to represent you until the originally named "Attorney-in-Fact" steps down, is unable to act in this role, or has had the authority granted removed or revoked. 
Dispense the full "Address" of the Attorney-in-Fact next in line for this role immediately below his or her "Name"
The "Telephone#" line that follows seeks the home, cell, and/or work number where the Alternate or Reserve Attorney-in-Fact can be reached.  
Step 12 – Appoint Your Attorney-in-Fact And Alternative By Signature
You must sign and date the "Signature Of Principal/Date" line closing this document. Once this is completed proceed to dispense this paperwork and its attachments to the Witnesses observing your actions. 
The "Affirmation Of Witnesses" will define what each Witness will state in relation to viewing this signing. Once the First Witness has read this affirmation and can verify its accuracy, he or she must sign the first signature line presented, record the calendar date of this signature, then print his or her name.  
The Second Witness must also read this statement then sign his or her name to the next line presenting a call for the "Signature Of Witness/Date) (Printed Name Of Witness)" by label to verify this statement's affirmations. 
Step 13 – Obtain The Illinois Attorney=in-Fact's Acceptance
The section "Acceptance Of Appointment As Attorney-in-Fact" must be read by both the individuals who may potentially take up this role. If each Attorney-in-Fact agree with this statement, then he or she must sign and date the "Attorney-in-Fact" line as well as print his or her name. 
The next person in line for the role of Attorney-in-Fact must acknowledge his or her potential responsibility by signing and dating the next line down and producing his or her printed name on the line adjacent to this request.     
Step 14 – Review The Document Notice Provided
Review the notice provided to those issuing this declaration on the next page (titled "Notice To Person Making A Declaration For Mental Health Treatment"). Valuable information regarding the purpose and effect of its document as well as your rights are provided in this section.
A follow-up section has been included. The "Revocation" section is supplied as a matter of convenience at the end of the notice and can be utilized should you wish to terminate or revoke any part or all of your declaration. You may issue this "Revocation" at any time with the cooperation of your Illinois Physician. This Party must be obtained to verify that you are of sound mind by participating in the termination of your previous paperwork. If or when you have re-assessed your mental health preferences, refer to this document, then populate the first blank line it presents with your name.  
Only one of the checkbox statements in this paperwork can be selected as the purpose for this issuance. If you wish to nullify, terminate, and cancel every preference, authorization, instruction, and limitation in your mental health instructions as well as remove your authorization for the Mental Health Care Attorney-in-Fact and Alternate Attorney-in-Fact then select the checkbox labeled "I Revoke My Entire Declaration."  
If you wish that part of your mental health instructions remain intact but wish to remove other parts, then select the checkbox labeled "I Revoke The Following…" This document does not allow you to add additional powers or to change its displayed content. Thus, if you wish to amend or change parts of your directive, choose this option then issue a new directive. The blank lines displayed in the second choice only need to be completed if you have opted to leave parts of your mental health directives intact while removing other parts. For instance, you may wish to reconsider the medications you approved or wish to remove part of your additional instructions. This section only allows for the removal of instructions or Attorneys-in-Fact and will not accept additions or a redesignation of an additional Mental Health Attorney-in-Fact. 
To solidify this "Revocation" and formally place it in effect, you must sign it. This requires that you locate the "Date" line on the left, supply the current calendar date. 
After dating the revocation, sign your name on the blank line labeled "Signature Of Principal" following the word "Signed."
As mentioned early an Illinois Physician, must participate in this action. Release the signed "Revocation" to the attending Illinois Physician, when it is returned make sure that he or she has supplied the first blank line with his or her full printed name. So that the statement being agreed to is properly applied.
After completing the testimonial, the Illinois Physician must sign his or her name on the  "Signature Of Physician" line.   
Step 15 – Issue The Illinois Living Will At Your Discretion
The Illinois Advanced Directives contains several templates that can be issued together as an instruction packed for health professionals in Illinois or if preferred, you may issue some of the declarations possible but not all. The "Living Will" found on page five of this package is the next declaration that can be made through this paperwork. Should you decide that when faced with inevitable death while in a long-term vegetative state that you wish to refuse all attempts at treatment designed to only prolong your life without effecting recovery then proceed to the "Living Will" section of this paperwork. The first empty lines of the "Living Will Declaration" seek the calendar day and then the month and the year applicable to your productions of the statements below it. 
Step 16 – Name Yourself As the Illinois Declarant Behind This Living Will
The first statement continues with a request for your name on the third blank line and your birthday on the fourth. It is vital that your name appear precisely as it does in your medical records and formal identification documents. 
Step 17 – Review The Medical Conditions Requiring Illinois Physicians To Obey This Directive
The body of this declaration shall set forth the conditions needed for an Illinois Physician or Medical Staff to both refer to its content as your direct instructions and to inform them that if or when you have "An Incurable And Irreversible Injury, Disease Or Illness Judged To Be A Terminal Condition…," then you wish to withdraw your consent for any and all life-prolonging or life support techniques so that you may die a natural death. It would be ill-advised to change the language in this letter since it is currently fully compliant with the Illinois statutes regarding its language however, read through this declaration carefully to make sure it contains statements you wish conveyed to Illinois Physicians tending to your care when in such state. 
Step 18 – Execute The Illinois Living Will With Your Authorizing Signature
Once you have reviewed this document and determined its contents are an accurate declaration of your intentions, you must sign it to become effective. This signature should be fully verifiable in the future so it should be delivered before two Witnesses (that you are not related to, are not connected, or employed to a Health Care Facility responsible for your well-being, and of age). To begin the execution process, find the blank line labeled "Signed" then produce your signature to its content.  
After submitting your signature, disclose the "City, County And State Of Residence" on the next blank line then give the physical document to one of the Witnesses 
Step 19 – Obtain Witness Authentication Of Your Signature
The Witnesses in control of your living will and have observed your signing should then read through the Witness statement displayed underneath your signature area. If each Witness agrees to the content of this statement, then he or she must sign a unique "Witness" line. This act is necessary to authenticate your living will to attending Illinois Physicians who will determine your treatment or refusal of treatment options based on this document.   
Step 20 – Issue Your Stance On Medical Resuscitation And Interventions
While the past two documents have dealt with authorization for care and treatments the next will act to support your intentions and requires the participation of an Illinois Practitioner and serves to inform all Medical Personnel as to whether you wish resuscitation techniques employed when your organs or body stop functioning. The "IDPH Uniform Practitioner Order For Life-Sustaining Treatment (POLST) Form. Begin by supplying your full name across the boxes labeled "Patient Last Name," "Patient First Name," and "MI.'
Step 21 – Solidify Your Identity To Illinois Emergency And Medical Personnel
Next, present your "Date Of Birth" in the first box on the next line. Notice that adjacent to this, the box label is accompanied by two checkbox options "M" and "F." Here you must indicate your "Gender" by marking the "M" checkbox for male or the "F" box for female then writing out your selection in the space provided below the label.   
Next, produce your home "Address" in the next available field. This will require the street, city, state, and zip code reported on your medical paperwork and state-issued I.D.  
Step 22 – Convey Your Approval Or Disapproval Of Receiving CPR 
Now that you have identified yourself, continue to section "A Cardiopulmonary Resuscitation" where you must display your approval or your refusal for CPR to be used as a form to prolong your life by restarting your heart or lungs after they cease to function. Section A seeks your selection of one of the two checkbox options displayed. The "Attempt Resuscitation/CPR" checkbox will inform Illinois EMT, Physicians, and all other Medical Personnel that should your heart and lungs cease to work (i.e., your heart stops pumping or your lungs cease to deliver oxygen), you approve of cardiopulmonary resuscitation used to artificially force either or both to function through the use of manual or technical stimulation (i.e., compressing the chest, delivering oxygen to your air passage, etc.). Mark the first checkbox in Section A to pre-approve the use of CPR to resuscitate you from cardiopulmonary arrest. 
Select the second checkbox, labeled "Do Not Attempt Resuscitation/DNR" if you will not consent to CPR used as a method to revive you regardless of the circumstances or the cause of medical trauma that has caused your heart or lungs to cease functioning. 
Step 23 – Indicate The Level Of Medical Interventions As A Response Bearing Your Approval
Section "B Medical Interventions" will address responses to conditions that incapacitate you to the point of unconsciousness but allow your heart and lungs to continue to function. Several definitions regarding the appropriate response Illinois Medical Personnel will engage in when finding you in this condition. If you approve of a specific response and wish to pre-approve such actions, then your Physician or yourself must select the corresponding checkbox. For instance, if you approve of an Illinois Medical Personnel or EMT response of delivering "Full Treatment" with the "Primary Goal Of Sustaining Life By Medically Indicated Means" then, make sure the first checkbox in "B. Medical Interventions" is selected. This will mean that if you are found unconscious or unresponsive and prone and are suffering from a biological trauma, Illinois Medical and EMT Personnel will use whatever means legally allowed to treat the medical trauma or sustain you until you can be transferred to a Medical Facility where treatment can be applied. Do not mark this checkbox if you do not approve of this level of care and wish to place limits on treatments you will allow.    
If you wish to receive "Medical Intervention but do not approve of physically invasive methods such as intubation (placing a tube in the airway), including being transferred to an ICU (intensive care unit) then the second box of this section should be marked (labeled as "Selective Treatment: Primary Goal Of Treating Medical Conditions With Selected Medical Measures"  
If you are found unresponsive, unconscious, or suffering a severely debilitating medical event that leaves you unable to communicate with Illinois Medical Responders and Physicians but only wish to receive "Comfort Focused Treatment" then select the third definition's checkbox in Section "B Medical Interventions." This will inform Illinois Medical Personnel that you should not be transferred to a Medical Facility unless that is the only way to keep you comfortable. This means that all other treatment will be suspended. 
If the Illinois Declarant has any other preferences or instructions deemed appropriate by the attending Physician regarding "Medical Interventions" in this scenario, then use the "Optional Additional Orders" line to present them. If not, it is recommended that no other instructions from the Patient are available by displaying the word "None" on this line or the term "N/A."
Step 24 – Deliver Your Instructions Regarding Medically Administered Nutrition
Naturally, when your body has shut down or one of its vital systems has ceased functioning, it may become difficult to impossible to take in food and liquids. If such a condition persists Illinois Medical Personnel will seek to make sure you are well fed and hydrated, even intravenously or through tubes, unless otherwise indicated. If you approve of "Long-term Medically Administered Nutrition, Including Feeding Tubes" then make sure the first check box of Section "C. Medically Administered Nutrition" is selected. This will aid in avoiding any confusion regarding your approval.  
If you intend to agree to being fed artificially (by hand or by machine) when needed but not indefinitely then you may set a trial period or time limit to having your nutrition and liquids delivered by hand or by machine. Thus, if you cannot wake up or maintain your own body's nutrition and hydration levels, then you will be allowed to die naturally (whether directly or indirectly) from starvation or dehydration. There will be an opportunity to define this period in this section found on the blank line to the right of this option. Thus, if you have specific preferences such as how long you will approve of food and liquids being administered with the hopes that you will regain consciousness or exactly which medical trauma warrants artificial feedings/hydration, and which should not then use the right-hand series of lines labeled "Additional Instructions" to convey this information to Illinois Medical Personnel reviewing this document for your care instructions. If you do not have such instructions, then you may leave this area blank. 
You may refuse all hand-feedings/drinking or tubes delivering food and liquids by marking the "No Medically Administered Means Of Nutrition…" option attached to the final checkbox.
Step 25 – Document The Issuing Party Behind This Paperwork
In most cases, the Illinois Patient whose health is at risk will have filled this paperwork out with his or her Physician, however, in some cases, it may be left undone with instructions for its issuance under certain circumstances. This can be done by someone the Patient has appointed with the authority to do so or someone legally responsible to deliver instructions, authorizations and/or refusals of the Patient to Illinois Medial Staff when it is appropriate. If it is the Illinois Patient named at the top of this page issuing this paperwork with his or her Illinois Physician, then select the first checkbox (labeled "Patient") in Section "D Documentation Of Discussion." That in this section you may check as many boxes as needed to make a full report. 
If the Illinois Declarant is a minor, then his or her Guardian or Parent must observe and approve of this document's execution. In this case, then the second checkbox of Section "D"
The third option "Agent Under Health Care Power Of Attorney" should be marked if the Patient has granted his or her authority to make this decision and issue this paperwork to an Illinois Health Care Attorney-in-Fact who is now following the Patient's wishes by issuing this form. If this Agent is also the Parent of the Patient, you should mark this checkbox and the previous one. Do not select the first checkbox if the Patient is unconscious or unaware this paperwork is currently being completed.   
There while the Patient may or may not have issued a Health Care Power of Attorney or a Minor there are instances where decisions may be needed from the Patient regardless of such precautionary paperwork. For instance, an Adult Sibling or Spouse (in a registered civil union) may be involved. Thus, if an Illinois Health Care Surrogate, as defined by the Illinois Health Care Surrogate Act (755 ILCS 40/25) Priority Order, is causing, or participating this paperwork to be issued then the final checkbox in Section "D Documentation Of Discussion" must be selected. This will correspond to the label "Health Care Surrogate Decision Maker").
Step 26 – A Formal Execution From The Patient Of The POLST Is Required
Section D continues with two additional sections. The first of which, titled "Signature Of Patient Or Legal Representative," seeks the "Signature" of the Patient or the Party legally able to sign this declaration on the Patient's behalf. The first empty line in this area expects this "Signature" while the next two require the Signature Party's printed "Name" and "Date" of signature reported. It is worth noting Section D requires this action to take place before a Witness.
The Witness who has observed the Patient or Legal Health Care Representative/Surrogate of the Patient sign this document must now, take control of it, read the "Signature Of Witness Consent" statement then sign the "Signature" line provided as well as print his or her "Name" on the adjacent line. These items must be dated on the final line of the "Signature Of Witness To Consent" section. 
Step 27 – Seek The Authorized Practitioner's Signature Approval
A Physician, Second Year or Higher Licensed Resident, Advanced Practice Nurse, or Physician's Assistant able to legally act as such in the State of Illinois must sign this document as an indication that he or she has been familiarized with the Patient and approves of this document's instructions. The Illinois Authorized Practitioner must print his or her name on the "Print Authorized Practitioner Name" line in Section "E. Signature Of Authorized Practitioner" then supply his or her contact number in the box labeled "Phone"  
The Authorize Practitioner must sign the "Authorized Practitioner Signature" line and supply the "Date" he or she signed this paperwork in the final area of "E. Signature Of Authorized Practitioner." 
As an added measure of identifying the Patient, locate the area labeled "This Side For Informational Purposes Only" then supply the Patient's last name, first name and middle initial to the boxes requesting this information.
If the Patient has issued declarations regarding his or her Health Care (Mental or Physical) this (ideally) should be recognized in the POLST form. Thus, locate the "Advance Directive Information" section then indicate which documents were issued by selecting the appropriately labeled check box. In the example below, the Patient has issued a "Health Care Power Of Attorney" and a "Living Will Declaration" as well as a "Mental Health Treatment Preference Declaration" thus all three checkboxes have been selected.
The "Contact Person Name" listed in the Patient's executed declarations should be supplied to the next available space and should be accompanied by his or her "Contact Phone Number."
The individual who has prepared this document should also self-report as the Reporter behind this information. This will be handled by the "Health Care Professional Information" section. Begin this area by recording your full name in the "Preparer Name" box then input your "Phone Number" beside it.  
Additionally, supply your official job title in the box labeled "Preparer Title" box and the current calendar date in the "Date Prepared" box. 
Step 28 – Appoint Your Illinois Health Care Attorney-in-Fact At Will
If you have decided to appoint a Health Care Attorney-in-Fact to represent your needs to Illinois Medical Personnel while you are unconscious and unable to effectively authorize or refuse to consent to your medical treatment, then you may do so with this advanced directive packet. This Agent can be a different Party than the Mental Health Care Attorney-in-Fact you may have appointed earlier since he or she will have different topic matters to deal with. Before beginning this process review page eight's introduction to the "Illinois Statutory Short Form Power Of Attorney For Health Care" to familiarize yourself with your ability to perform this appointment, your rights, and your options for this task. 
Step 29 – Introduce Yourself As The Principal Behind The Illinois Appointment
The first page of this form can be found on page eleven. The blank line labeled "My Name (Print Your Full Name)" seeks the full name of the Principal making this appointment. This Party has determined that if incapacitated by a medical event, condition, or disease and left unable to communicate (even if by blinking or slight finger movements to yes/no questions) then a specific person should be consulted regarding the medical decisions that require authorization or discussion. It is assumed that the Preparer of the Illinois appointment and the Principal are one and the same. Thus, produce your name to the first blank line.   
The "My Address" line should be populated with your residential address. Typically, this will consist of your building or house number, the name or number of the street/road, the city where this street is found along with the state and zip code. Make certain this address is reported exactly as it appears on your state-issued ID and insurance paperwork since this will be used to identify you should you be found incapacitated.
Step 30 – Appoint Your Determined Illinois Health Care Agent
The next area of this form displays the required declaration to formally name your Health Care Agent as the individual that Illinois Medical Personnel must confer with when determining the next phase of medical treatment. If you are unable to communicate then this person will be sought out by attending Illinois Medical staff for your treatment options. Locate the parentheses label "Agent Name" then report the full name of your intended Illinois Health Care Agent. 
Once you have named your Illinois Health Care Agent, continue to the "Agent Address" line where his or her entire residential address should be generated for display.
Finally, list the telephone numbers where your Health Care Agent can be found by your attending Illinois Medical Staff on the line labeled "Agent Phone Number" 
Step 31 – Indicate If Your Illinois Health Care Agent Should Also Be Your Guardian
In some cases, the courts may decide that a Guardian of you person must be appointed by the state. If so, you can nominate your Health Care Agent for this role by marking the checkbox corresponding to the phrase "If A Guardian Of My Person Is To Be Appointed…" (see below). You may also use this section to indicate that you do not nominate your Health Care Agent as your Illinois Appointed Guardian by simply leaving this box unmarked.   
Step 33 – Authorize Specific Decision Making Powers Your Health Care Agent Can Make
The section beginning with the bold lettering "I Authorize My Agent To" requires your direct participation. The checklist statements provided each define your Illinois Health Care Agent's ability to represent you in a certain topic or to take certain actions but only if you mark the checkbox accompanying that statement. If it is left unmarked, then the unmarked statement will define actions your Health Care Agent may not take when representing you before Illinois Medical Staff. For instance, for your Health Care Agent to make decisions for you with Illinois Physicians when you cannot make them yourself, mark the first statement.   
To give your Health Care Agent the power to access your medical records and share them with the purpose of coming up with a health care decision in your treatment, select the second statement. This statement will only take effect if the Illinois Physician has determined you are unable to represent yourself effectively or if you are unconscious for an extended period of time. 
Select the third statement to retain the right to make your Health Care Decisions for yourself if you are able to (even while incapacitated) when even slightly possible (i.e. yes/no eye movements or finger tapping)   
Step 34 – Indicate Your Life-Sustaining Treatment Instructions
The topic of "Life-Sustaining Treatments" will be discussed in the next section. Read the introduction of this section as it will define the choice that must be made when Illinois Physicians have determined that you will not recover your quality of life, consciousness, or are facing an end of life event while you are unconscious or otherwise incapacitated. 
If faced with a situation where you are permanently incapacitated or unconscious with little to no hope of recovering your quality of life s per an Illinois Physician's diagnosis, then you may opt to face a natural death. If so, you may instruct Illinois Physicians to refrain from administering treatments simply to prolong or maintain your life by marking the first checkbox statement "The Quality Of My Life Is More Important…"
If you wish to convey to Illinois Physicians that "Staying Alive Is more important" to you than your response to treatments or your ability to recover, then mark the second checkbox in the "Life-Sustaining Treatments" section.   
Step 35 – Continue With Any Specific Limitations To Your Agent's Principal Authority
The blank lines in the final section are presented as a staging area for a dialogue you may directly produce concerning your Health Care Agent's decision making powers. For instance, you may wish to limit your Health Care Agent's access to certain medical topics, place a condition on when your Health Care Agent may decide on your behalf or when it should be made by your Illinois Physician (if possible), or even remove his or her ability to determine if an autopsy can be performed. All such conditions, limitations, or restrictions to your Illinois Health Care Agent's principal authority over your health care decisions should be included in this document. If you require additional room then, you may attach a document with this content but make sure to cite it by title in this section.
Step 36 – Execute The Illinois Health Care Agent Appointment Before A Signature Witness
Your name must be signed, by you as the Illinois Principal, on the "My Signature" line just before recording your signature date on the line labeled "Today's Date" 
Step 37 – Acquire Your Witness's Testimony
Release this document to the Signature Witness. He or she will need to verify that you have signed this paperwork under the conditions stated after the term "I Am At Least 18 Years Old." If he or she has physically seen you sign this paperwork then select the checkbox labeled "I Saw The Principal Sign This Document."  
If the Witness is attesting to the fact that you have signed this document and stated as much to him or her (directly spoken) then he or she must mark checkbox corresponding to the term "The Principal Told Me That The Signature Or Mark On The Principal Signature Line Is His Or Hers.
Once the Witness has indicated the conditions or circumstances of his or her testimony, the Witness must print his or her name after reading the Witness statement provided.  
In addition to the Witness's name presented in print, the next line must be populated with the "Witness Address" of residence.  
Finally, the Witness must sign the "Witness Signature" line then furnish the current date as the signature date on the line labeled "Today's Date." 
Step 36 – Designate A Successor Health Care Agent If Desired
Unfortunately, there may be times when your Health Care Agent cannot represent your interests either because he or she is unable to or unwilling to. This can be a precarious situation if you are unconscious and require a Health Care Agent to make decisions for you. To avoid being in this position you can name a Successor Health Care Agent that already possesses your approval to assume the same medical decision-making powers and abilities you designated to your Illinois Health Care Agent. If you wish to set this in motion through this document, then locate the blank line labeled "Successor Agent #1 Name, Address And Phone Number" then input his or her first, middle and last name followed by the Successor Agent's complete address and telephone number(s).     
You can name a second Successor Health Care Agent to carry your authorization to assume the Health Care Agent role in this document by recording his or her name, address, and telephone number on the second line of the "Successor Health Care Agent(s)" section.  
Related Forms
---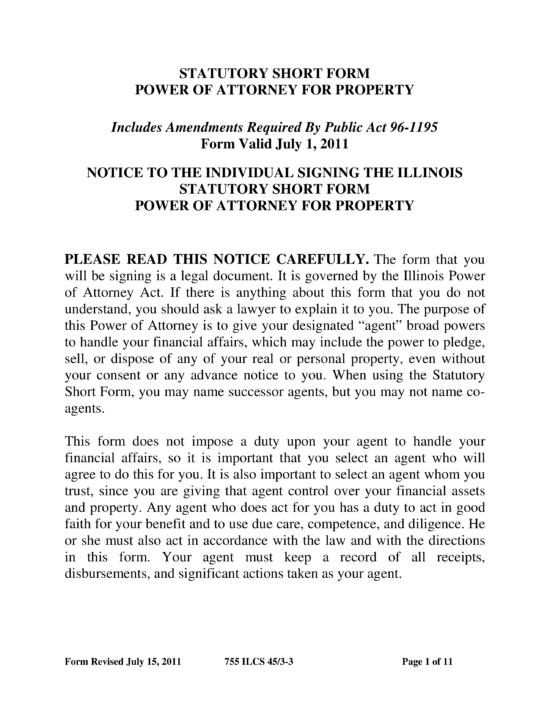 Durable Financial Power of Attorney
Download: Adobe PDF, MS Word, OpenDocument
---
Download: Adobe PDF, MS Word, OpenDocument