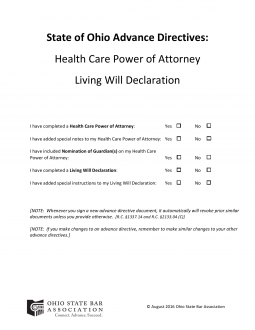 5.0 Stars | 14 Ratings
174 Downloads
Updated July 28, 2023
An Ohio advance directive is a document that allows a person to outline their medical treatment preferences and to select an agent to make health-related decisions on their behalf. The agent is commonly a spouse or family member that can be trusted to follow health care preferences in the advance directive. The form is only to be used when a person has become incapacitated or unable to make decisions on their own.
Advance Directive Includes
Laws
Statute – § 1337.60,[1] § 2133.02[2]
Signing Requirements – Two witnesses or a notary public.[3]
Versions (3)
---
Download: PDF
---
Download: PDF
---
Download: PDF
---
How to Write
Download: PDF
Checklist
(1) Declarations. Review the checklist provided. This checklist is composed of the forms included in this directive package. Determine which declarations you wish to make then, once you have completed them, mark a "Yes" next to each completed directive.

Ohio Health Care Agent Appointment
(2) Title Information. The first area of the directive is an appointment where you will deliver the authority to make decisions regarding your medical care to a separate Party. The title of this document must name the Ohio Patient who is using it as an instrument to grant these decision-making powers. Produce your full name in the title as well as your birthday to name yourself as the Ohio Principal issuing it.

Naming Of My Agent
(3) Agent's Name And Relationship. Here, you will name your Health Care Agent. Make sure the Person you have determined for this role is reliable since he or she will be called upon to discuss your health care preferences with Ohio Medical Personnel because you would be unable to do so (i.e., you are unconscious for a long period of time).
(4) Address. The Ohio Health Care Agent's permanent mailing address should be reported in full. This must be where he or she can reliably receive official notices, requests, and official medical information on your behalf should this become necessary.
(5) Telephone Number(s). The telephone number where Ohio Medical Professionals can reach your Health Care Agent should be recorded with his or her name and address information.
(6) Agent's Right To Principal Information. Your selected Ohio Health Care Agent will receive a wide scope of default powers however, some actions and abilities require direct approval. You must initial the displayed checkbox statement in this area to grant the authority your Ohio Health Care Agent needs to access your protected medical or health care information upon the proper execution of this document.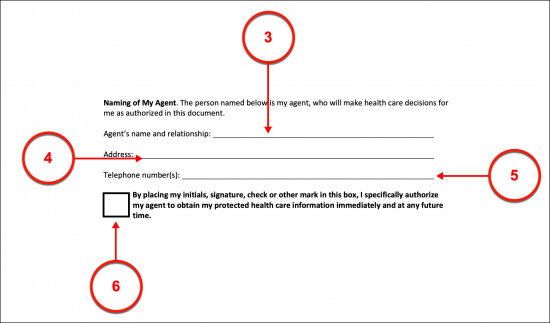 Naming Of Alternate Agent
(7) First Alternate Agent's Name And Relationship. Your chosen Ohio Health Care Agent fulfills a crucial function. He or she will be the person with who Ohio Doctors will communicate on your behalf. Unfortunately, he or she may not be able to represent you when called upon. For instance, he or she may be traveling, dealing with a crisis, or disqualified should you revoke the granted powers. You can protect yourself from being incapacitated without representation by holding an Agent in reserve as an Alternate Agent to represent your medical wishes to Ohio Medical Staff. Determine who can take over this role from the Ohio Health Care Agent, then document the full name of the Alternate Ohio Agent of your choice as well as how he or she is related to you.
(8) Address.
(9) Telephone Number(s)
(10) Second Alternate Agent's Name And Relationship. The Second Alternate Agent fills the same function as the First Alternate Agent. If the Ohio Health Care Agent and Alternate Agent both cannot represent you at a time when you are incapacitated in this state and require medical care, then the Second Alternate Agent you name can take over this role. Once he or she assumes this role the Second Alternate Agent will be granted the decision-making powers this document delivers.
(11) Address.
(12) Telephone Number(s).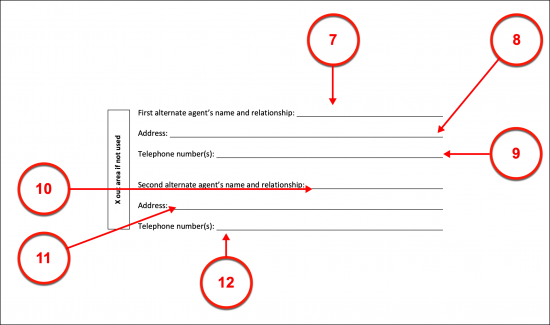 (13) Decisions On Pain Relief. As mentioned, the default powers that can be granted to your Ohio Agent are set to be delivered through this appointment. You may limit access to these medical decision-making powers by simply deleting or removing them from the section detailing them.  Directive 1 of this list concerns decisions that may need to be made regarding pain management. By leaving this statement intact your Ohio Health Care Agent will be able to consent or refuse (on your behalf) to the administration of pain-relieving drugs or procedures whether or not they hasten your death. Remove this directive if you do not wish to grant the Ohio Health Care Agent this type of decision-making authority.
(14) Decisions Made When Terminal. If you do not issue or have not issued a living will then when you are unconscious and enduring a life-threatening and incurable medical condition, Ohio Doctors need to go to another place for your informed decisions. Directive 2 gives your approval of the Ohio Health Care Agent's ability to represent your decisions in such a situation. This directive can be left intact or removed at your discretion.
(15) General Health Care Decisions. The authority needed to speak to Ohio Doctors on your behalf to determine what treatments, interventions, and medical procedures should be used or denied is delivered through the language in Directive 3.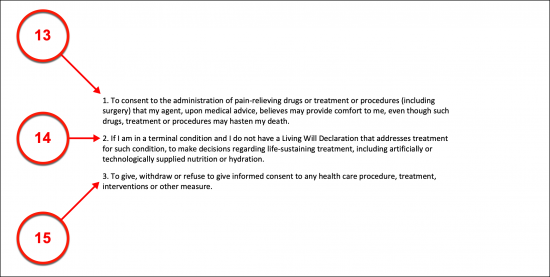 (16) Access To Your Patient Records. Your Ohio Health Care Agent can only request, access, and review your medical and mental health records if you give him or her the authority to do so. Directive 4 performs this function.
(17) Authority To Disclose Information. Directive 5 shall grant the Ohio Health Care Agent your approval to disclose your medical and mental health care Patient records that deal with your condition and possible treatments to other Parties. Leaving this statement unmarked will deliver this approval to your Ohio Health Care Agent, but you may delete it to withhold this type of authority to your Agent.
(18) Actions To Release Information. You must approve the Ohio Health Care Agent's authority to release your medical and mental health care records when they are requested before he or she can do so. Directive 6 enables this approval to be documented however if you wish to forbid or prevent your Ohio Health Care Agent from delivering releases of information with your approval then you must remove this power.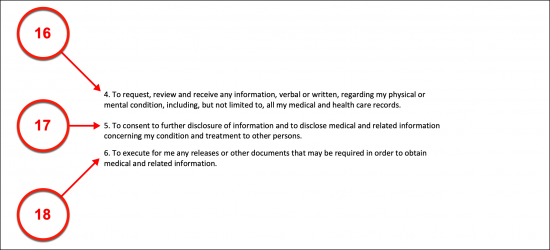 (19) Waivers And Liability Release. Your Ohio Health Care Agent to indemnify or hold harmless from liability Parties who are acting in good faith on the declarations made in this form as well as your Ohio Health Care Agent's decisions, instructions, and actions. That is, as the Ohio Principal, you will take full responsibility for the content of this form and the contained actions or decisions it presents. Directive 7 should not be removed unless under the guidance of an appropriate Professional (i.e., an Attorney who specializes in medical law).
(20) Employment Decisions. The Health Care Providers obtained or discharged from treating your medical conditions can be determined by your Ohio Health Care Agent as per the language of Directive 8.
(21) Health Care And Mental Health Care Facility Decisions. Directive 9 of this list enables you to grant your Ohio Health Care Agent the authority to decide upon the Medical and Mental Health Care Facilities where you will receive treatment. This type of principal power will also include the ability to admit or discharge you to Assisted Living Facilities, Adult Homes, End-of-Life Facilities such as a Hospice, as well as Hospitals. Leave this directive included to grant this power or remove it to restrict these decisions from the Ohio Health Care Agents may make on your behalf.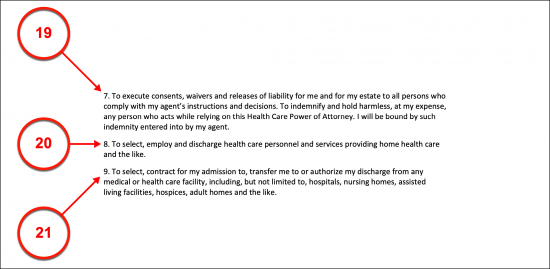 (22) Medical Transportation Powers.
(23) Further Executions Of Principal Directives. The final directive of this list allows additional actions to be taken by the Ohio Health Care Agent. The first two abilities granted are closely related as both will allow your Agent to complete specific hospital paperwork. Include the first two bullets in this directive to grant your Ohio Health Care Agent the right to fill out medical orders such as a DNR (Do Not Resuscitate) and transfer requests even when current Health Care Providers advise against it on your behalf. Either of the first two statements can be removed at will.
(24) Additional Documentation Powers. Any document required for your medical preferences to be upheld can be issued by the Ohio Health Care Agent as per the final statement in Directive 11. This is a blanket statement meant to allow your Ohio Agent to fulfill unforeseen paperwork that may require completion on your behalf after your incapacitation  For instance he or she may need to complete a request for a specialized experimental treatment that may not be available at the time you issue this paperwork.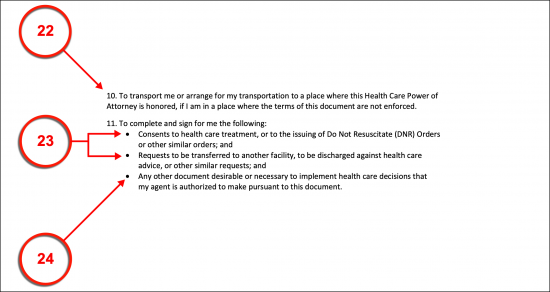 (25) Medically Delivered Nutrition/Fluids In Ohio. If you are unable to eat, drink, absorb nutrients/water, and/or are in a persistent vegetative state, then Ohio Doctors may have to connect you to a source of food and water through either a tube or an I.V. You can approve your Ohio Health Care Agent's power to deny or withdraw the medical delivery of nutrition/fluids to your system by providing initials to the appropriate statement.

(26) Additional Instructions Or Limitations. While the limitations on your Health Care Agent's powers have already been set by the State of Ohio and presented in the next discussion, you may further limit his or her use of the principal authority you possess over your health care. Review the list of limitations. You may not remove any of these items since these limitations are required by law. If you would like to restrict your Agent in other ways, directly report the instructions he or she must follow, decisions that you have made (currently) and complied with regardless of the medical scenario involved, and any limitations to the list of powers granted. For instance, you may wish your Ohio Health Care Agent to be able to admit and discharge you from Medical Facilities but wish to forbid him or her (and any Reviewer) from admitting you or discharging you from a specific Medical Facility that you strongly prefer.

(27) The Ohio Health Care Agent As Guardian. You have the option of also nominating your chosen Ohio Health Care Agent to the position of Court-Appointed Guardian of your Person. Bear in mind this act is not a formal designation of your Ohio Guardian of Person, instead, it is only a nomination as the courts are the only Entity with the power to make this designation. As the Principal involved, however, your nomination will carry a certain weight. To make this nomination, initial the nomination statement provided.

(28) Guardian Of My Person's Name And Relationship. If you have a different Party in mind for your nomination of Court-Appointed Guardian, then utilize this section to name your choice for Ohio Court-Appointed Guardian and discuss how he or she is related to you.
(29) Address And Telephone Number(s) Of Ohio Guardian Nominee.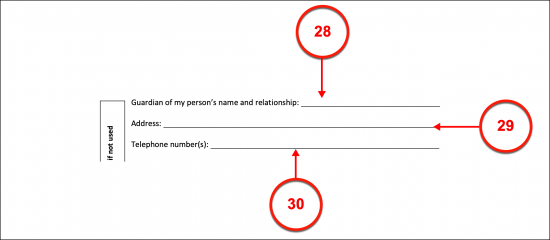 (31) Alternate Guardian Of My Person's Name And Relationship. Notice that earlier you named both an Ohio Health Care Agent and an Alternate Agent to step into the position should it remain or become vacant. In this section, you can nominate an Alternate Court-Appointed Guardian. This act is a wise precaution since, if the courts decide a Guardian must be appointed, it will be imperative that the role remain filled. Record the full name and relationship of the Party you wish to nominate as an Alternate Guardian of Person should your initial choice decline or be unable to accept the appointment.
(32) Address And Telephone Number(s).

(32) Ohio Health Care Agent As Conservator.

(34) Guardian Of My Estate And Relationship. Ohio State Courts also reserve the right to appoint a Guardian of Estate (or a Conservator). Once again, this is an appointment that only the Ohio State Courts may make however you can nominate a specific Party for this role as well. Use the area provided to nominate the Party of your choosing to be taken into consideration for a Court-Appointed Conservator or Guardian of Estate should this be needed. Record the name and the way this Party is related to you to make this nomination
(35) Address.
(36) Telephone Number(s).
(37) Alternate Guardian Of My Estate And Relationship. You can make an alternate nomination for the Court-Appointed Guardian of Estate or Conservator who can be approached for this appointment should your original nomination for Court-Appointed Guardian Of Estate be disqualified or unwilling.
(38) Address.
(39) Telephone Number(s).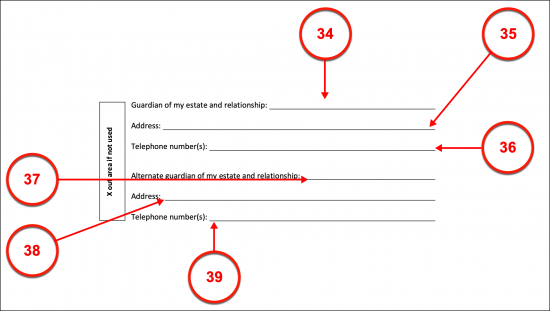 (40) Waiving Bond For The Health Care Agent Nominations. If you wish to waive the bond or insurance protections for your assets when Ohio State Courts appoint a Guardian, then initial the checkbox provided for this declaration.

(41) Status Of The Ohio Living Will. As the Ohio Principal or Ohio Declarant issuing this directive, you can employ the included living will to discuss how you wish Medical Professionals in this state to administer or withhold treatment should you be diagnosed as permanently unconscious or with a fatal condition.  Indicate if you intend to make this issue with the "Yes"  box or if you do not intend to deliver directives in this manner by selecting the "No" button. This will let Reviewers know whether an additional issue will be executed beyond your signature approval of the appointment above.

Signature Of Principal
(42) Signature Date Of Ohio Principal. The State of Ohio requires that you sign the completed appointment in the presence of a licensed Notary Public or two adult Witnesses. This process must begin with the documentation of the current date as you sign your name.
(43) Ohio Principal Signature. Sign your name as soon as you record the current date then release control of this document either to the Witnesses or Notary Public present.

Ohio Principal Signature Authentication
(44) Witness One's Signature. Witness 1, the first Party to take control of this document after you sign it, must read the acknowledgment regarding your state of mind at the time of signing then sign his or her name as well as print it. This act must be dated with the current date.
(45) Witness One's Address. Witness 1 must also dispense his or her address then release this paperwork to the next Witness.
(46) Witness Two's Signature. The next Witness must review the declaration made then provide his or her signed and printed name along with the current date.
(47) Witness Two's Address.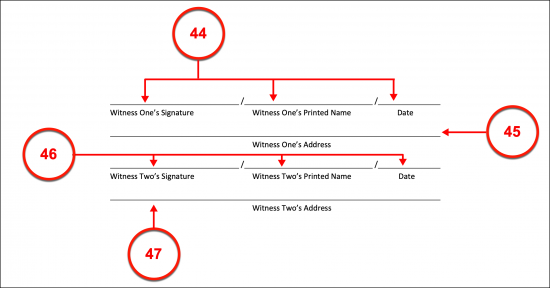 (48) Notary Acknowledgment. If you have decided that a Notary Public should be used to verify your signature, then he or she will complete the Notary Acknowledgment section provided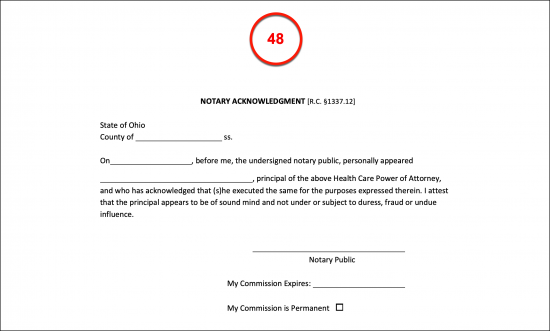 Living Will Declaration In Ohio
(49) Printed Name Of Ohio Declarant. Begin this process by recording your full name in print. This will claim the directives in the living will portion of this package as those mad
(50) Birth Date Of Ohio Declarant. Support your identity by reporting your birthday.

(51) Power Of Attorney Status. Confirm that you have either filled out or will include an appointment for an Ohio Health Care Agent by selecting "Yes" or "No."

(52) First Contact's Name And Relationship. When you have been diagnosed as near-death by your Ohio Physicians then, according to this directive, any life-support measures being implemented as a part of your treatment will be withheld and no other life-sustaining treatments will be administered. At this point, your Ohio Physician will contact the Parties you list on your contact sheet. Begin with your First Contact's full name and the relationship this Party holds to you.
(53) First Contact's Address And Telephone Number(s).

(54) Second Contact's Name And Relationship. The Second Party you wish contacted when life-support will be withdrawn and no longer applied should be listed by name. In addition to his or her name, document the manner in which the 2nd Contact is related to you.
(55) Address And Telephone Number(s).
(56) Third Contact's Name And Relationship. The third individual that your Ohio Physicians will contact when your life support will be discontinued or no longer administered must have his or her full name and relationship (to you) presented.
(57) Address And Telephone Numbers.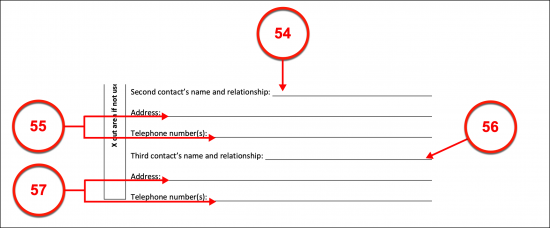 (58) Instructions To Withdraw Or Deny Medically Delivered Nutrition And Water. Initial the appropriate checkbox declaration to formally state that Ohio Medical Staff should no longer include the delivery of nutrition and liquids to your system using medical technology (i.e. a tube, machine, an I.V.).

Anatomical Gifts
(59) Ohio Declarant Treatment Instructions. A space has been reserved so that your specific preferences and treatment directives can be put on paper for review of Ohio Medical Professionals. Here, you may impose constraints or time limits on when treatment, nourishment, water, and life-support can be provided, when it should be withdrawn, and any circumstances that should apply for your directive to become an active treatment goal. Additionally, you may also document medical conditions where you wish to continue receiving treatment, nutrition, or hydration if necessary. If there are no additional preferences that you wish reported then write in the word "None" to avoid any possible confusion.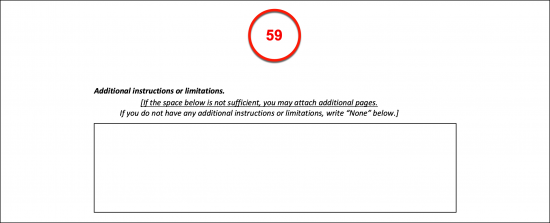 (60) Section 1. Body Parts. If you wish to use this form to deliver instructions on anatomical gifts that you wish made, then refer to the optional "Anatomical  Gift" section. Here, by selecting the first checkbox, you can declare that you will approve any needed organ, tissue, or body part donation that may be requested upon your death.

(61) Specific Donation Directive. If you only want to donate certain parts of your body (i.e., organs, tissues, muscles, bones, nerves, etc.). Then review the provided list and check off every body part that you approve for donation as an anatomical gift. Note that if you do not select any boxes in Section 1, then it will not be assumed that you have authorized any anatomical gifts to be made and you will not be considered an Organ Donor in the State Of Ohio (through this form).

(62) Section 2. Purposes. The reason why an Ohio Recipient will request your anatomical donation may be of some importance. If not, then indicate that you grant a general authorization to the reasons why an anatomical gift can be made.
(63) Specific Purpose. You can specifically name a purpose you find acceptable to make an anatomical gift in the State of Ohio by selecting the word "Transplantation," "Therapy," "Research," and/or "Education." You may select one of these purposes or any combination of these items as a representation of the anatomical gift purpose that you approve of.

Declarant Signature
(64) Signature Date Of Ohio Declarant. Document the calendar date when you sign this declaration.
(65) Ohio Declarant Signature. Your signature is the required instrument to place this declaration in effect. It must be verified and acknowledged as being produced while you are perfectly aware of your actions. This testimony must be provided by two adult Witnesses or a Notary Public who watch you complete this activity.

(66) Witness One's Signature. Your witnesses will need to provide their signatures. Each will have his or her own signature area for this form. Thus, if you wish two Witnesses to verify your signature, then make sure that Witness 1 reviews the confirmation statement then agrees to it by providing his or her signature, printed name, and signature date.
(67) Witness One's Address.
(68) Witness Two's Signature. Witness Two must also supply his or her signature, printed name, as well as his or her date of signature.
(69) Witness Two's Address.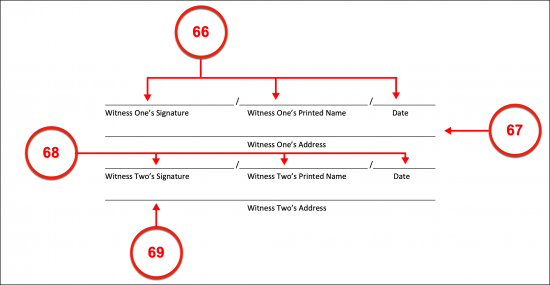 (70) Notary Public. If you preferred to use a Notary Public recognized by the State of Ohio then he or she will display the notarization process where it is requested as proof that he or she observed a properly executed signing by the Ohio Declarant (you). Only the Notary Public will be able to perform a notarization, therefore, make sure to follow any additional instructions this Party issues at the time of signing.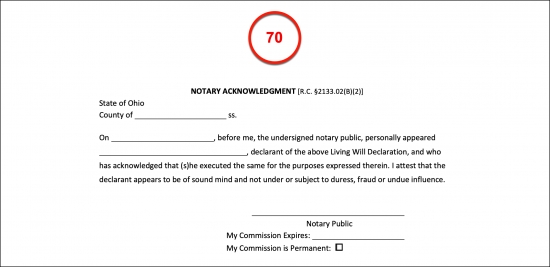 State Of Ohio Donor Registry Enrollment
(71) Name. If you wish to formally make a statement to the Ohio Registry regarding your status, then attend to the next form in this directive. Begin by documenting your full name as the Ohio Donor Declarant.
(72) Mailing Address.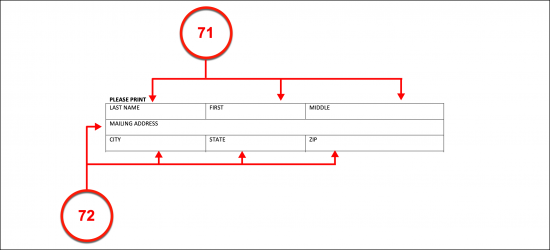 (73) Phone.
(74) Date Of Birth. In addition to your name and basic contact information, provide your birthday since this will help identify you.
(75) State Of Ohio Driver's License, ID Card, Or Social Security Number. The final piece of identification required for this form is your Ohio State Drivers License or State ID number. If you do not have either of these numbers, then present your social security number.

(76) Option 1. To deliver consent for any anatomical donation to be made upon your death for any reason, select the statement in Option 1.

(77) Option 2. The second option allows you to specify what anatomical donations are approved, what purposes are approved for anatomical donations, or both. To make a gift of all organs, tissues, and eyes then select the first statement and the second statement. This will allow you to make all allowable anatomical gifts available while also allowing you to specify the purpose.
(78) General Approval.  To donate all internal organs, tissues, and both eyes you must select the second statement in this option.

(79) Specifically Authorized Anatomical Gifts. To allow for only certain body parts to be considered an authorized anatomical donation, then select the first statement and the body parts that you wish to donate. This allows you to specify exactly which body parts and organs you wish to donate without any mention of purpose.

(80) Any Purpose Approval. Now that you have detailed what you wish to be your authorized anatomical gift, it will be time to discuss the purpose. If you intend to approve of all purposes for this donation then select the "All Purpose" directive.
(81) Specifically Named Authorized Purpose. If you only wish to approve of an anatomical donation in the State of Ohio for one or more purposes (but not all) then select "Transplantation," "Therapy, "Research," "Education," or any combination of the four purposes presented.

(82) Option 3. To be removed from the Ohio Donor Registry, select the statement in Option 3 without marking any boxes in Option 1 or 2.
(83) Signature Confirmation. As the Ohio Organ Donor, you must sign this registration or update and document the date when you completed this act.

DNR Comfort Care
(84) Patient Name. If you wish to issue formal medical orders for Ohio Medical Personnel to follow if your heart or lungs stop, then you must consult with a licensed Physician, Physician's Office, or Medical Facility. This Party will need to authorize your directive by signature. Bear in mind this form will specifically deal with the decision to employ resuscitation methods for cardiopulmonary failure. Begin with a record of the Ohio Patient's full name. If you are the Ohio Patient preparing this form for authorization, then place your own name where requested.
(85) Patient Birth Date.
(86) Patient Or Authorized Signature. Your signature should be provided to verify your intent. Since you may be incapacitated at the time and this issue following a previously issued directive, this item is not mandatory so long as this document has been authorized by you, the Ohio Patient.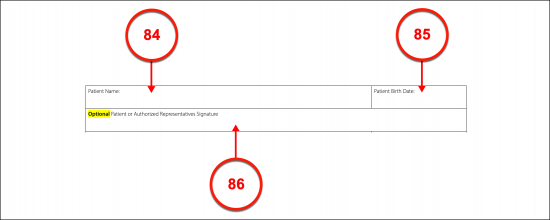 (87) Printed Name Of Physician, APRN, Or PA. The full name of the Physician, Nurse, or Physician's Assistant aiding in the execution of this order should be printed.
(88) Declaration Date.
(89) Date.
(90) Signature Of Physician, APRN, Or PA. The Ohio Medical Professional authorizing the request you are making through this paperwork must sign his or her name.
(91) Name Of The Supervising Physician Or APRN. If the Physician overseeing your care is not attending to this form, then a Nurse or Physician's Assistant in his or her Office or Facility will have provided the authorizing signature then the full name of the Physician and the Office or Facility phone number where he or she can be reached must be documented.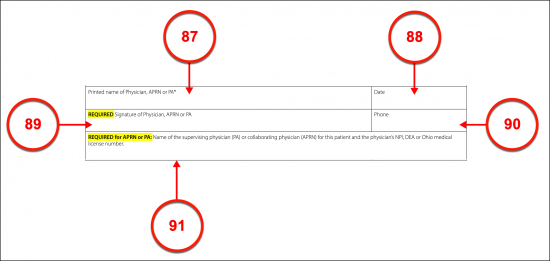 (92) DNR Comfort Care – Arrest. If you do not wish CPR administered when your heart or lungs fail in the State Of Ohio, this will be indicated with a checkmark to this declaration.
(93) DNR Comfort Care. If this document is meant to go into effect immediately, thereby setting the DNR comfort care protocols in motion, then the checkbox corresponding to the second statement must be selected.

Related Forms
---
Durable (Financial) Power of Attorney
Download: PDF, MS Word, OpenDocument
---
Download: PDF, MS Word, OpenDocument
Sources