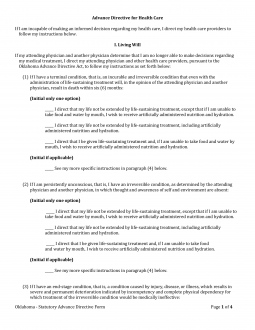 An Oklahoma advance directive is a document used to outline a person's future health care plans and instructions for care. An advance directive allows someone to select an agent to handle their health care needs and to outline their medical treatment guidelines in case they cannot speak for themselves. Once signed, the form should be kept by the agent and close family members.
Four (4) Parts
Living Will;
My Appointment of My Health Care Proxy;
Anatomical Gifts; and
General Provisions.
Table of Contents
Laws
Statute – § 63-3101.4
Signing Requirements (§ 63-3101.4) – Two (2) witnesses.
State Definition (§ 63-3101.3(1)) – 1. "Advance directive for health care" means any writing executed in accordance with the requirements of Section 3101.4 of this title and may include a living will, the appointment of a health care proxy, or both such living will and appointment of a proxy;
Versions (9)
---
Download: Adobe PDF
---
Download: Adobe PDF
---
Download: Adobe PDF
---
Download: Adobe PDF
---
Download: Adobe PDF
---
Download: Adobe PDF
---
---
Download: Adobe PDF
---
Download: Adobe PDF
How to Write
Download: Adobe PDF, MS Word, OpenDocument
Step 1 – Obtain The Oklahoma Advance Directive For Health Care As A PDF Template
The Oklahoma Advance Directive can be acquired as either a PDF, MS Word, or OpenDocument Type using the links presented in this area of the page or by selecting the appropriately designated button captioning the sample image of the template.
Step 2 – Review The Preliminary Information Stated In The Declaration
Some statements are made at the start of this directive concerning when this paperwork should be active. Read the statement just above the section title "1. Living Will" to verify that this directive becomes effective in Oklahoma when the Principal (You) becomes incapable (i.e. incoherent or unconscious) of making or delivering health care and treatment decisions then review the statement below as this will direct "Physicians And Other Health Care Providers" to treat this document as per the "Oklahoma Advance Directive Act."
Step 3 – Discuss Your Preferences When Suffering From An Incurable Condition
A few statements set in this paperwork shall need your input as the issuing Principal for this document to function correctly. The first of which, noted by the label "(1)," shall require your initials to verify how you wish Medical Staff in charge of your care to behave when you have a terminal condition that will result in death within six months regardless of any treatments or actions taken by Staff to prolong your life. One of four statements in item "(1)" must bear the Principal initials to apply it as your preferences during such a scenario.  If you wish Medical Staff to refrain from administering treatment to sustain your life but still ensure that proper nutrition and hydration is provided (even artificially), then you must initial blank line preceding the first statement below the bold instruction "Initial Only One Option."  
As the Principal, if you do not wish Medical Staff to administer life-sustaining treatment when your body cannot survive longer six months without it, do not wish to receive artificial nutrition, and do not wish fluids administered through tubes then select the second statement in this area by initialing the blank line attached to it.
You may wish your life sustained through whatever treatment allowed and to receive the proper nutrition and fluids artificially (as needed) regardless of whether your body will survive longer than six months, then initial the third statement's blank line.
You may have specific instructions that apply to certain scenarios meaning that general statements that will satisfy most directives may leave your preferences unaddressed. If this is the case, an opportunity to include your instructions when your death will occur within six months will be presented later. For the moment, item "(1)" must be addressed. Thus, if you intend to deliver specific or additional directives that apply to a scenario where you (as the Principal) have an untreatable condition that results in death (within six months), you must initial the final statement in this area "See My More Specific Instructions…" 
Step 4 – Provide Treatment Directives If Rendered In A Coma Or Permanently Unconscious
The second item, "(2)," of the Living Will section also presents three statements. If you become unconscious, unresponsive, or otherwise unable to remain cognizant and this is unlikely to change with any treatment, then you can still inform the Oklahoma Medical Staff of your preferences as the Principal by initialing one of the statements in item "(2) If I Am Persistently Unconscious…" Thus, if you wish to have life support removed but still wish to "Receive Artificially Administered Nutrition And Hydration" when needed, you must initial the first statement.
If you do not wish the Oklahoma Medical Staff to intervene with life support, artificial nutrition, or artificial hydration when needed during a scenario where you are permanently unconscious, then you (as the Principal) must initial the second blank line in item "(2)." 
If the Principal (You) wants to receive life-supporting treatment as well as artificial food and water/liquids by Oklahoma Medical Staff even when permanently unable to remain conscious, then the third statement must be initial (by the Principal).  
Additional or specific instructions to Oklahoma Medical Staff may be deliverable directly from the Principal (You) if it is attached to this directive and the fourth statement ("See My More Specific Instructions…") must bear the Principal initials. 
Step 5 – Furnish A Dialogue Regarding End-Of-Life Treatment When Your Quality Of Life Has Deteriorated
The third item shall address the topic of being struck down by an "End-Stage Condition" that will result in a significant deterioration in the quality of the Principal's life while no possibility of recovery exists. For instance, when struck down by a disease that renders one incompetent and unable to live independently of medical intervention. If, as the Principal, you wish "Life-Sustaining Treatment" to be denied, withdrawn, or otherwise withheld but intend to continue receiving nutrition and fluids (even if artificially) then the first statement in item "(3) If I Have An End-Stage Condition…"
If faced with a scenario where your quality of life during an end-stage condition will deteriorate significantly and to an intolerable level, then you may opt-out of receiving life-prolonging treatment, nutrition (artificially), and fluids/hydration (artificially). If so, then you must initial the second statement of item "(3) If I Have An End-State Condition…"  
You should initial the third statement in this item if you wish to receive life-sustaining treatment and to have medical staff maintain a healthy level of nutrition and hydration during a scenario where you (as the Principal) has been subjected to a loss of independence and competence during an end-of-life event.  
If you wish to make detailed preferences regarding item "(3) If I Have An End-Stage Condition…" then you may do so later in this document but must initial the fourth statement in this section (directly under the heading "Initial If Applicable") to indicate further instructions will follow. 
Step 6 – Include A Direct Report With Your Oklahoma Living
In the item titled "(4) Other," you may address your treatment preferences directly. The blank lines here can be used to distinguish treatment options the Principal (You) wishes considered by the Oklahoma Medical Staff on hand. Concerns regarding exactly when the Oklahoma Principal allows life-sustaining treatments or intervention applied, when nutrition (artificial or otherwise) may or may not be administered, and when their hydration levels can be maintained by medical staff can be discussed here. Such treatment options will often need to be addressed when a Patient is facing serious medical trauma such as an untreatable condition, a significant and permanent loss of the ability to communicate, or remain conscious or can no longer live independently. The blank lines in "(4) Other" should be supplied with a dialogue regarding such concerns then initialed by the Principal. If there is not enough room, this section may be handled by an attachment as long as it is mentioned by the title. 
The Principal issuing such a statement must verify its authenticity by initialing the blank line below it.

Step 7 – Appoint An Oklahoma Health Care Proxy To Represent You When Necessary
The next area, "II My Appointment Of My Health Care Proxy," presents the wording required to approve of a single person to have the same medical decision-making power the Principal has according to the Oklahoma Advance Direct Act. If you wish to approve of another Party's right to voice your medical decisions when you cannot, then locate the first blank line in the first paragraph of this section. This Party, referred to as the Oklahoma Health Care Proxy, should be named on this line (just after the words "…The Instructions Of" and before the term "Whom I appoint…").
Step 8 – Reserve An Alternate Health Care Proxy As A Precaution
The second blank line is placed to give you the opportunity to take a precautionary step. If the Health Care Proxy, just appointed is "…Unable Or Unwilling To Serve…" then you may name another Person to be held in reserve as an Alternate Health Care Proxy. Be advised, only one of these Agents will carry active approval to act as your Health Care Proxy so the Alternate Health Care Proxy will not be able to assume principal power to represent you unless the first Health Care Proxy named will not or cannot act in this capacity. 
Step 9 – If Desired, Formally Approve Making Anatomical Gifts
Section "III. Anatomical Gifts" seeks the Principal's position on tissue or organ donations that can be made at the time of death or after. A couple of lists will allow you (as the Principal) to document the extent of your approval. If you do not wish to make anatomical gifts, then do not supply approval to any part of "III. Anatomical Gifts. Otherwise, use the first list to indicate the approved purpose of the donation. For instance, if you approve of anatomical gifts made for the purpose of "Transplantation" then fill initial the first blank line.
If an anatomical donation for the purpose of "Therapy" is approved, then initial the second blank line in the first list presented in "III. Anatomical Gifts."  
You can approve of anatomical gifts made for the "Advancement Of Medical Science, Research, Or Education" by initialing the fourth item of this list. 
Initial the last item to approve of anatomical donations made for the purpose of "Advancement Of Dental Science, Research, Or Education."  
Step 10 – Detail The Anatomical Gifts You Wish Donated
The next area in "III. Anatomical Gifts" requires a definition of what the anatomical gifts may consist of. This can be accomplished by initialing the items you approve and leaving the list items that should not be donated unattended. If desired, you may initial the blank line labeled "My Entire Body" to make an anatomical donation of all tissues, organs, and body parts for the reasons you approved above. 
If only some body parts may be donated with your approval, then the statement after the word "Or" must be initialed on the blank line preceding "The Following Body Organs Or Parts."
In a case where anatomical donations must be carefully approved and you (as the Principal) have initialed the second option, then you must also review the list that follows to personally approve which body part, tissue, or organ can be donated and which cannot. Thus, if you wish to donate your "Lungs" and your "Liver" then initial the blank line next to the organ you wish to donate.  
If you approve of a donation consisting of your "Pancreas" or "Heart" then initial the blank line accompanying "Pancreas" or "Heart" to indicate this. You may choose to donate one or both by supplying your initials appropriately. Remember, it will be understood that any organ, body part, or tissue that is not initialed cannot be donated.  
You can opt to donate either your "Kidneys," "Brain," or both by initialing the blank space corresponding to the item whose donation you approve. 
If you wish to donate your "Skin" and/or your "Bones/Marrow," then locate these items on the list and initial the blank space provided for the donation you approve.  
An anatomical gift of your "Blood/Fluids" can be made as well as your "Tissue" once you initial the blank lines attached. Do not initial an item that you do not want to donate after death. 
If you have decided to donate your "Arteries" and/or "Eyes/Cornea/Lens," you may find these items at the bottom of the first and second (column) respectively where your approval can be delivered by initialing the body part you wish to donate.  
Step 11 – Familiarize Yourself With The Disclosure And Definitions Included
It is imperative that you read the section titled "IV. General Provisions" since it will be assumed that you agree with every statement it makes once you sign this paperwork into effect.
Step 12 – Date The Oklahoma Principal's Signature
Take a moment to read through the completed Oklahoma Directive and any attachments you provided. If this information is in accordance with your medical decisions, then find the three spaces after the words "Signed This…" Present the two-digit calendar day, the full name of the month, and the two-digit year defining the Date you are signing this directive.  
Step 13 – Execute This Directive As The Oklahoma Principal Behind It
Once you have dated this completed paperwork, sign the "Signature" line. This can be found underneath the calendar date you named, and this act must be completed on that date before two Witnesses.
  It will be crucial that you are properly identified by anyone reviewing this paperwork. Thus, record the "City Of" your residence on the blank line underneath your "Signature" line. 
After producing the city, furnish the Oklahoma County of your residence on the next line down.  
The final blank line in the Principal's signature area requires your "Date Of Birth." This is optional but strongly recommended since your "Date Of Birth" is usually used in medical filing systems to aid in identifying you. Upon the completion of your signature area, give the Witnesses this document.  
Step 14 – Obtain Witness Authentication Regarding The Signature
Two Witness areas have been presented underneath the final statement of this directive ("This Advance Directive Was Signed…"). Both Witnesses must agree to this statement to authenticate the Principal's (Your) signature. The first Witness line must be signed by Witness 1. 
After signing his or her name, Witness 1 must record the address of his or her Oklahoma residence then give this document to Witness 2.  
Upon receiving this paperwork, Witness 2, must sign the second "Witness" line.  
Lastly, Witness 2 must also document his or her residential address in Oklahoma below his or her name.   
Related Forms
---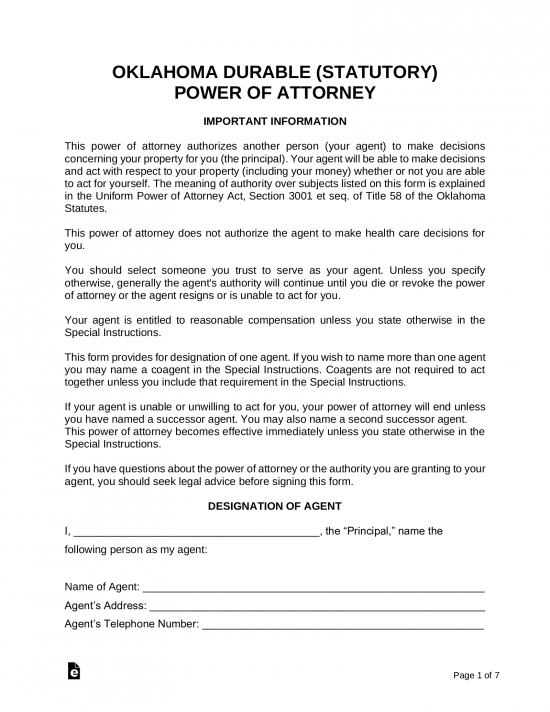 Durable (Financial) Power of Attorney
Download: Adobe PDF, MS Word, OpenDocument
---
Download: Adobe PDF, MS Word, OpenDocument