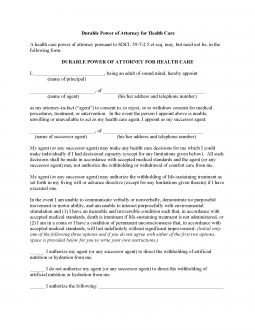 A South Dakota advance directive is a document that lets a person designate someone else to be their health care agent and follow their treatment requests in case they become incapacitated. An advance directive allows a person to plan their healthcare choices in the event they cannot speak for themselves due to loss of consciousness, dementia, or other mental issues. It addition, it includes selections for organ donation.
Advance Directive Includes
Table of Contents
Laws
Statute – Chapter 34-12D (Living Wills), Chapter 59-7 (Termination of Agency)
Signing Requirements (§ 59-7-2.1, § 34-12D-2) –  Two (2) witnesses or a notary public.
Versions (2)
---
Download: Adobe PDF
---
Download: Adobe PDF
How to Write
Download: Adobe PDF
Step 1 – Download Then Open the South Dakota Advance Directives
The South Dakota Advance Health Care Directives package is available as a "PDF" through the appropriately labeled button accompanying the sample image or through the "Adobe PDF" link. Initiate a download by selecting one of these items, then store this file in a folder you can easily access.
Step 2 – Name the South Dakota Principal Granting Health Care Powers
The first template to be tended with information is the South Dakota Durable Power Of Attorney For Health Care where you will designate one individual that North Dakota Physicians and attending Medical Personnel can approach to determine the next steps of your medical treatment when you are incapacitated and unable to speak, sign, or comprehend with Health Care Providers in charge of your medical needs. The beginning of this document presents a declaration of this appointment and will require some basic facts to supplement its content beginning with your full name entered on the "Name Of Principal" line. 

Step 3 – Designate One Person As Your South Dakota Health Care Agent
As mentioned earlier, a specific person will be named as your South Dakota Health Care Agent or Medical Attorney-in-Fact. For South Dakota Doctors to be able to properly identify your choice, his or her complete name should be furnished to the blank line labeled "Name Of Agent" while the adjacent line, labeled "His/Her Address And Telephone Number," must be populated with reliable and up-to-date contact information for the South Dakota Medical Attorney-in-Fact (Health Care Agent). 

Step 4 – Reserve A Successor Agent To Assume Health Care Decisions In South Dakota
If there is a time when your chosen South Dakota Medical Attorney-in-Fact "…Is Unable Unwilling, Or Unavailable To Act As…" your Health Care Agent when you are unconscious and South Dakota Medical Staff seek your consent or authorization for treatment then, you will be left without representation. This will mean South Dakota Physicians will be obligated to provide the care dictated by the current laws and the Medical Facility where you are located. To make sure that you still have representation under these circumstances, you can name a Successor to the South Dakota Medical Attorney-in-Fact by documenting this persons' full name on the "Name Of Successor Agent" line and distributing his or her address on the blank line that follows. Be advised, this appointment will not conflict with your first choice since the Successor Agent will not have the legal right to represent you unless your original choice cannot perform this function, is no longer allowed to, or is otherwise entirely unable to handle medical decisions on a long-term basis. 
Step 5 – Review The Basic Actions Your South Dakota Health Care Agent Can Assume
Your South Dakota Health Care Representative or Attorney-in-Fact will be assumed to be fully up-to-date and compliant with your health care preferences. The next paragraphs discuss the treatment authorization and refusal powers you are granting to this Agent. Review these items carefully. If you disagree with the statements made, wish to place conditions on them, specifically declare a limitation or restriction on treatment, or any other preference you wish applied, there will be an opportunity to do so later in this document. The content of the next few statements should not be altered without being overseen by a qualified professional licensed in the State of South Dakota (i.e., a Medical Attorney or Lawyer). 

Step 6 – Inform South Dakota Physicians Of Your Nutrition And Hydration Preferences
A discussion regarding how you wish South Dakota Physicians to handle your nutrition requirements (including hydration/water). To this end the statement beginning with the term "In The Event I Am Unable To Communicate Verbally Or Nonverbally, Demonstrate No Purposeful Movement Or Motor Ability, And Am Unable To Interact With Environmental Stimulation…" will require your directives on this topic when you have an irreversible condition or are in a permanent coma by presenting three statement choices. Only one of these can be chosen as your direct statement to South Dakota Physicians concerning how you wish the maintenance of nutrition and water to occur. 

If you grant the South Dakota Health Care Agent, you named the power to make this decision for you when the time comes then initial the "I Authorize My Agent (Or Any Successor Agent)…" statement.

If you intend to restrict your South Dakota Health Care Agent from determining whether artificial feeding and hydration should be administered, then initial the blank line attached to the statement "I Do Not Authorize My Agent (Or Any Successor Agent)…" 

You can deliver definitive instructions on how South Dakota Physicians should handle your nutritional needs by initialing the third blank line, corresponding to the words "I Authorize The Following," then dispensing these instructions or providing the title of an attachment with directions on your artificial feedings and hydration requirements when unconscious or unable to communicate for an extended period of time and/or have a terminal medical condition.   

Step 7 – Deliver A Health Care Preference Guide For Your Agent And South Dakota Physicians
As discussed earlier, you have the opportunity to provide a written guide of preferences for your South Dakota Health Care Agent to follow and for attending Physicians to consider. Additionally, you can specifically withdraw certain rights from your Medical Attorney-in-Fact (otherwise known as your Health Care Agent) placing certain directives in writing or in the hands of South Dakota Medical Personnel. To so, locate the blank lines provided under the final statement then supply all such preferences, instructions, beliefs, limitations, or provisions to the powers granted to your South Dakota Medical Attorney-in-Fact and the medical care you expect. You may continue on an attachment if there is not enough room but, make sure that it is properly titled and the title is listed on these lines. All attachments must be present at the time of your signing of this appointment. 

Step 8 – Solidify Your Intent With A Dated And Witnessed Signature
Once you have completed this template, you must "Date" and sign it on the blank lines labeled "Date" and "Your Signature." This act is to be performed before a South Dakota Notary Public or two Witnesses. Thus, once you have completed the signing give this document to the South Dakota Notary Public observing you. Before doing so, continue with two more items to verify your identity.

Step 9 – Further Define Your Identity
"Your Address" and your printed name must be presented underneath your dated signature. Use the lines labeled "Your Address" and "Principal" to document this information then give this document to the attending South Dakota Notary Public unless he or she has instructed you otherwise. 

Step 10 – Obtain The Required Notarization Or Witness Statement To Prove Your Intent
If a Notary Public is satisfied with the signing, he or she will subject the signed appointment to the notarization process. When completed, the "Notarization" section will be completed with his or her testimony of the date of signing, the Signer's identity (You), and his or her notary credentials. 

If preferred, you can also have this document's signing verified as authentic by signing it before two Witnesses instead of a Notary Public. In this case, after signing this document you must give it to one of the Witnesses. He or she will review the confirmation statement then prove it is true by signing the "First Witness Signature" line.

In addition to the act of signing the First Witness must satisfy the "Witness Address" line and "Witness" line immediately below his or her signature with his or her home address and printed name. 

The Second Witness must sign the "Second Witness Signature" line below his or her confirmation statement to prove your signature was voluntary and authentic.

After signing his or her name the Second Witness must record his or her home address and name (in print) on the lines labeled "Witness Address" and "(Type Or Print Witness Name), Witness"


Step 11 – Review The Passage Opening The South Dakota Living Will Declaration
The South Dakota Living Will Declaration is the next template of this package. Here, a discussion regarding end-of-life decisions will be engaged to address your authorization of medical treatment when you are unable to communicate, cannot remain conscious, and are suffering from a condition that is fatal. The introduction of this document will provide some valuable information regarding the intent and requirements involved. Review the introducing passage to this declaration before proceeding. 

Step 12 – Present Your Identity As The South Dakota Declarant
When you are prepared to declare your medical decisions when unable to communicate and suffering a terminal medical condition, locate the first blank line under the heading "To My Family, Health Care Provider, And All Those Concerned With My Care" then deliver your full name as its content. 

Step 13 – Review Then Determine And Present Your South Dakota Medical Instructions
The first decision this paperwork requires determined then documented will concern life-sustaining treatment. This is sometimes referred to as administering or engaging life support systems such as a breathing machine. If you are unconscious, in a persistent vegetative state, permanently or incognizant and have a fatal medical condition, you can dispense specific instructions to South Dakota Medical Personnel as to what level of life support you authorize. One of three statements can be made in this regard and each has been presented below the declaration "With Respect To Any Life-Sustaining Treatment, I Direct The Following." Initial the blank line preceding the first statement if you want South Dakota Physicians that you only approve of care administered to keep you as comfortable and pain-free as possible but do not authorize any medical treatment geared toward prolonging your life. 

If you want to let South Dakota Medical Personnel know that you wish your life prolonged and authorize the medical procedures or systems needed for this goal when you are unable to communicate and have a terminal medical condition then, initial the second statement ("Even If My Death Is Imminent Or I Am Permanently Unconscious…"). 

You may further specify the conditions when you want your life prolonged and when you should be allowed a natural death by documenting all such directives on the blank lines provided with the third choice then initialing the statement "I Choose Neither Of The Above Options…" If desired list these instructions in a separate document, then name this attachment on these lines. Make sure this document is presented at the time of signing with this one and the two are physically attached at the time.  

Step 14 – Convey Your Nutrition And Hydration Requirements To South Dakota Physicians
After completing the discussion of life support systems, continue to the next declaration this document seeks to make "With Respect To Artificial Nutrition And Hydration, I Direct The Following" Both statements below are geared to instruct South Dakota Medical Providers of how you wish them to behave when you are unconscious, terminal, and in need of food and/or water to continue surviving. If you prefer a natural death in this situation then select the statement "If My Death Is Imminent Or I Am Permanently Unconscious, I Do Not Want…"

The second statement will allow you to directly inform South Dakota Doctors that you wish your nutrition and fluid levels maintained even when unconscious (permanently) or in an end-of-life event. This will mean that tube feeding, or intravenous delivery of nutrients will be engaged whenever this is necessary to keep these levels at a healthy level. Initial the statement "Even If My Death Is Imminent Or I Am Permanently Unconscious." to declare this to South Dakota Physicians in charge of your care. 

Step 15 – Date Your Instructions To South Dakota Physicians And Health Care Providers
The next blank line of this document is labeled "Date." This will introduce the signature area that you must use to formally issue this declaration in South Dakota. Your signature "Date" must be provided on this line.

Step 16 – Clarify Your Signature And Identity For Reviewing Entities
Once you have recorded the current date, sign the "Your Signature" line then print your name on the line labeled "Type Or Print Your Signature" below it. 

Produce your home address on the line "Your Address." 

Step 17 – Two South Dakota Witnesses May Participate In This Execution
If two Witnesses are present to attest to your signing then each one must locate and read the statement "The Declarant Voluntarily Signed This Document In My Presence." To prove the accuracy of this statement the first Witness must sign the "Witness" line directly below it. 

Once done, the first Witness is expected to print his or her name and address down the next two lines then relinquish this document to the next Witness. 

Witness 2 must locate the unused "Witness" line then sign his or her name on it.

After signing, Witness 2 should produce the printed version of his or her signature and home address where requested.

Step 18 – One South Dakota Notary Public Can Complete This Document
If a South Dakota Notary Public has been chosen to show this declaration's authenticity in signing, then he or she will take control of the signed directives to complete the statement it makes with the date of signing, the South Dakota Declarant's name, and the Witness identities. In addition to this he or she will notarize this statement and the fact that he or she witnessed your signature by providing the needed credentials. 

Related Forms
---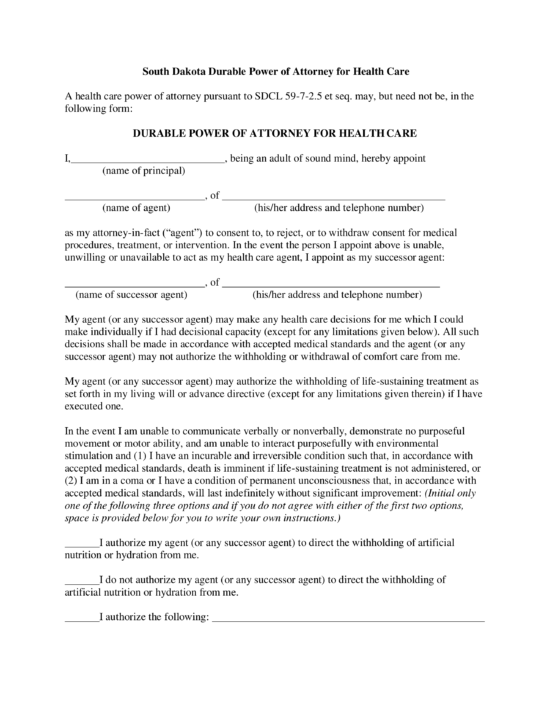 Durable (Financial) Power of Attorney
Download: Adobe PDF, MS Word, OpenDocument
---
Download: Adobe PDF, MS Word, OpenDocument