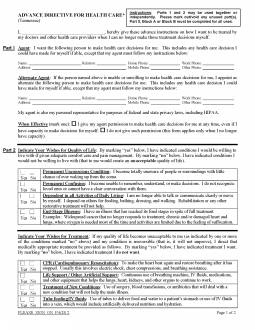 A Tennessee advance directive is a document used to make health care planning designations to inform medical staff on how to treat a person. An advance directive allows health planning by choosing an agent, selecting medical care, organ donation, and post-death instructions. Once the form has been signed by either two (2) witnesses or a notary public it can be used upon the incapacitation of the person.
Table of Contents
Laws
Statute – Title 68, Chapter 11, Part 18 (Tennessee Health Care Directions Act)
Signing Requirements (§ 68-11-1803(b)) – Two (2) witnesses or a notary public.
State Definition (§ 68-11-1802(a)(1)) – "Advance directive" means an individual instruction or a written statement relating to the subsequent provision of health care for the individual, including, but not limited to, a living will or a durable power of attorney for health care.
Versions (4)
---
Download: Adobe PDF
---
Download: Adobe PDF
---
Download: Adobe PDF
---
Download: Adobe PDF
How to Write
Download: Adobe PDF
Step 1 – Access The Tennessee Advance Directive For Health Care
The Tennessee Advance Directive For Health Care is a downloadable "PDF" template through this page. Use the appropriately labeled button underneath the sample image of the desired form or the "Adobe PDF" link in this section to access this file then save it for your use.
Step 2 – Complete The First Statement Of The Tennessee Directive
This document shall allow you to appoint a Tennessee Health Care Agent to safeguard your interests when medical decisions need to be made but you cannot communicate with Tennessee Medical Staff as a result of being unconscious for an extended period of time (or permanently) and/or may at an end-of-life event. Before designating this authority to a Family Member or Friend that you trust to live up to this role, you must report your identity as the Principal behind this document. Do so on the first blank line displayed in the introduction. Your entry will complete the statement presenting your intention for this paperwork. 

Step 3 – Officially Appoint Your Tennessee Health Care Agent
"Part I Agent" contains the language needed to grant your medical decision-making authority to one person. Once this Tennessee Health Care Agent is named, he or she can be approached to provide attending Physicians with your authorization or denial to receive medical treatment. The "Name" and "Relation" lines in this area require the complete name of your Tennessee Health Care Agent and how he or she is related to you. Adjacent to this supply the Tennessee Health care Agent's "Home Phone" number and "Work Phone" number.

Continue documenting your Tennessee Health Care Agent's contact information with a record of his or her home "Address' then the "Mobile Phone" number and any "Other Phone" number where your Agent can be reached. 

Step 4 – Appoint An Alternate Agent To Succeed Your Tennessee Health Care Representative
To make sure that you have someone to convey your medical preferences to Tennessee Health Care Professionals even if your Tennessee Health Care Agent becomes unable or unwilling to perform in this role. This requires that a second person be named in this document as someone who Tennessee Physicians in charge of your care can contact if your originally named Health Care Agent is absent or unwilling. This Alternate Agent's identity, "Relation To you" and contact "Hone Phone" number and "Work Phone number" must be recorded on the first row of lines ("Name," "Relation," "Home Phone," and "Work Phone"). To be clear, this document does not grant your Alternate Agent with the authority to represent your medical decisions until your Tennessee Health Care Agent is no longer functioning in this manner. 

The Alternate Agent's home "Address," "Mobile Phone" number or cell telephone number, and any other useful phone number that can be used to contact the Alternate Agent when necessary. 

Step 5 – Designate The Conditions That Place This Document In Effect
This document can become effective and allow your Tennessee Health Care Agent to represent you while you can still represent yourself or you may withhold this power until you no longer have the ability to do so. If you wish the Tennessee Health Care Agent to be able to wield the authority to represent you as soon as you sign this paperwork, then locate the label "When Effective" then mark the checkbox labeled "I Give My Agent Permission…" 
If you do not want your Tennessee Health Care Agent to make medical decisions for you unless or until you are incapacitated, then select the checkbox labeled "I Do Not Give Such Permission…" in the area labeled "When Effective.

Step 6 – Define The Medical Conditions That Determine Your Recovery Choices
The next section, labeled "Part 2 Indicate Your Wishes For Quality Of Life" allows you to weigh the quality of life you wish versus the longevity provided life-prolonging techniques. Whether you wish Tennessee Doctors to prolong your life however possible or whether you will forbid life-prolonging techniques administered in certain situations, the table provided in this area will enable you to convey Tennessee Doctors of this in a clean presentation of "Yes" or "No" checkboxes. For instance, locate the bold words "Permanent Unconscious Condition." If you "Become Totally Unaware Of People Or Surroundings…" and are in a permanent coma then Tennessee Doctors will often need to maintain your life with the use of life support machines. If you wish Tennessee Doctors to administer life-prolonging techniques when you are in a "Permanent Unconscious Condition," then select the "Yes" box.

To refuse such treatment administered in this case, select the box labeled "No." Notice in the example below, the Tennessee Declarant disapproves of the use of life-prolonging techniques when he or she is in a "Permanent Unconscious Condition" so the "No" box has been selected.

If you intend to authorize Tennessee Doctors to keep you alive with machines when you are in a state of "Permanent Confusion" then select the "Yes" box of the second row.

You can deny or refuse all life-prolonging techniques administered when you suffer from a condition of Permanent Confusion, by selecting the "No" checkbox in the second row.

Select the "Yes" box if you authorize South Carolina Medical Personnel to use life support machines to prolong your life even when you will be "Dependent In All Activities Of Daily Living" (see example below).

Select the "No" box of the third row to refuse lifesaving/prolonging procedures from being administered when unable to communicate, move, or function independently.
The fourth row, labeled "End-State Illnesses," informs Tennessee Medical Staff that you wish to have life support used to maintain your life when you have reached the final stages of a deadly illness and death is imminent when you mark the "Yes" box. 

To deny the administration of life support machines or procedures when you are in the end-stage of a medical condition that will result in death, mark the box labeled "No."

Step 7 – Instruct Tennessee Medical Staff On The Proper Response To A Medical Event
Now that you have defined your post-treatment quality of life values, you will have to inform Tennessee Physicians how they should respond when you suffer a life-threatening medical event that results in any of the quality of life assessments that you marked with a "No" above. To do this locate the section "Indicate Your Wishes For Treatment" then refer to the first row "CPR (Cardiopulmonary Resuscitation." If your heart has stopped or your lungs no longer deliver oxygen, and you are unconscious then your quality of life will be at risk. If cardiopulmonary resuscitation results in or leads to an intolerable quality of life or will not prevent a quality of life that you will find unlivable then you have a choice of marking either the "Yes" box to approve CPR to revive you or the "No" box to indicate that you refuse the use of cardiopulmonary resuscitation to treat you. In the example the Tennessee Declarant has decided to pre-authorize the administration of CPR when he or she requires resuscitation because the "Yes" checkbox to the left of this statement has been selected. 
If the Tennessee Declarant refuses to deliver consent for the use of CPR to resuscitate him or her then, select the "No" option in the first row of this table.

To authorize the use of "Life Support/Other Artificial support" to maintain your body when it cannot do this independently by marking the "Yes" box of the second row.

If this does not reflect your wishes and you intend to refuse life support in every instance where you marked a "No" in the previous table, then select "No" in the "Life Support/Other Artificial Support" row as well. Be advised, that this section and the one above it should not conflict with one another.

There may be times that you are stricken with a new medical condition that incapacitates you while already suffering from a persistent vegetative state or at an end-stage of a fatal illness. When this happens, Tennessee Doctors may need permission to treat this new affliction. If you approve the "Use Of Surgery, Blood Transfusions, Or Antibiotics" to treat the new affliction without addressing your original or "Main Illness" then select the "Yes" box in the row labeled "Treatment Of New Condition."

If you do not authorize Tennessee Doctors to treat a new condition regardless of whether it effects your "Main Illness" or not, then mark the "No" box. 

The final row, holding the statement description labeled "Tube Feeding/IV Fluids" discusses the use of tubes (through the mouth, stomach, or veins) to maintain your water and nutrition requirements when you are persistently unconscious, incognizant permanently or for extended periods of time, or are in the end stage of a fatal medical condition. You can  approve of Tennessee Medical Staff's efforts to make sure that your body is intaking the nutrition and fluids needed to live, by marking the box labeled "Yes."

If, however, you do not authorize Tennessee Medical Staff medically delivering food and water then mark the "No" box. 

Step 8 – Furnish Additional Directives To Your Tennessee Health Care Agent And Physician
The language in the previous tables is standard and meant to convey exactly what must be presented to Tennessee Health Care Providers to understand your medical preferences however the areas where you dispensed the identity of your Health Care Agent, your definitions for a tolerable and intolerable quality of life, and the appropriate medical responses may need further discussion to fully represent your instructions. Therefore, "Part 3 Other Instructions, Such As Hospice Care, Burial Arrangement, Etc." has been set to allow you further discussion regarding any of the previous topics as well as include any end-of-life requests you may have. Utilize the blank lines in Part 3 for this presentation. If you need additional room, then it is recommended you record all such provisions in a separate document then title it and attach it (physically) to this document by the time you execute this directive. Make sure to cite the title of such an attachment in "Part 3 Other Instructions, Such As Hospice Care, Burial Arrangements, Etc."  If you do not have any additional comments then display acknowledgment of this section by typing in the word "None" or the phrase "N/A."

Step 9 – Present Your Wishes Regarding Organ Donation
The next section, titled "Part 4 Organ Donation," seeks your stance on making an anatomical gift of your organs, tissues, and other body parts after your death has occurred. Four options are presented for you to choose from. If you wish to make an anatomical gift of "Any Organ/Tissue" as A Tennessee Organ Donor, then select the first checkbox in this section.

The second choice will allow you to donate your entire body. Select the "My Entire Body" checkbox to solidify this intention.

If neither of these defines the anatomical gift you wish to make, then select the box labeled "Only The Following Organs/Tissues" and use the area it presents to list every organ or body part that you approve of donating. 

If you do not wish to make an anatomical gift, then select the box labeled "No Organ/Tissue Donation." 

Step 10 – Produce Your Executing Signature As The Tennessee Principal Declarant
The final section of this paperwork, "Part 5," seeks an easily provable dated signature from the Tennessee Health Care Principal Declarant (You) in order to put its contents in effect. Locate the first area of Part 5 then sign the "Signature" line (just above the "Patient" label) and record the current "Date" on the next line to the right. Once you have completed these actions, give the signed directive to either the two Witnesses who have watched you sign this document or the Tennessee Notary Public obtained for this purpose. 

The area labeled "Block A" presents two statements that solidify the qualifications of the Witnesses and the authenticity of the signature you provided. To apply this testimony to your signature the blank line labeled "Signature Of Witness Number 1" must be signed by the first Witness reviewing these statements. 

The next Witness who has seen you sign this directive and can agree with the Witness statements made must sign the "Signature Of Witness Number 2" line.   

If you have obtained a Tennessee Notary Public to verify your signature by notarizing this directive, then he or she will tend to the contents of "Block B" with a record of the county and his or her testimonial signature and credentials to the statement provided   

Related Forms
---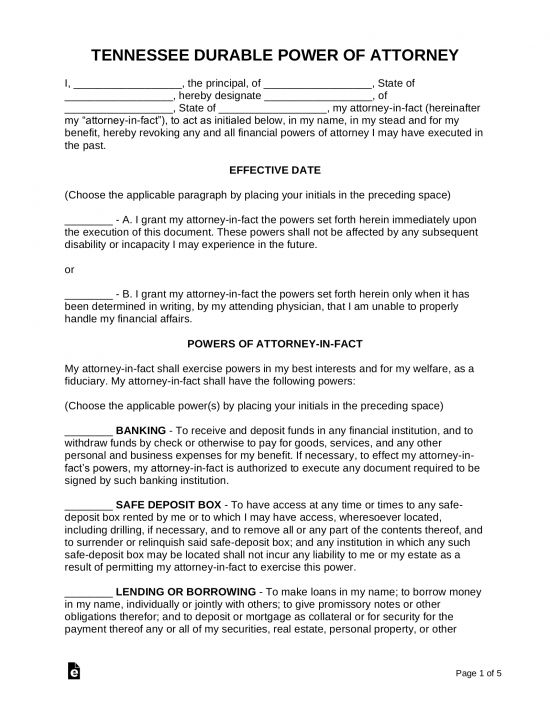 Durable Financial Power of Attorney
Download: Adobe PDF, MS Word, OpenDocument
---
Download: Adobe PDF, MS Word, OpenDocument