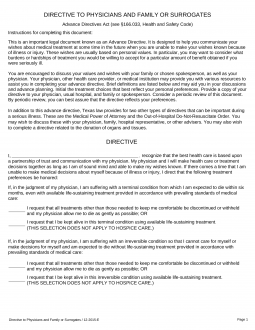 4.6 Stars | 28 Ratings
313 Downloads
Updated July 05, 2023
A Texas advance directive is a document that allows a person to outline their health care treatment preferences if they should become incapacitated. An advance directive is a health planning form that lets a person choose someone else to carry out their treatment requests. The form must be written and signed, with two (2) witnesses, while the person is still able to think for themselves.
Advance Directive Includes
Laws
Statute – Title 2, Chapter 166 (Advance Directives)[1]
Signing Requirements – Two witnesses or a notary public.[2][3]
State Definition – "Advance directive" means:
(B) an out-of-hospital DNR order; or[5]
(C) a medical power of attorney under Subchapter D.
Versions (7)
---
Download: PDF
---
Download: PDF
---
Download: PDF
---
Download: PDF
---
Download: PDF
---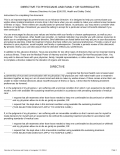 Texas Health and Human Services
Download: PDF
---
Download: PDF
How to Write
Download: PDF
Directive
(1) Name Yourself As The Texas Declarant. This document will open with several basic declarations that will be assumed as your own words after you sign this document. The first of which is your full name. Declare yourself as the Texas Principal issuing this form.

Terminal Condition In Texas
Initial Item 2 Or Initial Item 3
(2) Natural Death Directive. If your condition has been diagnosed as terminal, meaning that life-sustaining treatments will only extend your life rather than prevent death, then you may opt to experience a natural death. If so, then you must initial the first statement on this topic.
(3) Life-Support When Terminal. As the Texas Patient, you can choose to have your life extended as long as possible when a Texas Physician has declared your condition is terminal and death will occur regardless of the treatment administered. While medical life-extending procedures may not necessarily be effective in preventing death, there is the hope that your life may be preserved through machines for a limited amount of time. Issue this instruction to Texas Physicians by providing your initials of approval.

Untreatable Permanent Medical Condition Or Injury
Authorize  Item 4 Or Item 5
(4) Comfort Care. While the above scenario will result in death regardless of the treatment given, other medical scenarios may involve a condition that is responsive to life-sustaining measures but remain incurable, severely incapacitate you, and leave you dependent upon life support machines or techniques. If you have a condition where you are unable to survive without life-support measures taken and would prefer to die a natural death, then you may inform Texas Medical Professionals that you do not want any life support measure engaged and that any in place should be removed at the time of this prognosis by presenting your initials to the appropriate declaration.
(5) Life-Sustaining Instruction. If you wish life-support measures and technology used to preserve your life as long as possible even if your medical condition cannot be cured, then initial the second statement.

Additional Requests
(6) Provisions To Texas Patient Directives. Now that some of the more general concerns with life-threatening scenarios have been discussed, you may continue in your own words. You may have general or specific concerns that you wish addressed or taken into consideration when a treatment plan must be devised while you are unaware of your surroundings. You can choose to discuss specific medical conditions, the circumstances by which you would find a treatment acceptable or unacceptable, or even set trial periods for life-sustaining treatments, tube feedings, and experimental treatment. It is recommended that you are as comprehensive as possible when completing this area therefore if possible, consult with your Primary Care Physician on various scenarios and the treatment options that would be available.

In The Absence Of A Medical Power Of Attorney
(7) Texas Health Care Surrogate. If you do not intend to formally appoint a Texas Health Care or Medical Attorney-in-Fact, you may still name a Health Care Surrogate to act as your Agent. This Party will be able to consult with Texas Physicians regarding your treatment when you cannot communicate.

Texas Declarant Signature
(8) Signature. You must provide your signature to this document once it has been completed. Perform this act as two qualified Witnesses observe you.
(9) Signature Date.
(10) Residential Information. Your city where your residence is located as well as the country and state should be presented with your signature and signature date.

Witness Statement
(11) Witness 1's Required Signature. Both Witnesses must be adult, however, Witness 1 cannot be related to you by blood or by marriage, cannot be entitled to your estate (or be able to lay a claim), and may not be a Health Care Employee or Provider in charge of your care. He or she must sign the first signature line provided beneath the statement provided.
(12) Witness 2's Signature. Witness 2 must also be an adult who has watched you sign this form. Upon this action, he or she will confirm the accuracy of the Witness statement by signing his or her name.

Designation Of Health Care Agent
(13) Texas Principal. You may appoint someone to present your health care instructions to Texas Medical Professional in the next portion of this directive. Begin this Texas appointment by claiming the role of Principal as your own by presenting your name where requested.
(14) Texas Health Care Agent. The Party you name as your Texas Health Care Agent will not be able to supersede the directions presented in your living will however he or she will be able to act on your behalf to provide the authorization and instruction that you must provide at a time when treatment must be admitted as well as make treatment decisions over topics you have not discussed.
(15) Texas Health Care Agent Address And Phone.

Limitations On Granted Decision-Making Authority
(16) Imposing Restrictions On Your Texas Health Care Agent. This directive shall make the statement that you approve of your Texas Health Care Agent's decision-making powers over your medical treatment. He or she will be able to decide on when and where you will receive medical treatment (i.e., surgeries, pain medications, life-sustaining treatment, and other interventions) when you should be given medical care, and the ability to enforce your directives. You may limit some or all of these powers by giving direct instructions on what your decisions would be in concerning scenarios or by documenting your limitation or removal of a principal power.

Alternate Texas Agents
(17) First Alternate Texas Health Care Agent. It is worth noting that if your Texas Health Care Agent is unable to accept the responsibility of representing your medical directives, disqualified from acting in this manner, or cannot accept the powers granted in this paperwork then, you will be left prone without a Texas Health Care Agent to protect and issue your medical directives. If you hold an Alternate Texas Agent in reserve, then he or she can use this document to spring to action on your behalf with this paperwork. It will immediately transfer the principal authority (and applicable limitations) defined above to the Party you named as your Texas Health Care Agent to your Texas Alternate Agent. Your Texas First Alternate Agent will only be able to seize this power.
(18) Second Alternate Health Care Agent. As discussed, there is always the possibility that your initial determination for Texas Medical Attorney-in-Fact or Health Care Agent may not be able, qualified, or available to wield the principal authority this document places under his or her command to determine your medical treatments. When this happens, your Texas Reviewers will contact your First Alternate Agent for this state. If your First Alternate Texas Agent is also unable, disqualified, or unavailable then Health Care Providers can seek your medical directives from a Second Alternate Agent. This Party must also be set with the authorization to wield the same authority over your medical treatment as his or her predecessors if you present his or her identity and contact information where these items are requested.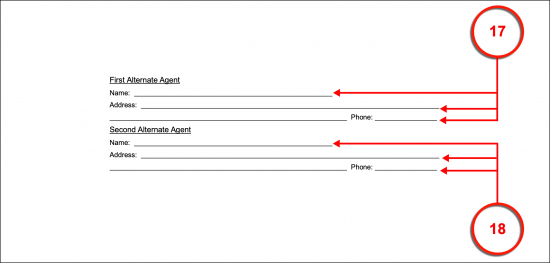 Filing Information
(19) Storage Location Of This Directive. This directive has allowed you to discuss the expectations and requests you have for your medical care when you are unable to speak or communicate, are unconscious (permanently), and/or suffering a terminal or untreatable medical condition as well as naming a specific Party who can present your treatment instructions to Texas Health Care Providers. Before we complete this paperwork, a report on where the original copy will be stored after it has been executed should be documented. Record the name, address, phone number, and email of the Party or Entity (i.e., Hospital, Private Practice, etc.) who will hold your original copy of this directive in the space provided.
(20) Location Of Copies. It is strongly recommended that you make and store copies of the original directive. Thus, document the full name and address of every Person or Entity that shall store a copy of your completed directive. Note that if you update or revoke your directive, these additional copies should be sought, reclaimed, and destroyed.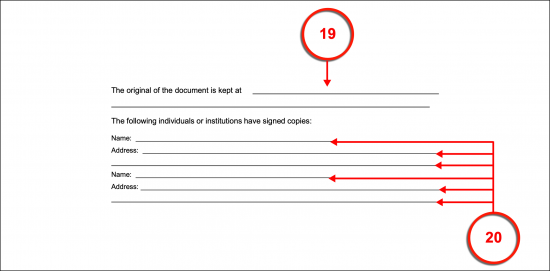 Duration
(21) Expiration Of Texas Health Care Agent Powers. The health care instructions and appointment declared above for the State of Texas can remain effective indefinitely (or until your death or formal revocation of this paperwork). If desired, you can limit the length of time your directives remain effective in this state by setting an expiration date. Once this date is reached, this document will naturally terminate its effect on your health care, any powers delivered will be null and void, and your medical instructions will be considered out-of-date and no longer accurate. This is optional however, use the space to document this expiration or termination date if you wish this document to become ineffective as of a certain day in the future with no further action required on your part. (You will still need to reclaim the original and copies that you have dispensed to avoid any potential confusion).

Texas Principal's Execution Signature
Notarized Signing
(22) Calendar Date Of Signature. Your signature is the instrument required by the State of Texas to put this directive in effect. It must be provided while an impartial Party who can testify to your being in a cognizant state of mind while signing of your own free will observes you. This type of testimony requires a signature date attached to it. Thus, report the current date when you sign this document as the Texas Patient.
(23) City And State Of Signing. Document some basic information regarding where you signed this paperwork.
(24) Signature Of Texas Signature. Dispense your executing signature while two adults acting as Witnesses watch or in the presence of a (registered and recognized by the State of Texas) Notary Public.
(25) Print Name.
(26) Notary Public Participation. A section for the notary process for your signature has been provided. After signing this document, present it to the Notary Public for this area's satisfaction. If you have not used a Notary Public, leave this area blank and give this paperwork to the Witnesses present.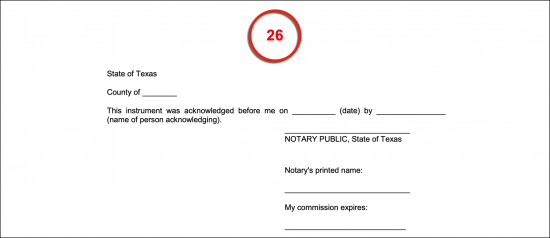 Witnessed Signing
(27) Texas Patient's Signature Date. If you have opted to use two Witnesses to verify your signature, you must gather them at the same time of your signing and in the same place. Report the date you sign your name as the Texas Patient to begin.
(28) City And State For Execution. The city and state where the two Witnesses and you have gathered for this signing should be dispensed.
(29) Texas Patient's Signature. Your signature should be completed while you are able to comprehend your actions and while two Witnesses view your act.
(30) Printed Name.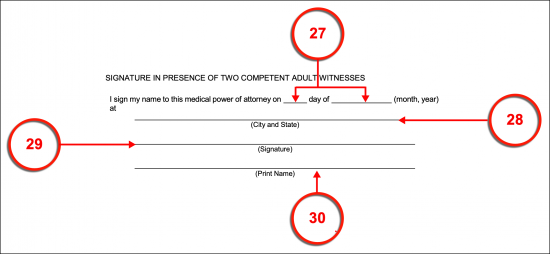 Statement Of First Witness
(31) First Witness Required Signing. The First Witness must sign and print his or her name and address.
(32) First Witness Signature Date. The signature date the First Witness reports must be the same calendar day he or she signs verifies the Witness testimony by signature and it must be the same date you signed your name.

Signature Of Second Witness
(33) Second Witness Signature Testimony. The Second Witness will also review the statement made regarding his or her Texas mandated qualifications for this role then testify to your being a proper state of mind at the time of signing. Once he or she determines the testimony is accurate, the First Witness should sign his or her name as well as supply his or her name in print and residential address.
(34) Second Witness Signature Date. The calendar date marking when the Second Witness signs this testimony should be documented once he or she provides the required signature.

Out Of Hospital Do Not Resuscitate (OOH-DNR) Order
(35) Texas Declarant Name. To issue a Do Not Resuscitate Order you will need the cooperation of a licensed Physician. As the Texas Declarant, you may issue this document or, if needed, someone that you appoint with authority may do so with the cooperation of a Physician. If you are the Issuing Party then produce your full name at the top of this page. If you are working on behalf of the Texas Patient, then his or her full name must be recorded at the start of this part of the directive.
(36) Date Of Birth. The birth date of the Texas Patient must accompany his or her name.
(37) Sex. Select the sex of the Texas Patient by marking the appropriate box.

Declaration Of The Adult Person
(38) Person's Signature. The statement in Section A shall inform Texas Physicians not to attempt to resuscitate you, restart your heart or lungs, or revive you in any way should you experience cardiopulmonary failure. You must sign Section A of this document if you are the Texas Patient making this statement.
(39) Signature Date.
(40) Printed Name.

B. Declaration By Legal Guardian, Agent Or Proxy On Behalf Of Adult
(41) Legal Guardian. If you are representing the Texas Patient named above as his or her Legal Guardian then you must identify yourself as such by selecting the first box in Section B.
(42) Agent In Medical Power Of Attorney. The second box in Section B should be marked if you are issuing this Do Not Resuscitate Order as the Texas Patient's appointed Attorney-in-Fact.
(43) Proxy. If you are a named Proxy in the Texas Patient's Living Will and are issuing this under his or her executed directive, then select the third checkbox
(44) Signature. To inform Texas Medical Personal that the Patient you are representing does not wish to be revived from a cardiopulmonary failure (i.e. defibrillation, CPR, etc.) then sign your full name once you have identified yourself through the proper selection.
(45) Date.
(46) Printed Name.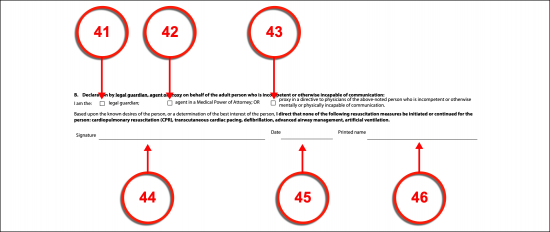 C. Declaration By A Qualified Relative
(47) Spouse. This document will allow you to issue a DNR on behalf of a family member provided you are one hundred percent positive this matches his or her goals. Before this can be done, you must identify yourself. Thus, indicate if you are the Texas Patient's Spouse, Adult Child, Parent, or the nearest living Relative to the Texas Patient by selecting the appropriate checkbox from Section C.
(48) Signature. You must sign your name to Section D to establish that you are formally conveying the Texas Patient's wishes by issuing this DNR.
(49) Date.
(50) Printed Name.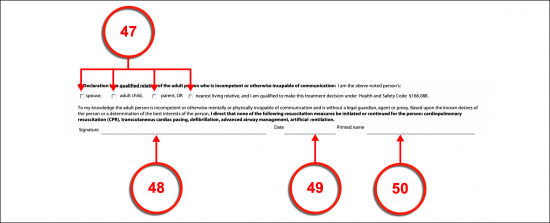 D. Declaration By Physician Based On Directive
(51) Verified Evidence. This document must be verified as appropriate by a Licensed Physician. Texas Medical Responders and other Health Care Providers will need to understand how this verification comes about. Thus, the first box in section D must be selected if the Licensed Physician signing this form has seen the Texas Patient's issued directive.
(52) Observed Issuance. Some Texas Patients may not be able to fill out documents but this does not mean that they may not issue a DNR. If the Physician has observed the Texas Patient issue his or her directives orally before two Witnesses, then the second checkbox should be selected.
(53) Physician. The attending Physician must sign his or her name to testify that the manner he or she learned of the Texas Patient's DNR directive (indicated above) is accurate.
(54) Date.
(55) Printed Name.
(56) License Number. The Attending Physician's medical license number must be documented once he or she has supplied the signature date and his or her printed name.

E. Declaration On Behalf Of The Minor
(57) Parent Of Texas Patient. Indicate if you are the Texas Patient's Parent by marking the first checkbox.
(58) Legal Guardian. If the Texas Patient is a Minor and you are his or her Legal Guardian then you must demonstrate this status by selecting the second checkbox.
(59) Managing Conservator. If you are issuing this paperwork under the instruction of a Texas Patient who is a Minor to whom you have been appointed as the Legal Conservator then mark the third checkbox.
(59) Signature. Sign your name as the Texas Patient's Parent, Legal Guardian, or Managing Conservator as proof that you can testify to the Patient's authorization to deny resuscitation techniques when a cardiopulmonary failure occurs.
(60) Date
(61) Printed Name

Two Witnesses
(63) Witness 1 Signature, Date, And Name. Regardless of who is issuing this directive (whether it is Texas Patient or a separate Party working on his or her behalf), the executing signature must be observed by two Witnesses who are impartial to the Texas Patient's condition. Witness 1 must locate his or her section, then provide his or her testimonial signature, printed name, and signature date.
(64) Witness 2 Signature, Date, And Name. The other Witness attending your execution of the Texas Patient's DNR, should locate Witness 2's signature section then sign his or her name, print his or her name, and dispense the current date that day.

(65) Notary Public. A Notary Public can be used to verify the executing signature behind this order so long as it is not the result of an oral Patient directive. The notarization section can only be completed by the attending Notary Public.

Physician's Statement
(66) Physician's Signature. A Physician in attendance and familiar with the Texas Patient's medical condition and medical records will need to authorize this document as formal medical orders to Texas First Responders. To this end, he or she must sign this paperwork.
(67) Printed Name.
(68) Date
(69) License Number. The attending Physician's medical license number must be documented.

Declaration F Directive Of Two Physicians On Behalf Of Adult
(70) Attending Physician's Signature.  It is possible that the Texas Physician attending the Patient has developed a "reasonable judgment" that resuscitation would be burdensome, conflict with the Patient's known wishes, or is generally not in the best interest of the Texas Patient. If this DNR is being issued by such a Physician, then he or she must authorize it by signature and date the signature he or she is providing. Upon doing so the Texas Physician attending this Patient and issuing this order must submit his or her printed name and medical license number.
(71) Signature Of Second Physician. Since this type of directive has permanent results, a Texas Physician providing care to the Patient and issuing this paperwork as formal medical orders must seek agreement and confirmation on this judgment call from another Physician. This Second Texas Physician will be required to prove his or her agreement by presenting his or her signature and date of signature then proceed to report his or her name in print with the medical license number that allows the Second Physician to provide such confirmation

Confirmation Of Completion
(72) Person's Signature. It will be imperative for Texas Physicians to believe this paperwork was issued accurately and in good conscience. This is for the protection of the Patient. Thus, if the Texas Patient is working with a Physician to declare that he or she does not wish to be resuscitated when experiencing a life-threatening medical event or is permanently unconscious, then he or she will be expected to testify to its proper issuance by signature. This means, that as the Texas Patient behind this DNR-OOH, you must sign your name then relinquish this document for additional signature confirmations.
(73) Guardian/Agent/Proxy Signature. It is possible that the Signature Party issuing this form on behalf of the Texas Patient is the formally appointed Guardian, Agent, or an acting Proxy. If so, this Party must produce a testimonial signature to establish this document was completed in a lawful manner and represents the Texas Patient's wishes.
(74) Physician's Signature. Every Physician who has signed this form above must provide an additional signature as a demonstration that this document was completed properly. 
(75) Second Physician's Signature.
(76) Witness 1 Signature. If this document was verified by two Witnesses, then each one must submit a signature to the final confirmation area.
(77) Witness 2 Signature. 
(78) Notary Public. If this DNR-OOH was notarized, then the same Notary Public who testified above must sign his or her name as additional proof to the authenticity of this document's execution.
Related Forms
---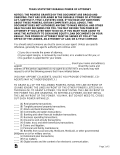 Durable (Financial) Power of Attorney
Download: PDF, MS Word, OpenDocument
---
Download: PDF, MS Word, OpenDocument
Sources