The Motorcycle Bill of Sale is an agreement that allows an individual to buy and hold a receipt after the transaction is complete which is required for the titling and registration. With regard to buyer's paying in cash, this document will be the only paper document offering proof of that a legal sale and purchase has taken place that and the transfer of ownership has take place. The motorcycle will be sold in an "as-is" condition. If there be an inspection request, it must be completed prior to the completion of the sale. This document will require witness and notarization by a state Notary Public.
When Is a Motorcycle Bill of Sale Needed?
This form serves as a legal record of the sale, gift, or transaction of a motorcycle. It also contains valuable information that can be used to keep a detailed Vehicle History Record for future buyers. Some states and territories may require a notarized Motorcycle Bill of Sale before they will even begin title transfer paperwork (which you'll also need to be the official owner of the motorcycle).
What's the Process for Buying a Motorcycle?
There are a lot of reasons for wanting to purchase of motorcycle. But you may be asking, "How do I go about buying one?" Well, it's not too different from buying most other motor vehicles. Check out our step-by-step guide below:
1. Choosing the Type of Motorcycle for You
There's a lot involved when buying a motorcycle, so it's best to start off on the right foot. There are sports bikes, street bikes, standard motorcycles, dual-purpose motorcycles and off-road bikes. There are other things to consider as well. How comfortable do you want it to be? How much horsepower are you looking for? What's your style? Do your research and figure out exactly what will meet your needs.
2. Budgeting for Your Motorcycle
Now, we're sure you've got your eye on a bike by now. But have you figured in all the other hidden costs that come with motorcycles? Aside from the $5,000-25,000 price of the bike, you'll also have to pay for maintenance expenses, sales tax, titling and registration, insurance and other fees.
Make sure you're properly financed to accommodate for all these costs before you move forward with your purchase.
3. Finding a Seller
There are a ton of sellers out there. If you're looking to buy a new bike, go to the dealers. If you're looking to go a little cheaper, you can also find private sellers of used bikes in the classifieds, online and elsewhere.
4. Conducting a Vehicle History Report
Always inspect the bike up for sale, ask questions, and get a Vehicle History Report from the seller. You're looking for any damage like rust, wear and tear, scratches, leaks, a bad chain or any other possible warning signs.
The Vehicle History Report should tell you what kinds of accidents the bikes been in, if any. Used bikes may need some maintenance, so be ready to consider that. If all checks out to your satisfaction, then you're ready to talk prices.
5. Negotiating a Price
Buying a motorcycle can be a big purchase. However, the more cash you bring to the table, the better chance you have of getting a better deal on the bike.
Go to the seller with a price in mind. This will help start the negotiating process. Just know your limits, and if you're financing your bike with a loan, make sure you still have a little extra to cover the additional costs that come later.
6. Getting Insurance, Registration and Title Transfer
Now that the bill of sale of complete, you only need a couple more things before you're ready to go out into the world with your new bike. First, the title needs to be cleared and transferred. The seller can submit an Application for Certificate of Title and/or Registration with the bill of sale to start the process. The buyer then needs to register their new bike at the DMV and apply for motorcycle insurance.
7. Finalizing the Sale
If everything transfers without issue, then the sale is complete.
How to Write
Step 1 – Price and Parties
Enter the agreed amount of the sale
Enter the name of the buyer
Buyer's mailing address
Enter the seller's name
The seller's mailing address

Step 2 – Motorcycle Description
Make
Model
Vehicle Identification Number (VIN)
Color
Odometer Reading (manufactured)
Year

Step 3 – Date of Agreement
Provide the date that the document is being completed in dd/mm/yyyy format
Step 4 – Signatures
Buyer's Signature/Printed Name
Seller's Signature/Printed Name
Date of Signatures
Witnesses respective Signatures/Printed Names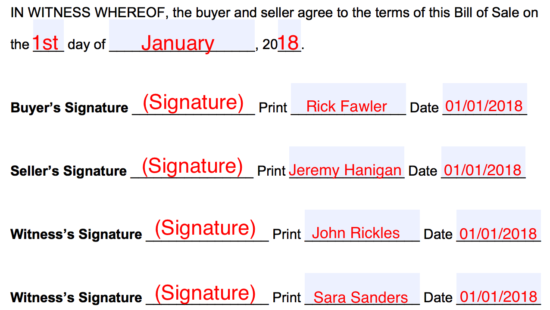 Step 5 – Notary Public Acknowledgement
As the document is completed, the notary public will request identification from all signatories and will then witness all signatures. The notary shall then complete the remaining portion of the document and affix their state notary seal (if any)