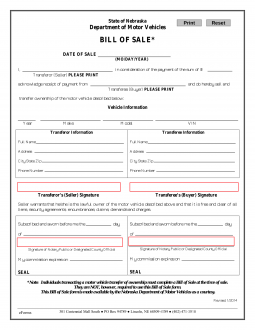 4.6 Stars | 65 Ratings
1,285 Downloads
Updated September 12, 2023
A Nebraska motor vehicle bill of sale is a legal document that provides information with regard to the seller, buyer, and vehicle to prove that a legal sale was executed between the parties. Often this document is required for the vehicle's registration. It requires notarization.
Signing Requirements – A bill of sale must be notarized by both the buyer and seller.
Registering a Vehicle
:
New vehicle owners have 30 days from the purchase date to register their vehicles. Vehicle registrations must be renewed annually. Owners can renew their registrations online, or to a county treasurer's office if by mail or in-person.
Where to Register
New vehicle registrations are accepted either by mail or in-person with a county treasurer's office.
Required Documents