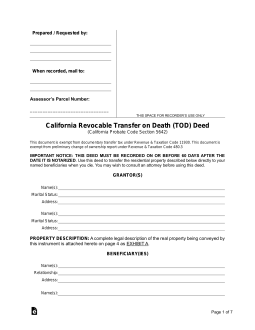 4.5 Stars | 74 Ratings
1,005 Downloads
Updated September 19, 2023
A California revocable transfer on death (TOD) deed enables a person's real property to be passed onto a beneficiary upon their death without going through the probate process. This type of deed can be filed with the recorder so that when the person dies, it automatically becomes the property of the person designated. This is also revocable by the person who grants the interest.
Requirements
Notary: Required[1]
Recording: Within 60 days of notarization[2]
Witnesses: 2 witnesses — can be beneficiaries but not recommended[3]
Legal Description
Completing a transfer on death deed requires information that may not be readily available online. A legal description of the property is necessary and can be found on property tax statements, the current deed or at the county recorder's office. The format of the legal description may vary depending on the property's location, history and method of land division.
Example
"Lot 7 of Tract No. 1234, in the City of Happy Valley, County of Los Angeles, State of California, as per Map recorded in Book 15, Page 34 of Maps, at the Office of the County Recorder of said County."
Revocation
To revoke a transfer on death deed in California, Grantors may take either of the following steps:
Fill out a revocation form and have the form witnessed, notarized and recorded; or
Sell the property and record a new deed before Grantor's death; or
Record a new TOD deed.
How to Record
After completing a Transfer on Death Deed, it must be recorded at the local County Recorder's office. Transfer on Death Deeds are exempt from Documentary Transfer Tax, but the Grantor will be responsible for recording fees, which vary by county.
Sources