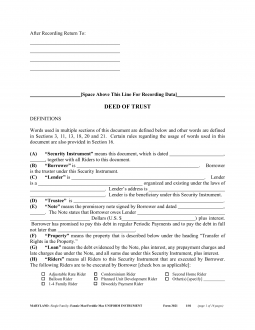 4.6 Stars | 5 Ratings
81 Downloads
Updated May 31, 2022
A Maryland deed of trust is a type of deed that conveys a mortgage interest in a property to a bank. This is filed with the Land Records department of the circuit court in the county in which the property is located like any other deed. It will alert potential purchasers of the property that there is a mortgage that must be discharged before the property can be sold.
Laws – MD Code, Real Property, § 7–106
How to Write
Step 1 – At the top of the page, write-in to whom the original should be returned after recording.
Step 2 – Write in the date.
Step 3 – Fill in the name of the Borrower.
Step 4 – Include in the name of the Lender as well as the Lender's state of incorporation and address.
Step 5 – Add in the name of the trustee.
Step 6 – Write in the date of the note and the amount of money owed to lender.
Step 7 – Specify the date that the money is payable.
Step 8 – Check the box indicating any attached riders.
Step 9 – On the next page, write in the recording information.
Step 10 – Write in the address of the property.
Step 11 – Sign and date in front of a notary public and have it filed in the land records department.