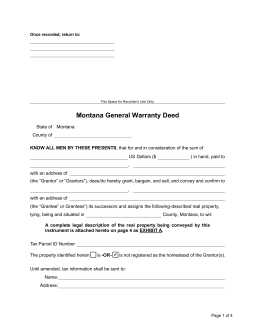 The Montana general warranty deed is used in the legal conveyance of real estate in Montana from one person to another. Warranty deeds come with a form of guarantee where the seller guarantees that he or she owns the property free and clear of any title defects and that he or she has the legal authority to sell the property to the buyer. In Montana, you will need to include the names of the grantor and grantee as well as have the document acknowledged by a notary before having it recorder with the clerk and recorder in the county in which the property being purchased is located.
Laws – § 70-20-103
Realty Transfer Certificate (§ 15-7-305)- Required to be completed and attached in order for warranty deed to be recorded correctly.
Recording (§ 70-21-201) – Must be submitted to the County Court Clerk's Office.
Signing (§ 70-21-203) – Required to be signed with the Grantor(s) in the presence of a Notary Public.
How to Write
Step 1 – Fill in the name and address of the to whom the deed should be returned after recording.
Step 2 – Enter the name and address of the grantor along with checking the appropriate box indicating grantor's marital status.
Step 3 – Include the amount of consideration paid for the property.
Step 4 – Write in the name of the grantee and the grantee's address.
Step 5 – Check the box indicating how the grantee will own the property.
Step 6 – In the spaces provide, enter the description of the property being purchased, including the street address, the recording information and the legal description.
Step 7 – Indicate if there are any easements or restrictions that come with the property.
Step 8 – In the next section, include the recording information for the previous deed transferring the property.
Step 9 – Sign and date in the presence of a notary and have the original filed with the clerk and recorder.