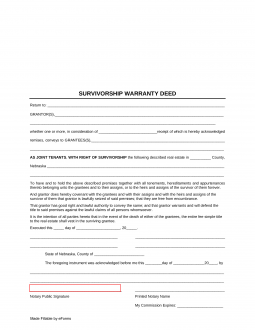 4.7 Stars | 3 Ratings
28 Downloads
Updated May 31, 2022
A Nebraska survivorship warranty deed is used to transfer property upon the death of a grantor. This allows the grantor to keep the property out of the probate process upon his or her death and have it go directly to a names beneficiary or grantee. Like other types of deeds, it needs to be recorded with the Register of Deeds, however, this type of deed is revocable and can be revoked while the grantor is still alive.
Real Estate Transfer Statement (Form 521) – Needs to be completed in order for the deed to be accepted and recorded in the State of Nebraska.
How to Write
Step 1 – Write in the name of the person who should receive the deed after it is recorded.
Step 2 – Write in the name of the grantor(s).
Step 3 – Include the amount of consideration paid, if any.
Step 4 – Specify the name of the grantee(s) and write in how they will hold the property (if different from joint tenants)
Step 5 – Fill in the name of the county in which the property is located.
Step 6 – Insert the legal description of the property.
Step 7 – Sign and date in the presence of a notary public licensed in Nebraska.
Step 8 – Record with local register of deeds.