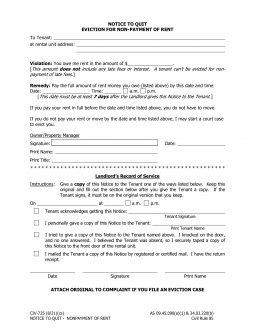 4.7 Stars | 3 Ratings
54 Downloads
Updated August 25, 2022
An Alaska seven (7) day notice to pay or quit is a letter used to notify a tenant with unpaid rent that they have the notice period to pay or vacate the property. By law, the notice must contain the language that the tenant has the choice of paying or moving within the timeframe. If the tenant tries to pay the late rent after the seven (7) day period, the landlord has the option to accept the money and allow the tenant to stay or continue with the eviction and cancel the rental agreement.
Delivering
This notice must be sent by:
Registered or certified mail with a return receipt;

Hand-delivered to the tenant; or

Left at the premises in the event the tenant is absent.
Statute: AS § 09.45.100(c)