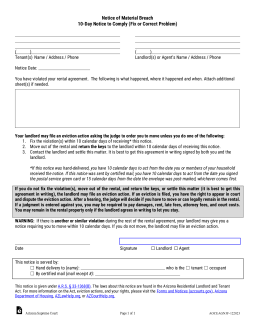 4.8 Stars | 10 Ratings
112 Downloads
Updated July 14, 2023
An Arizona 10-Day Notice to Quit (Material Non-Compliance) is a form used by the landlord or owner to notify a tenant of a material noncompliance or a material falsification by the tenant. In this notice to quit, the landlord shall describe the acts and omissions constituting the breach. If the breach is not fixed within 10 days after receipt of the notice, the agreement will terminate.
Any of the following may constitute as a material falsification if listed on the rental agreement or rental application:
Number of occupants in the dwelling unit, income of prospective tenant, pets, current employment and social security number.
Tenant's criminal records, current criminal activity, and prior eviction record.
Laws – A.R.S. 33-1368(A)