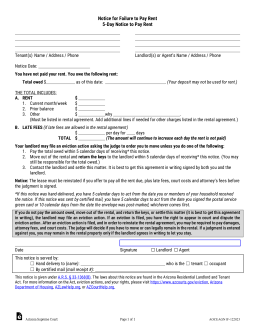 4.8 Stars | 22 Ratings
342 Downloads
Updated June 20, 2022
An Arizona 5-Day Notice (Non-Payment of Rent) form is used to notify the tenant that they have 5 days to pay the unpaid rent. If the tenant fails to pay the landlord the unpaid rent in full within the 5-day period, the tenant must vacate the property. On the 6th day, the landlord can file a forcible detainer action with the court to move ahead with the eviction.
Delivery Options
Personally delivered. Payment must be made within 5 days from the date the tenant received the notice.
Mail. Payment must be made within 5 days of the notice date or 10 days within the postage date, whichever is later.
It is prohibited to leave the notice at the premises in Arizona. All notices must be mailed or personally delivered with someone to accept at the subject property.