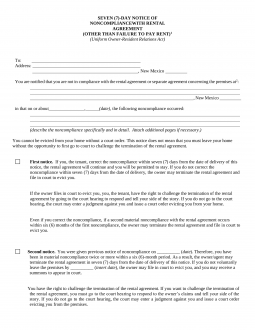 5.0 Stars | 3 Ratings
83 Downloads
Updated July 18, 2023
A New Mexico 7-Day Notice to Quit (Non-Compliance), also referred to as Form 4-902, is a document that specifies violations and describes the nature of the alleged breach committed by a tenant. Material non-compliance can be an act affecting the health and safety of the community or any other act which violates the rental agreement or any separate agreement. The landlord needs to describe the specific facts and nature of the alleged breach in this notice. The rental agreement between the landlord and tenant will terminate if the breach is not remedied within seven (7) days.
Laws – N. M. S. A., § 47-8-33
2nd Violation – This notice gives the landlord the ability to serve a tenant if they have committed their second (2nd) violation of the same breach within the past 6 months and, at the landlord's option, may choose to force the tenant to move-out with seven (7) days' notice. If that's the case, select the paragraph in this notice that coincides with that scenario. After completing the notice, delivery can be made in the following ways:
Hand delivered to the tenant at their place of residence (by this method, the landlord does not have to send a copy in the mail).
If tenant is unavailable, giving it to an adult on the property and mailing a copy by certified mail to the tenant's address.
If tenant and no other adult on the premises are available, leaving the notice securely taped to the door and sending a copy by certified mail to the tenant's address.