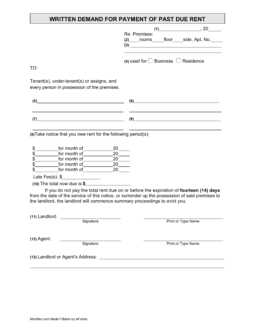 4.7 Stars | 60 Ratings
876 Downloads
Updated July 17, 2023
A New York 14-Day Notice to Quit, also known as a "Rent Demand" or "Demand for Rent," is a type of document used by landlords when a tenant residing in one of their rental units fails to pay rent on the due date. By serving this notice, the tenant will have 14 days following of notice to pay rent. New York state law does not require a notice to be in writing unless it is stated in the rental agreement. However, having it in writing is still the best choice for any landlord.
If the tenant refuses to deliver the property back to the landlord's possession after failing to pay rent within 14 days of notice, they will be in jeopardy of paying double the rent while occupying the rental unit.
Laws – RPAPL § 711(2)
Delivery
There are 3 ways which are accepted as proper delivery of the notice in New York:
Personal Delivery – Notice delivered personally to the tenant, however, the person serving the notice cannot be the landlord or owner.
Substituted Service – If the actual tenant is not available for service, give the notice to someone who works or lives on the property (the person can't be someone who just happens to be on the property). The person receiving the notice does not have to be an 18-year-old adult but they cannot be a small child. The following weekday, the landlord must mail 1 copy by certified mail and another copy by regular mail to the tenant.
Conspicuous Service – Delivery must be tried at least 2 times during the course of one day. If failed both times, the person serving may tape one copy to the tenant's door. The following weekday, 1 copy must be sent by certified mail and the other by regular mail.