Updated July 19, 2023
An internship offer letter is sent to an individual when offering an internship position. An intern is someone that agrees to work, is unpaid, and with no promise of future employment. Internships are sometimes required as part of University studies and immediately after graduating to obtain experience in their field of study.
Primary Beneficiary Test (7 rules)
When hiring an intern, an employer must follow these seven (7) rules:
That there is no promise of compensation;
That hands-on training is being provided;
That the position is tied to the intern's formal education;
That work-times accommodate any academic schedule;
That the internship period is limited to providing education;
That the work complements and doesn't replace a paid employee; and
That the internship does entitle permanent employment.
Source: Department of Labor
Internship Contract
If the offer is accepted, the intern is advised to sign a contract that verifies the offer's terms.
---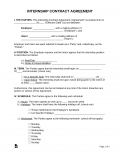 Internship Contract – Use to sign a legally binding agreement that secures the position.
Download: PDF, MS Word, OpenDocument
---
Sample Internship Offer Letter
INTERNSHIP OFFER
[EMPLOYER'S NAME]
[STREET ADDRESS]
[CITY, STATE]
[ZIP CODE]
Date: [DATE]
Dear [INTERN'S NAME],
[COMPANY NAME] ("Company"), is pleased to offer you an internship position with our Company in accordance with the terms below:
I. POSITION.
Title. [

POSITION TITLE

]
Duties. [

ENTER RESPONSIBILITIES

]
II. TERMS.
Supervisor. [

NAME

]
Start Date. [

START DATE

]
End Date. [

END DATE

]
Employment.

☐

Part-Time

☐

Full-Time
Expected Workdays.

☐

Mon

☐

Tue

☐

Wed

☐

Thu

☐

Fri

☐

Sat

☐

Sun
Expected Hours. [

TIME

]

☐

AM

☐

PM to [

TIME

]

☐

AM

☐

PM
Other. [

OTHER TERMS

]
III. CONDITIONS.
Acceptance. Intern must accept this offer by [

DATE

].
Background Report Required?

☐

Yes

☐

No
If the above-mentioned terms and conditions meet your qualifications for an internship, it would be our pleasure to work with you. Please accept our offer by contacting me at any of the following methods:
Phone: [PHONE]
E-Mail: [E-MAIL]
We happily look forward to the opportunity of working with you.
Sincerely,
____________________________, [PRINT NAME]
INTERN'S ACCEPTANCE
I, [INTERN'S NAME], hereby agree to the terms of the above offer of internship. I understand that this offer is non-binding with a separate agreement to be written afterward.
Intern's Signature: ____________________________ Date: [DATE]
Print Name: [INTERN'S NAME]