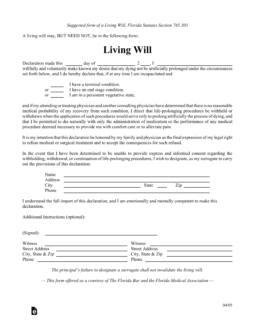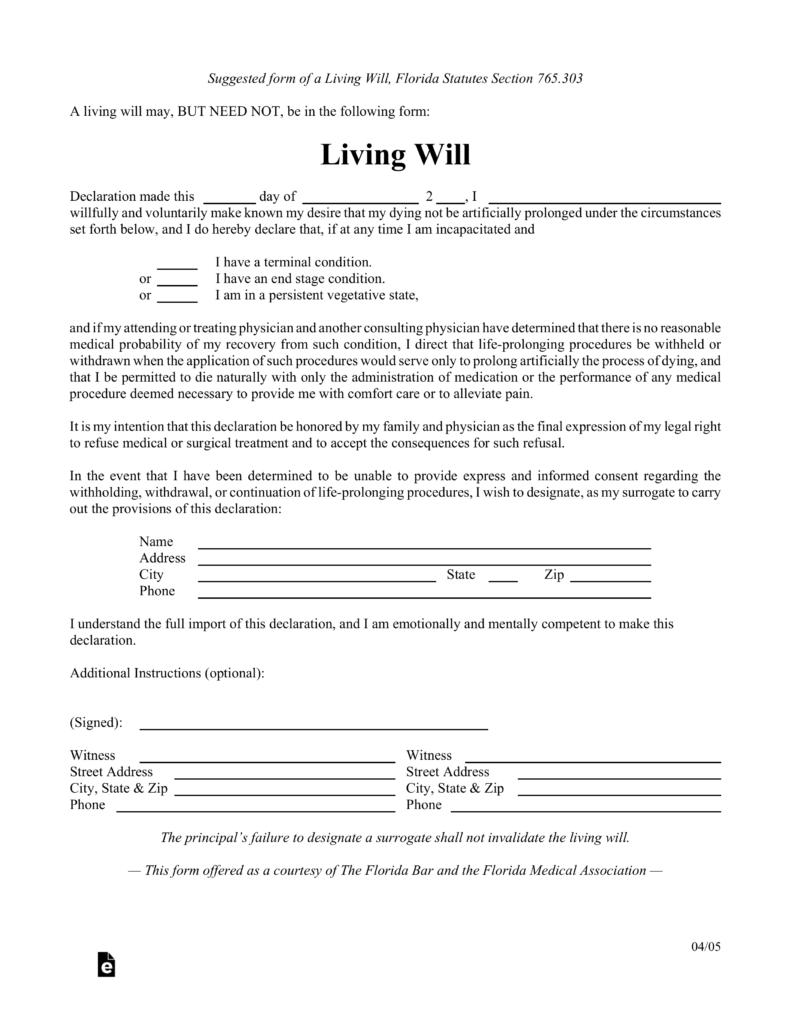 4.9 Stars | 135 Ratings
1,677 Downloads
Updated August 03, 2023
A Florida living will allows a person to create a healthcare directive that acts as a guide to medical staff on the person's preferred treatment options. The principal will designate their rights that, if anything should happen to them, whether to prolong their life or cease artificial respiratory or feeding.
Definition
"Living will" or "declaration" means:

(a)

A witnessed document in writing, voluntarily executed by the principal in accordance with s. 765.302; or

(b)

A witnessed oral statement made by the principal expressing the principal's instructions concerning life-prolonging procedures.
Laws
Signing Requirements – Two (2) witnesses with one (1) witness that cannot be a spouse or have blood-relation with the principal (§ 765.302(1)).
Statute – § 765.303
Versions (4)
---
Download: PDF
---
Download: PDF
---
Download: PDF
---
Download: PDF
---
How to Write
Download: PDF
Step 1 – Establishment of Principal – At the beginning of the first paragraph, enter the following information:
Date the document in dd/mm/yyyy format
Enter the full legal name of the Principal
Read the remainder of the statement and initial your selection as follows:
I have a terminal condition
OR
I have an end-stage condition
OR
I am in a persistent vegetative state
Step 2 – Continue to carefully review the remainder of the declaration, if in agreement enter the following:
Name
Physical Address
City
State
Zip Code
Telephone Number
Step 3 – If the Principal would like to make list of additional instructions, they may do so in the space provided. If more room is required, add a continuation sheet to the document. Once the additional instructions have been added (if any), enter the following:
Step 4 – Witness Signatures – Once the witnesses have had the opportunity to review the document completed by the Principal they must then enter the following information:
Witness 1 – 
Witness Signature
Street Address
City
State
Zip Code
Phone Number
Witness 2 – 
Witness Signature
Street Address
City
State
Zip Code
Phone Number
No notarization is required unless otherwise decided by the Principal