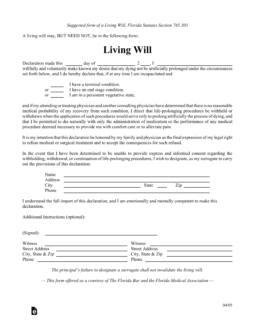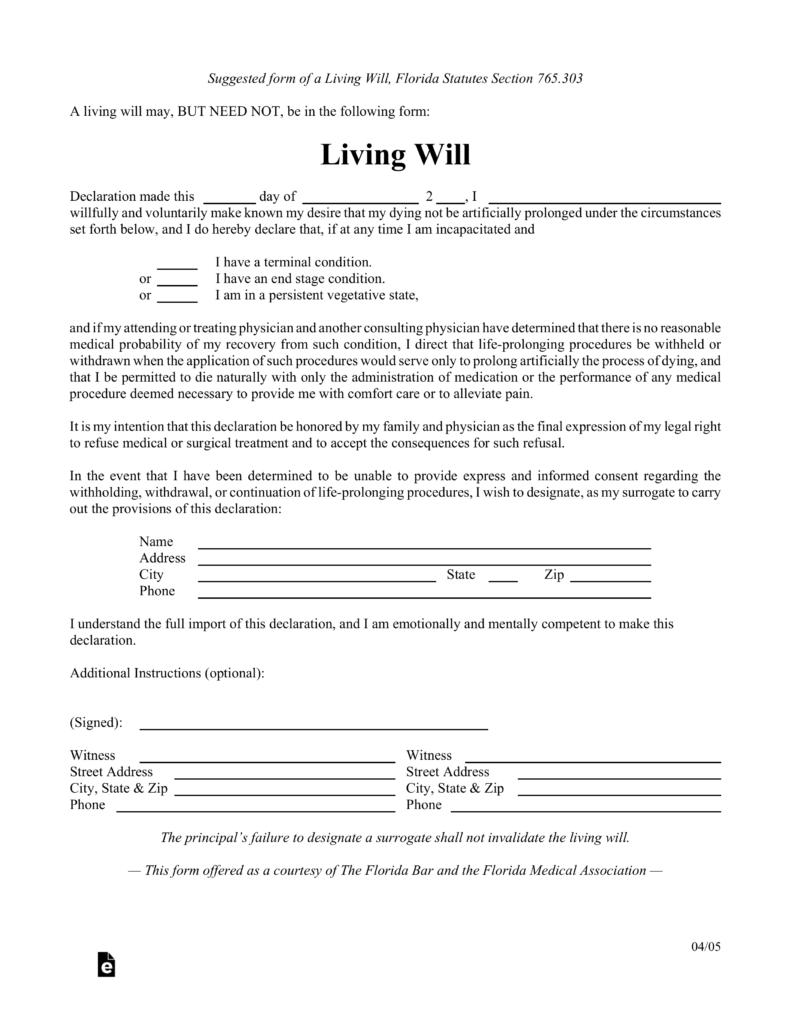 The Florida living will is a legal document which allows a Principal (yourself) to place into writing a document that specifically states your end of life desires with regard to your health care while you're of sound mind to do so. The purpose of this document is to provide the Principal the opportunity to direct any provision, the withholding of, or withdrawal of any life-prolonging procedures in the event one should have a terminal condition that has been diagnosed as unrecoverable. This document may be revoked at any time as long as the Principal is of sound mind to do so.
Definition – § 765.101(10)
Laws – § 765.303
Medical Power of Attorney – For the use of a patient that would like to elect a person to make decisions on their behalf in case they are not able to do so for themselves (incapacitated). This is used to compliment the living will as it uses a family member's or close friend's judgment when applying the principal's health care requests.
How to Write
Step 1 – Establishment of Principal – At the beginning of the first paragraph, enter the following information:
Date the document in dd/mm/yyyy format
Enter the full legal name of the Principal
Read the remainder of the statement and initial your selection as follows:
I have a terminal condition
OR
I have an end-stage condition
OR
I am in a persistent vegetative state
Step 2 – Continue to carefully review the remainder of the declaration, if in agreement enter the following:
Name
Physical Address
City
State
Zip Code
Telephone Number
Step 3 – If the Principal would like to make list of additional instructions, they may do so in the space provided. If more room is required, add a continuation sheet to the document. Once the additional instructions have been added (if any), enter the following:
Step 4 – Witness Signatures – Once the witnesses have had the opportunity to review the document completed by the Principal they must then enter the following information:
Witness 1 – 
Witness Signature
Street Address
City
State
Zip Code
Phone Number
Witness 2 – 
Witness Signature
Street Address
City
State
Zip Code
Phone Number
No notarization is required unless otherwise decided by the Principal