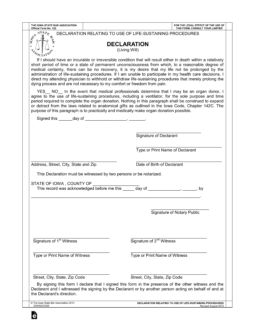 The Iowa Living Will is a legal document that will set forth the desired wishes of the Declarant/Principal, with respect to their decisions for medical care. Adults have the basic right to make decisions about their own medical care especially during an end of life situation. All persons have the right to decide whether they wish to receive specific medical treatments. A Declarant/Principal has the right to choose to decline medical procedures that may only prolong their dying process, or choose to use those procedures that will prolong their lives as long as possible. This document may be revoked at any time as long as the Declarant/Principal is of sound mind to complete the revocation.
Definition – § 144A.2
Laws – § 144A
Medical Power of Attorney – Allows for the patient to select a person (family or close friend) to have the decision-making power to handle their health care decisions as delegated in the document.
How to Write
Step 1 – Review of Statements and Organ Donation Decisions- The Declarant/Principal must carefully review the statements at the beginning of the form.
Once the statements have been reviewed make the following selection with regard to organ donation by initialing the selected Yes or No line preceding the statement
Date the Declarant's signature and information in dd/mm/yyyy format
Enter the following:
Signature of Declarant
Type or Print Name of Declarant
Physical Address
Street
City
State
Zip Code
Date of Birth of Declarant
Step 2 – The document must be signed by two (2) witnesses or witnessed and authenticated by a notary public, if using a notary:
The notary will witness the signature of the Declarant
The notary will then complete the required information and authenticate with the state seal
Step 3 – Witness Signatures – If the Declarant would like to have witnesses sign the document provide the following
Witness 1 – 
Signature of 1st Witness
Type or Print Name of Witness
Street, City, State, Zip Code
Witness 2 – 
Signature of 2nd Witness
Type or Print Name of Witness
Street, City, State, Zip Code