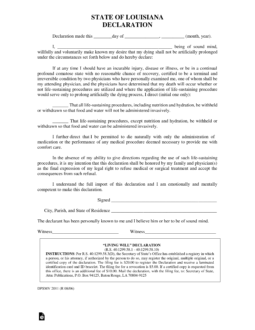 The Louisiana living will declaration is a written document that states a patient's wishes regarding the administration of life-sustaining treatments received when terminally ill and in an irreversible condition. Any adult can at any point create a written declaration so long as they are of sound mind. It is the responsibility of the declarant to ensure that their physician is aware of the written statement and that the document is accessible for such an event that it is needed. A written declaration in Louisiana must be signed before two (2) witnesses.
Definition – §1151.1(4)
Laws – § 1151.2
Registry List – Use the alphabetical list to register your living will after it has been completed.
Medical Power of Attorney – Designation given by the patient to allow someone else to be able to enforce health-related wishes in the principal's best interest.
How to Write
Step 1 – Establishment of Declarant/Principal – Enter the information as follows:
Date the top of the document in dd/mm/yyyy format
Enter the full legal name of the declarant/principal
Step 2 – Declarant/Principal End of Life Selections – The Declarant must review the next section in the document.
Once reviewed, select by initialing the line preceding your selected manner of the end of life treatment.
Read the remainder of the document and enter the Declarant's
signature
city
parish
state of residence
Step 3 – Witnesses – This document will require the signatures of two witnesses – Read the sentence for the witnesses.
If the witnesses agree, enter signatures respectively