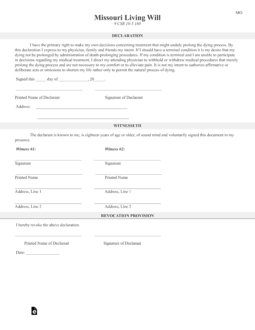 4.4 Stars | 9 Ratings
123 Downloads
Updated August 03, 2023
A Missouri living will is made by a person ("declarant") that states they would rather not prolong the dying process if they should be permanently incapacitated. This is often caused by a stroke or other injury that leaves a person with no realistic chance of being cured. Rather than live with breathing and feeding assistance, the declarant chooses to withdraw life-supporting treatments.
How to Write
Download: PDF
Step 1 – Declaration of Declarant/Principal – The Declarant must review the information at the top of the form. If in agreement enter the following:
Date the document in dd/mm/yyyy format
Printed name of the Declarant
Signature of the Declarant
Complete physical address of the Declarant
Step 2 – Witnesses – There must be two witnesses to acknowledge the document. Both must read the brief statement. If in agreement, enter the following:
Signature of witness
Printed name
Complete physical address
Step 3 – Revocation Provision – Should the Declarant decide against the living will they have created and are of sound mind, it may revoked at any time by providing the following information:
Printed name of Declarant
Signature of Declarant
Date of signature in mm/dd/yyyy format
Step 4 – Missouri Durable Power of Attorney for Healthcare – Enter the following:
Name of Principal/Declarant
Complete address of Principal
Full name of Attorney in Fact
Complete address of Attorney in Fact
Home telephone number
Work telephone number
Name of Alternate Attorney in Fact
Complete address of Attorney in Fact
Home Phone number
Work Phone number
Step 5 – Acknowledgement of Principal – Read the statement. If in agreement:
Enter the name of the Principal
Date of the document in dd/mm/yyyy format
Signature of the Principal
Step 6 – Notarization – Once the notary has witnessed all signatures, they will acknowledge by completing the remainder of the form as required by Missouri law and authenticating with the state seal.