A New Hampshire advance directive lets a person set up a durable power of attorney for health care and a living will. This allows someone to choose an agent to handle their health care needs, in case they cannot do so for themselves, and to outline their end-of-life care. This form is common to be completed by the elderly or individuals with health issues. The form becomes in effect after the person can no longer speak for themselves due to unconsciousness or incapacitation.
Table of Contents
Laws
Statute – Chapter 137-J (Written Directives for Medical Decision Making for Adults Without Capacity to Make Health Care Decisions)
Signing Requirements (§ 137-J:14) – Two (2) witnesses or a notary public.
State Definition – (§ 137-J:2(I)) – "Advance directive" means a directive allowing a person to give directions about future medical care or to designate another person to make medical decisions if he or she should lose the capacity to make health care decisions. The term "advance directives" shall include living wills and durable powers of attorney for health care.
Versions (4)
---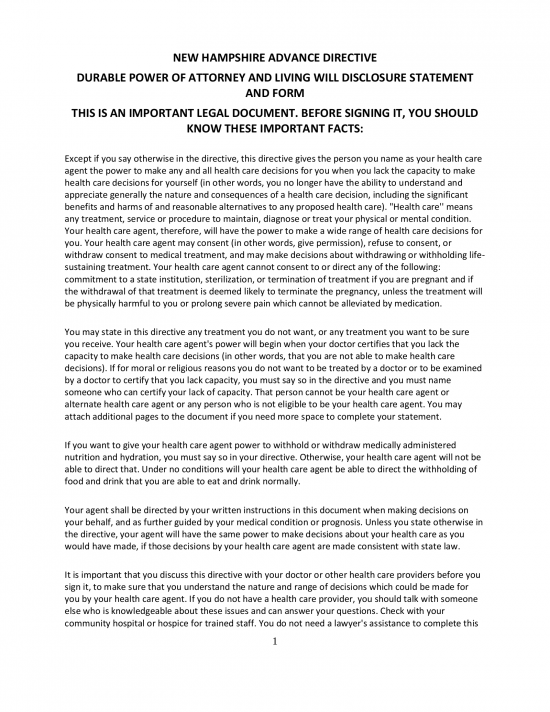 Core Physicians
Download: Adobe PDF
---
Download: Adobe PDF
---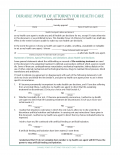 New Hampshire Health Care Assoc.
Download: Adobe PDF
---
Download: Adobe PDF
How to Write
Download: Adobe PDF
Step 1 – Durable Power of Attorney for Health Care – Enter the following in the lines provided:
Declarant's Name
Date of Birth
Appoint the agent in charge of your health care- Provide the Agent's name
Enter the Agent's complete address and telephone number with area code
If you would like to have more than one agent, they will be in charge according to how they are listed on your form:
Enter the name of your second choice for agent
Provide your 2nd agent's complete address and telephone number with area code
Step 3 –  The Declarant, must carefully read the statement provided and then move on to
Step 4 – Life-Sustaining Treatment – The Declarant must read the following sections. In each there are two health decision options;
Declarant must select either a. or b. in each section
Step 5 – Medically Administered Nutrition and Hydration – The Declarant must carefully review the information in this section and then:
Declarant must choose a. or b. – if not, the agent will have no right to stop complete withdrawal of nutrition and hydration
Step 6 – Explaining your instructions in further detail – The Declarant may choose none, 1,2 or all 3 selections in this section.
If the Declarant has even more instruction, more specific, they may type or write the information into the lines provided in this section
If more pages are needed, continue on added sheets and attach them to the document.
Once complete, go back to the end of this section and provide Declarant's printed name and date of birth
Provide the name of the institution or Doctor's office where a copy of this will be kept as well as any other person's who may have a copy of the document
Enter the date of the Declarant's signature to this section in dd/mm/yyyy format
Enter the Declarant's signature or the person authorized to sign for them
Step 7 – Witnesses -Witnesses must review the statement and then enter:
Witnesses Signatures respectively
Witnesses complete addresses
Step 7 – Notarization – Once the notary has witnessed the signatures, they will complete the form and acknowledge by affixing the state seal
Step 8 –  Living Will Section – Begin by dating this section in dd/mm/yyyy format
Enter the name of the Declarant
Declarant must read the statement  in the living will
At the end of the section, the declarant must make their selection by initialing a. or b. according to their preferences.
Declarant must read the remainder of the document, if in agreement and understanding
Date the section in dd/mm/yyyy format
The Declarant/Principal must then enter their complete signature
Step 9 – This living will must be witnessed by two unrelated witnesses –
The witnesses must review the brief statement, if in agreement
Both witnesses must enter their following information respectively
Witness Signature
Complete Witness address
OR
If a notary or Justice of the peace will be completing the form, they will complete the remainder of the form and acknowledge with their state seal
Related Forms
---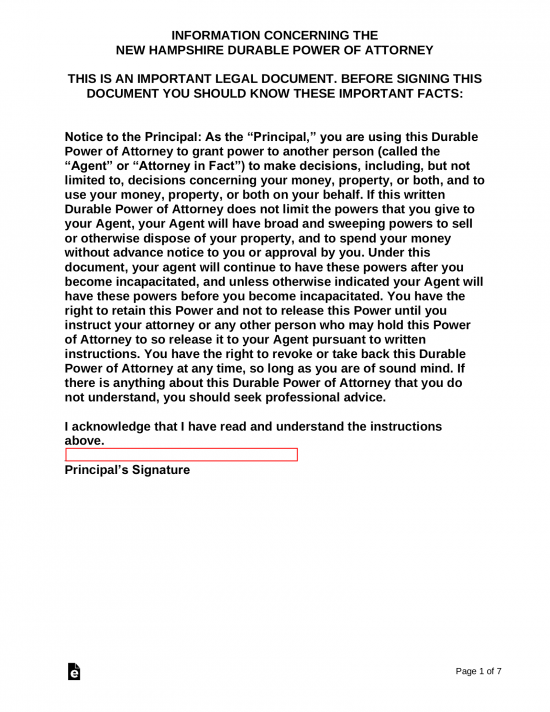 Durable Financial Power of Attorney
Download: Adobe PDF, MS Word, OpenDocument
---
Download: Adobe PDF, MS Word, OpenDocument