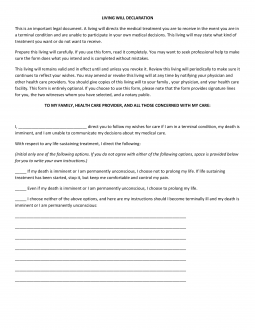 4.0 Stars | 1 Ratings
37 Downloads
Updated August 03, 2023
A South Dakota living will is a declaration that states a person's intentions to prolong their life or die a natural death. The declarant can also choose to enter their own end-of-life treatment instructions. After completing, the living will is required to be signed with two (2) witnesses and a notary public. It's recommended to also complete a medical power of attorney to elect an agent to carry out a declarant's wishes.
How to Write
Download: PDF
Step 1 – Begin by downloading the document and reviewing the vital information contained within the first section of the document
Step 2 – Addressing, family, caregivers, and physicians – (Establishment of Declarant/Principal)
Enter the name of the declarant/principal
Selections of Life-Sustaining Treatment – Read the information and selections
A declarant may read and select their options, if the options available are not what their true wishes are, enter their wishes in the lines provided on the form
Artificial nutrition and hydration – The declarant must read the brief statement and initial their selection as to whether they would or would not like to  have artificial nutrition and hydration
Step 3 – Signatures – After the declarant has completed the document it's important that they enter their information to include their signature
Continue the declaration by entering the date of the execution of the document and signatures of both the declarant and the witnesses in mm/dd/yyyy format at the top of the 3d page
Declarant Information- 
Enter your signature
Enter your physical address
Enter your date of birth
Enter your printed or typed name
In entering the witnesses signatures, you must read the brief statement just prior to providing signatures – If in agreement –
Witness 1 – 
Enter Signature
Enter Physical Address
Witness 2 – 
Enter Signature
Enter Physical Address
Step 4 – Notarization – As the notary has witnessed all signatures, he/she will complete the remainder of the document and authenticate with the state seal.