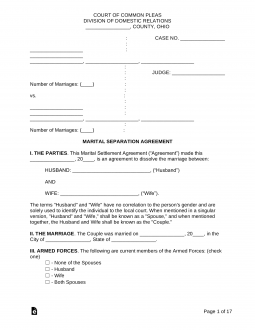 An Ohio marital settlement agreement, also known as a separation agreement, is a document used when two (2) spouses agree on all matters regarding their divorce/dissolution and are ready to put that agreement in writing. A settlement agreement explains how the spouses have decided to split their rights and obligations, such as their shared property and assets, child custody and visitation, alimony and child support, and their collective debts and liabilities. Once signed, this document becomes legally binding, but it does not enforce a dissolution of marriage. A settlement agreement is just one of the forms that is used during the process of terminating the marriage between the spouses. If the couple is having difficulty agreeing on certain matters, they may wish to hire attorneys or a neutral mediator.
Table of Contents
Divorce Laws
Statutes – Title 31, Chapter 3105 (Divorce, Alimony, Annulment, Dissolution of Marriage)
---
Alimony (§ 3105.018) – The determination of spousal support, including the nature, amount, duration, and terms of payment, shall be made by the court in consideration of the following factors:
Income
Earning abilities
Age and physical, mental, and emotion condition
Retirement benefits
Duration of marriage
Inability to seek employment due to custodian duties to a minor child
Standard of living established during marriage
Extent of education
Contribution of each party to education, training, or earning ability of the other party
Time and expense required for spouse seeking support to acquire education, training, or job experience to qualify for appropriate employment, provided it is sought
Tax consequences of spousal support
Lost income production capacity due to marital responsibilities
Any other factor deemed relevant by the court
Alimony Calculator – calculators.law
Child Support (Chapter 3119) – Child support is determined by calculating the combined annual income of both parents. The basic child support schedule is a table containing the guideline income column (combined incomes of parents) and basic obligation column (percentage of income to be used as support) depending on the number of children (§ 3119.022).
Child Support Calculator – Ohio Department of Job and Family Services
Division of Property (§ 3105.171) – The court shall determine what constitutes marital property and separate property. Separate property remains so, marital property shall be distributed equally. If equal distribution is deemed inequitable, the court shall divide the marital property in a manner determined to be equitable (equitable distribution law).
Grounds for Divorce (§ 3105.01) – Divorces can be granted by the court for any of the following reasons:
Either spouse was already married
Willful absence for one (1) year
Adultery
Extreme cruelty
Fraudulent contract
Gross neglect of duty
Habitual drunkenness
Imprisonment
Procurement of a divorce outside this state, by a husband or wife, by virtue of which the party who procured it is released from the obligations of the marriage, while those obligations remain binding upon the other party
Living separately without cohabitation for one (1) year
Incompatibility, unless denied by either spouse
Interim Support (§ 3105.18(B)) – During an action for divorce, the court may order either party to pay reasonable temporary spousal support to the other.
Residency (§ 3105.03) – The spouse filing for divorce must have lived in Ohio for at least six (6) months prior to filing a divorce action. If the spouses wish to file a no-fault divorce (dissolution of marriage), the residency requirement need only apply to one (1) spouse.
Separation (§ 3105.01(J)) – Legal separation of the spouses is not required to file for divorce in Ohio. However, if either spouse wishes to file for divorce on grounds of separation, the spouses must have been living separately for at least one (1) year.
How to File for Divorce in Ohio
Divorce Forms
Uncontested Divorce with No Children:
Uncontested Divorce With Children:
Step 1 – Dissolution of Marriage
In the state of Ohio, an uncontested divorce, more commonly referred to as a "dissolution of marriage," may be filed if the spouses agree on all issues relating to the termination of the marriage. These issues include, but are not limited to, spousal support, child custody, child support, and property division. Before filing for a dissolution of marriage, the spouses should gather all necessary paperwork and information regarding their finances, children, and property and ensure they are in total agreement. If they realize they don't agree on everything, they will have to file for a common divorce. To file for a dissolution of marriage, one (1) of the spouses must have lived in Ohio for at least six (6) months and one (1) of the spouses must have lived in the county in which the divorce is being filed for at least ninety (90) days.
Step 2 – Complete Required Forms
The petition for a dissolution of marriage can be filed jointly by the spouses. The following forms need to be completed by the spouses before filing:
If the spouses have any minor children, the following forms must also be completed:
If a spouse wishes to revert to their maiden name after the divorce, it must be requested in Article 10 of the Petition. Otherwise, they will be required to file a petition for name change with the court, which is a lengthier process.
*These three forms (Confidential Disclosure, Certificate of Assignment, Waiver of Representation) are provided by each county's court of common pleas. Spouses will have to contact the court of clerk to obtain these forms. 
Step 3 – File Petition
Two (2) copies of each form should be made, three (3) if the case involves minor children. Actions for the dissolution of marriage are to be filed with the court of common pleas in the county in which one (1) of the spouses has lived for ninety (90) days. Filing fees vary from county to county; it could be as little as $150 or as much as $400. The clerk will assign a case number to the action and schedule a hearing date with a judge, which will be between thirty (30) and ninety (90) days from the filing date.
Step 4 – Hearing
Before the hearing date, the spouses must prepare a Judgment of Entry – Decree of Dissolution of Marriage (Form 18), avoiding all fields meant for the judge. This form and all other pertinent forms and documentation should be brought to the hearing. The judge will confirm that both spouses are indeed in agreement with all matters relating to the dissolution of their marriage. If all the paperwork is in order, the judge will approve the petition and sign the Decree of Dissolution of Marriage.