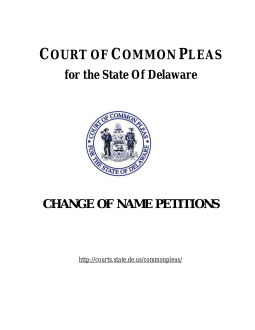 4.3 Stars | 6 Ratings
121 Downloads
Updated July 14, 2023
Delaware name change forms can be used to petition the Court of Common Pleas to change the name of an adult for reasons other than marriage or divorce. Each county in Delaware has its own set of forms and filing procedures. Therefore, the applicant should be sure to follow the instructions relative to the county in which they reside.
Name Change After

Marriage
A new last name can be established using the marriage license application. After your marriage is finalized, obtain a certified copy of your marriage certificate from the Office of Vital Statistics. Certified copies can be obtained by mail or in person for a fee of $25 per copy.
After obtaining the certified copy, notify the Social Security Administration and DMV to acquire updated identification documents.
Name Change After

Divorce
When filling out your dissolution paperwork, which includes the marital settlement agreement, you must expressly state your intention to revert to your former name. After filing the paperwork, use your divorce decree as legal evidence of your name change.
You can get a certified copy of the decree by submitting a written request to the Records Department in the county where the divorce was granted. It will be accepted by the Social Security Administration, DMV, and other agencies that have your former name on file.
How to Change Your Name (4 steps)
1. Complete Change of Name Petition and Affidavit
2. Notarize Document
The Change of Name Petition and Affidavit must be signed in the presence of a notary public.[1] Notary services are available in many public libraries, postal and passport service offices, local government buildings, and police stations.
3. File With the Court of Common Pleas
File your application with a clerk at the Court of Common Pleas in your county.[2] With your filing, include the following:
Notarized Change of Name Petition and Affidavit
A copy of your birth certificate
Photo identification
Documents relating to any previous name changes
An $85 filing fee is required to file the application.[3] To apply for a fee waiver, complete an Application and Affidavit to Proceed in Forma Pauperis (Civil Form 49). Sign it before a notary public and submit it to the court.
4. Attend Hearing
The court will assign you a hearing date when your application is filed. Arrive 30 minutes prior to your scheduled hearing in order in appropriate courtroom attire. If your petition is approved, the judge will issue a signed Order. You will be issued eight certified copies; additional copies can be purchased for a fee of $10. This document will serve as proof of your name change when updating your personal identification documents.
Driver's License
You will need to update your social security card before changing the name on your driver's license. To update your social security card, visit a local Social Security Administration (SSA) office and submit the following:
A new social security card showing the new name will be delivered to you by mail.
After your name has been changed, and after you have updated your social security card, you must contact the DMV within 30 days to obtain a new driver's license. Go to a Delaware DMV and provide an agent with the following:
Current driver's license
Original or certified copy of your name change document (e.g., marriage certificate, court order)
Updated social security card
Payment for the $1.15 processing fee[4]
A new driver's license will be issued after the above items have been provided to the DMV.
Voter Registration
The name recorded on your voter registration can be updated online by signing into the elections website and selecting the option to change your name. You can also update your information by submitting a new Voter Registration Form to the Department of Elections in your county.
Along with the registration form, you must present your Delaware driver's license or ID card and a copy of either a current bank statement, utility bill, government check, or other government document showing your name and address.
Sources