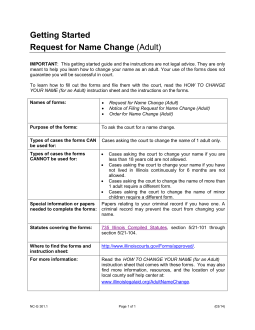 4.9 Stars | 15 Ratings
167 Downloads
Updated November 28, 2023
Illinois name change forms allow a resident over the age of 18 to petition for a legal name change unrelated to marriage or divorce. The petitioner must have lived in Illinois for six months or longer and cannot be a registered sex offender.
Name Change After

Marriage
Your marriage license application will contain a space in which you can specify a new last name. Enter the name in the space and file the application with the circuit court. After the license is received and the ceremony has taken place, the individual who officiated the ceremony will deliver the license to the clerk's office. Next, request a certified copy of your marriage certificate from the Division of Vital Records by submitting the following to the Division:
The certified copy of your marriage certificate can be used as proof that your name has changed.
Name Change After

Divorce
Illinois law permits you to revert to your former name as a result of divorce. The process can be accomplished by completing a marital settlement agreement and making a request on your divorce petition before filing it with the circuit court. After your divorce proceedings have been finalized, request a certified copy of the divorce decree by submitting the following items to the circuit court:
A valid form of identification
Payment for the $5 fee
Once you have received the certified copy of the divorce decree, use it as proof of your name change when updating your personal accounts, such as your social security card and birth certificate.
How to Change Your Name (7 steps)
1. Determine Eligibility
If you are above the age of 18 and have lived in Illinois for at least six months, you can request a name change by filing forms with the circuit court in your county. With some narrow exceptions, you may not change your name if you have been convicted of a felony, sex offense, or identity theft.[1]
2. Select Application Process
Name change petitioners in Illinois have several options for completing and filing the required forms. Illinois Legal Aid Online and Odyssey Guide and File each offer free guided online interviews that fill out the required forms for you based on your answers to questionnaires. The Odyssey system will help you file your forms electronically upon completion.
All Illinois courts accept standardized name change forms. Petitioners can download these and fill them out independently by following the steps outlined below.
3. Prepare Forms
The Illinois Supreme Court has approved the following name change forms for acceptance by all courts in the state. Prepare these documents by filling out your information:
Illinois law requires name change petitioners to publish notice of the name change hearing. If you believe that making this information public would put you at risk, you can file a Motion to Waive Notice & Publication (NC-WNM 306.1) instead of the Publication Notice.[2]
6. Publish Notice
If you did not file a Motion to Waive Notice & Publication, notice of your name change request will need to be published in a newspaper circulating in your county. Contact a local newspaper and arrange to have your Publication Notice published one time each week for three successive weeks. The first article must be published no less than six weeks prior to your court hearing.
Certain newspapers may charge a fee for publication. If you cannot pay the publication fee, you can ask the court to cover the cost by filing a Motion (MN-M 703.3).[4]
Once this process is complete, contact the newspaper to request a Certificate of Publication. The newspaper will either send the Certificate to you by mail, send it directly to the clerk, or ask you to collect it n person. If you personally receive the Certificate, make a copy and file the original with a circuit clerk before your hearing.
7. Attend Hearing
Arrive at the courthouse at least 30 minutes prior to your hearing. Ensure that you bring the following documents:
Stamped copies of:

Request for Name Change
Publication Notice 
Certificate of Publication

Order for Name Change
Any other related forms (e.g., sentence discharge papers, statements relating to criminal offenses)
Photo identification
Ask the circuit clerk to direct you to the proper courtroom. Approval or denial of your request will be recorded in the Order for Name Change document. The judge will sign this document and return it to you for filing with the clerk. Ask the clerk to create certified copies to use for updating your social security card, driver's license, birth certificate, and other personal documents. A fee may be required for each certified copy.
Driver's License
Your social security information will need to be updated before a change to your driver's license can be made. Therefore, you must submit Form SS-5 to the Social Security Administration (SSA) by mail or in person. Along with the form, include the following:
Name change document
Proof of identity
Proof of citizenship
Review the list of accepted documents to see what items can be used. After changing your social security information, you must visit a Secretary of State office within 10 days of changing your name. You must provide the Secretary of State with the following:
Current driver's license
Name change document (see acceptable documents)
Payment for the fee ($0-$5; varies by age)[5]
Your new driver's license will be mailed to you after the items above have been received by the Secretary of State.
Voter Registration
The name recorded on your current voter registration can be updated through the submission of a Voter Registration Form. Enter your new name in box (1) and specify your former name in box (6). Fill out the remaining spaces of the form and send it to a Board of Elections office. Alternatively, you can update your name by registering online.
Sources