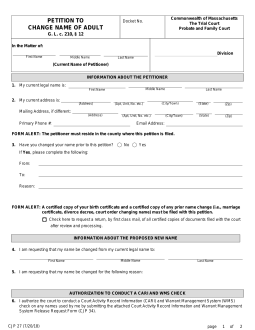 4.3 Stars | 9 Ratings
137 Downloads
Updated August 14, 2023
Massachusetts name change forms are used to apply for a legal name change by state residents. Court proceedings are required for adult name change petitions, but for name changes following marriage or divorce, an official petition is not required and can be handled as part of the marriage or divorce process.
Name Change After

Marriage
Adopting a spouse's surname can be accomplished by indicating the desired change on the marriage license application. After the wedding, the name is automatically changed and the marriage certificate can be used as legal proof of the name change when updating personal records and forms of identification.[1] Certified copies of the marriage certificate can be obtained by submitting an online request to the Registry of Vital Records and Statistics.
Name Change After

Divorce
An individual getting a divorce can revert to their surname or former married name by indicating a name change on the marital settlement agreement and Complaint for divorce (CJD-101), Joint Petition for Divorce form (pursuant to G.L. c. 208, § 1A) (CJD-101A), or Counterclaim for Divorce (CJD-202).[2] In Massachusetts, an individual may only assume a previous surname as a part of divorce proceedings and must file a separate petition if they wish to change their name to anything else.
A certified copy of the divorce decree, which can be obtained from the Probate & Family Court where the decree was issued, can be used as legal proof of the name change. A child's name cannot be changed as part of the divorce.
How to Change Your Name (7 steps)
1. Fill Out Petition to Change Name
To file a petition with the Probate and Family Court, the individual must first fill out the Petition to Change Name of Adult (CJP 27). This form requires the petitioner to provide their current name, address, the proposed new name, and an explanation of why they want to change their name. Once completed, the petitioner will need to sign the form in the presence of a notary public.
2. Gather Documents
Before filing their petition, the individual will need to assemble the following documents as necessary:
Certified copies of birth certificates can be obtained from the Registry of Vital Records.[3]
3. File Paperwork 
In Massachusetts, there are three ways to file a petition for name change:
4. Pay Filing Fee 
In order to file their Petition to Change Name of Adult, the petitioner must pay a fee of $150 as well as an additional $15 surcharge and, if required, a $15 publication fee.[4] Not all counties in Massachusetts accept checks or credit cards as methods of payment, so it is recommended to check with the county court before attempting to file a petition.
If the petitioner is unable to pay the filing fee and qualifies under the federal poverty income guidelines, they may apply for the court to waive or supplement the fee by filing the Affidavit of Indigency.[5] You may check your eligibility and file online.
5. Publish Notice of Name Change
The name change must be published in a local newspaper. This is required in order to give members of the public an opportunity to object to the name change. The court will send the petitioner a Citation for Publication that must be published in a local newspaper.
If you have a good reason for the name change not to be made public, you must file a Motion (CJD 400) to waive the publication along with an affidavit with sufficient reasoning. A judge may need to hear additional statements to avoid publication.
If required, the citation must be mailed in accordance with the instructions given in the order of notice from the court. The mailing must be by certified mail, return receipt requested.
7. Receive Court Decree
If there is no objection to the petitioner's name change and the judge sees no legal reason to deny it, the judge will grant a Decree of Change of Name. This court order will serve as legal proof of the name change by the individual. A certificate of this document may be requested for a fee of $20.[6]
Driver's License
To update your name on your driver's license, you must make an appointment with a Registry of Motor Vehicles (RMV) Service Center. Bring one of the following documents to prove your legal name change:
Marriage certificate
Divorce decree
Court order
In addition, you must bring the following documents to the appointment:
Updated social security card
Proof of residency
The fee to update your driver's license is $25.[7]
Voter Registration
After updating your name with the RMV, you can update your voter registration by using the Massachusetts Online Voter Registration System. It can also be updated by completing a Voter Registration Form and delivering it in person or by mail to your local elections office.
Sources