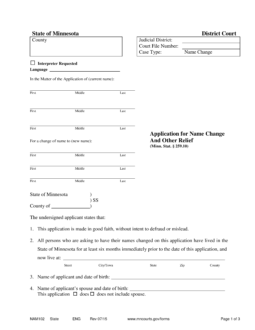 4.9 Stars | 11 Ratings
143 Downloads
Updated August 16, 2023
Minnesota name change forms can be used to apply for a legal name change with the county court. Most requests are accepted as long as they are not deliberately fraudulent, misleading, or unintelligible. These forms are typically not required for name changes related to marriage or divorce.
Name Change After

Marriage
In Minnesota, residents can change their name when applying for a marriage license by entering their desired name on their application. Once the marriage is complete, a marriage license and certificate will be issued to the couple by their courthouse. A certified copy of the marriage certificate can be used to update their records. To obtain a copy, contact the County Vital Records Office.
Name Change After

Divorce
A person may change their name as a part of their divorce proceedings either to revert to their previous surname or to adopt a new surname. This name change should be indicated on the marital settlement agreement and divorce petition. Once the judgment is final, a certified copy of the divorce decree can be used to change the name on their social security card, driver's license, passport, and other documents. To obtain a copy of the decree, contact the District Court in the county that granted the divorce.
How to Change Your Name (6 Steps)
1. Verify Eligibility
The applicant must be at least 18 years old and a resident of Minnesota for at least six months.
[1]
2. Complete Court Forms
To start the process, complete the following forms:
Application for Name Change (NAM102) — This form can also be used to change the names of multiple parties. If you have a spouse or any minor children, their names and birth dates must be provided, even if you are the only one having your name changed.[2]
3. Provide Property Descriptions
If you have a claim, interest, or lien on any real property in Minnesota, attach legal descriptions of each property to your application. Legal descriptions can be obtained from your local
County Recorder's Office
.
4. File With District Court
Bring the following documents to the District Court in your county:
Application for Name Change (NAM102)
Criminal History Check Release (NAM103)
Proposed Order Granting Name Change (NAM107)
Document(s) describing real property
State-issued photo ID
The fee for filing a name change petition is $285.[3] Those who are unable to afford the fee may use the Affidavit for Proceeding In Forma Pauperis (IFP 102) to apply for a waiver.
5. Attend Hearing
Upon receiving your application, the court administrator will assign you a hearing date or tell you how to schedule one.  You will be required to attend with two witnesses who have known you for at least one year. If there is no objection from the public or suspicion of fraudulent intent, the judge will approve your request by signing your Order Granting Name Change.
6. Required Notices
After the court order is signed, obtain at least two certified copies from the court administrator to use as your proof of name change. You must file copies with the County Recorder of any county in which you claim an interest in land.
[4]
If you have a criminal history, you must notify the
MN Bureau of Criminal Apprehension (BCA)
within 10 days.
[5]
Driver's License
After changing your name, you must update your driver's license within 30 days. Use the online pre-application for faster service. When you go to the driver and vehicle services office, bring the following:
Current driver's license
Proof of name change (court order, marriage certificate, or divorce decree)
Fee[6]
Voter Registration
Before you are eligible to vote following a legal name change, you must update your voter registration online, in person, or by mail. To change your voter information online, use either the online registration webpage or the PDF application with your name change indicated in the "Registration Updates" section. Once completed, mail the application to the Secretary of State:
Secretary of State
60 Empire Drive
Suite 100
St. Paul, MN 55103
Sources