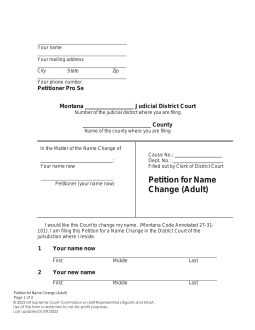 4.8 Stars | 4 Ratings
95 Downloads
Updated August 14, 2023
Montana name change forms can be used by a resident to petition for a legal name change. If the desired name change is related to divorce or marriage, a name change petition is not required.
Name Change After

Marriage
If an individual wants to adopt the surname of their spouse or a hyphenated joint family name, they can simply indicate it on their marriage license application.  After the wedding, the couple will be able to obtain certified copies of their marriage license from the clerk of court in the county where the marriage license was issued. This document can be used as legal proof of the name change.
Name Change After

Divorce
A Montana resident can change their last name during the divorce process by indicating the name change in their marital settlement agreement and divorce decree. Once the divorce is final, they will need to request a certified copy of their divorce decree from the clerk of the district court where the divorce was granted. This document will serve as legal proof of the name change.
How to Change Your Name (6 steps)
1. Complete a Petition for Name Change
Download and fill out the Petition for Name Change. Be sure to sign and date it. This is the first document in the Name Change Packet provided by Montana courts. By submitting this form, you are asking the court to change your name and set a hearing date. Make a photocopy of the completed form for your records.
2. Prepare the Additional Required Forms
For a standard name change, prepare the following forms by completing only the top portion of each.
If you are changing your name because your safety is at risk, prepare only the following form instead.[1] By doing so, the record will remain sealed and public notice will not be required.
Complete the top portion by providing only the judicial district, county, and your current name. After preparing your forms, make a photocopy of each one for your records.
3. File Your Forms at the Courthouse
Along with a self-addressed, stamped envelope, take your Petition for Name Change and the other forms you have prepared to the Clerk of the District Court's office at your county courthouse. The cost to file varies by court. If you cannot afford to pay the filing fees, ask the Clerk for an Affidavit of Inability to Pay (the title of this form may vary by county). If approved, the fees will be waived.
File your documents with the Clerk. Be sure to have your photocopies stamped "filed" and keep them for your records. Give the Clerk your stamped, addressed envelope and ask for two conformed copies of the Order Setting Hearing after the judge has signed it. If you don't have a fee waiver, you may be charged for these additional copies.
4. Publish the Notice of Hearing
Once the judge sets a hearing date, you will receive your copies of the Order Setting Hearing and Notice of Hearing. You must publish the Notice of Hearing in a county newspaper for a minimum of four weeks before the hearing date.[2] After this requirement has been completed, the newspaper will provide you with a "proof of publication". You will need this for your hearing.
If there is no newspaper in your county, you must post a copy of the notice in at least three public places for four consecutive weeks.
You will skip this step if applying for a name change when your safety is at risk.
5. Complete the Order for Name Change
Before your hearing, fill out the Order for Name Change as completely as possible. Along with identifying information, you will provide your current name and the name you wish to change it to. Leave blank any spaces that are reserved for the court's use only. Make a copy of this completed document for your records.
To complete this step if your safety is at risk, you will use the Order for Name Change (Under Sealed Record) instead.
6. Attend Your Hearing
Be sure to arrive at least 15 minutes early and bring all of your records. At your hearing, the judge will consider your petition and rule on your name change. If approved, the judge will sign your Order for Name Change, thus granting your legal name change.
Immediately after your hearing, take the signed order to the Clerk of court and obtain several certified copies to be used as legal proof when updating your driver's license, birth certificate, and social security card. If you don't have a fee waiver, you may be charged for these certified copies.
Driver's License
To change your name on your driver's license or ID card, schedule an in-person appointment at a Montana Motor Vehicle Division (MVD) Driver License Station.
Bring a certified copy of one of the following documents to serve as legal proof of your name change:
A court decree or judgment granting the name change
A marriage certificate or declaration of marriage
A divorce decree or dissolution of marriage specifying the name change[3]
The required fee ranges from approximately $6 to $70, depending on the age of the applicant and type of license requested.[4]
Voter Registration
To update your voter registration with your new name, download and complete the Montana Voter Registration Form, selecting "Name Change." Once you have filled out the form, mail or hand-deliver it to your county elections office.
Sources