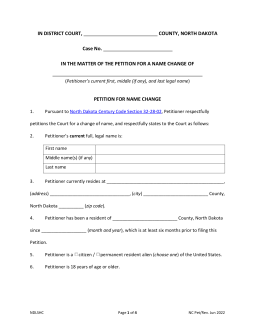 5.0 Stars | 1 Ratings
33 Downloads
Updated August 14, 2023
North Dakota name change forms can be used by a resident who is 18 years old and over to request the court for a name change. For name changes related to marriage or divorce this can be accomplished as part of marriage or divorce proceedings without the need for a petition.
Name Change After

Marriage
To make the name change official, indicate the desired change on the marriage license application. Once the marriage ceremony has been performed and the officiant has signed the license, file the document with the clerk of court.
Obtain at least two certified copies of the marriage certificate to use as proof of name change. Copies can be requested from the relevant county office.
Name Change After

Divorce
If you wish to have your original surname restored after a divorce, include the name change in the marital settlement agreement. The name will be officially changed once the divorce is finalized.
Use the divorce decree as proof of name change when updating personal ID, bank accounts, and government registrations. Copies of divorce records can only be obtained from the court clerk or recorder in the county where the divorce was granted.
How to Change Your Name (8 steps)
1. Complete Notice of Petition for Name Change
Before you file your petition, you must complete the Notice of Petition for Name Change and send it to a newspaper of record for your county of residence. Once you have paid the publication fee and your notice has been published, the newspaper will provide you with an Affidavit of Publication, but you will not be able to file your petition until 30 days have passed from the publication date.
This publication requirement can be waived if you are either changing only your first or middle name, or if you are a victim of domestic violence.[1]
2. Complete Petition for Name Change
Once you have published the Notice of Petition for Name Change, you can fill out and sign the Petition for Name Change, except for the case number, which a court clerk will supply later. This document represents your formal request to the court that your name be legally changed.
3. Complete Affidavit of Petitioner
Next, you must complete the Affidavit of Petitioner, on which you provide the reasons for wanting to change your name. A name change petition will be rejected if the court determines that a name is being changed in order to defraud or mislead someone, is not being done in good faith, will cause injury to someone, or will compromise public safety.[2]
As with all of the other required forms, leave the case number field blank until a court clerk gives it to you.[3] Your signature on this form must be notarized, so leave the signature and date fields on the final page blank until you sign the document in the notary's presence.
4. Complete the Confidential Information Form
On the Confidential Information Form, you will need to provide your birth date. (This information will not be shared with the public, but name change applications, like most court documents, are generally public records.) Fill out and sign this form, leaving the case number blank.
5. Complete the Order Granting Name Change
Although the judge will sign the Order Granting Name Change if your petition is approved, applicants are expected to fill in this for the judge to save time. Prepare this form by filling out all of the fields except for the case number, date, and signature fields.
6. File Documents with District Court
After completing the steps above, gather the following documents:
Petition For Name Change
Affidavit of Petitioner
Confidential Information Form
Notice of Petition for a Name Change
Order Granting Name Change
Affidavit of Publication
Any written objections that you may have received to the name change
If you are asking the court to waive the publication requirement, you will not need the Notice of Petition and Affidavit of Publication. It is recommended that you make at least two copies of all your documents.
Name change petitions must be filed in the clerk's office of the district court for the county in which you reside.[4] The filing fee is $80.[5] In the event that a court hearing is set for your petition, the clerk of the district court will provide you with the date and location.
7. Complete Criminal History Background Check (if applicable)
If the court decides that you need to provide a criminal history background check, they will inform you after your petition has been filed. To complete a request for a Federal Bureau of Investigation (FBI) background check, complete the Identity History Summary Request Form and mail it to the following address with a fee of $18.
FBI CJIS Division – Summary Request
1000 Custer Hollow Road
Clarksburg, West Virginia 26306
FBI background checks handled by mail can take up to two months to process.[6] Depending on where you live in the state, it may also be possible to file your application online using the bureau's Electronic Departmental Order page, which is generally much quicker.
8. Receive Court Order/Attend Hearing
A court hearing is not required for name changes in North Dakota, but if the court decides that one is necessary for your case, you will need to attend it with copies of all your documents.
If your petition is approved, the judge will sign your Order Granting Name Change. You will need to obtain at least two certified copies of the order from the Clerk's Office to use as your proof of name change when updating all of your personal and governmental accounts and registrations.
Once your name has been changed, it is your responsibility to change the name on your ID, bank accounts, passport, and social security.  There is a $15 fee to amend a birth record.[7] Once amended, there is an additional $15 for each Request for a Certified Copy of a Birth Record.
Driver's License
To change the name on your driver's license, you must make an appointment with the nearest Driver's License Site and bring one of the following documents to prove your name change:
A certified copy of marriage certificate
A certified copy of divorce decree
A certified copy of Order Granting Name Change
If you do not need to renew your driver license, you will be required to submit a $3 fee and have a new picture taken.[8]
Voter Registration
Voter registration is not required in North Dakota. Instead, residents only need to show their current photo ID at their polling place to vote in a current election. Therefore, once you have updated your photo identification following a name change, you can vote in upcoming elections using your new name and identification.[9]
If your ID doesn't display your address, you will also need to bring proof of your address (such as a utility bill, or bank statement) to the polling station when you vote.
Sources