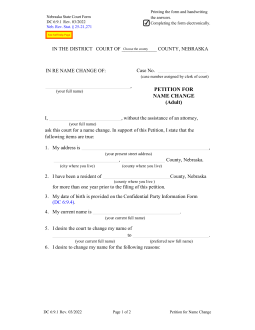 5.0 Stars | 6 Ratings
71 Downloads
Updated August 14, 2023
Nebraska name change forms are used by adult residents to legally change their name for reasons other than marriage or divorce. To be eligible, individuals must have lived in the county where the petition will be filed for at least the past year. Additionally, any person under 19 years old must either be legally emancipated (liberated or independent of their family) or married pursuant to Nebraska law.
Name Change After

Marriage
To change your name as part of a marriage, indicate the desired name change on your marriage license application. Once the wedding ceremony has taken place, the officiant will sign the license and submit it to the county clerk. Once the marriage certificate is issued, this serves as legal proof of your name change when you update government registrations, IDs, bank accounts, and more. To obtain certified copies of the marriage certificate, contact the county clerk.
Name Change After

Divorce
To change your name as part of a divorce, you may include a request to revert to a previous name in your marital settlement agreement, petition for dissolution, and divorce decree. You will also need to present evidence of your former name to the court. Once your divorce is final, you will be able to obtain certified copies of the divorce certificate from the Clerk of the District Court in the county where it was granted. This certificate can be used as your proof of name change when updating your IDs and registrations.
How to Change Your Name (9 steps)
1. Prepare Your Documents
If you are eligible to change your name in Nebraska, download and prepare the following documents for filing.[1] Some forms have detailed instructions that should be reviewed before completion:
If publishing the Legal Notice for Publication would put you at risk, skip this form. Instead, you will ask the judge to waive this requirement by preparing the following forms:
2. Pay the Filing Fee
When you submit your documents, you must pay the filing fees. If you cannot afford the filing fees, you may submit a Request to Proceed Without Payment of Fees. To submit the request, ask the clerk for the appropriate fee waiver forms. You will need to complete these forms and submit them with your other prepared documents. If your request is approved, you will not be required to pay filing fees.
3. File Your Documents with the District Court
Take the following documents to the Clerk of the District Court in the county where you reside:
Petition for Name Change
Confidential Party Information
Registration of Email Address for Self-Represented Litigant
You should bring photocopies of each of your documents and ask the clerk to stamp them as "filed". Retain these for your personal records. The clerk will give you a receipt for your documents and a case number will be at the top of the receipt. This is your case number and it must be included on each of your documents.
4. Confirm Your Hearing Date
When filing, the clerk may or may not assign you a hearing date. If the clerk doesn't give you a hearing date, be sure to get the contact information for the bailiff in the courtroom where your case has been assigned. You will need to contact the court directly to confirm your hearing location, date, and time.
5. Publish the Notice of Name Change
Once you have confirmed the details of your hearing, you will be able to complete the following form (skip to step seven if the judge waived your publication requirement):
This document acts as legal notice regarding your name change, and it must be published in a local newspaper once per week for four consecutive weeks before your hearing can take place.[2] If you do not complete this step, your hearing will be delayed.
Once the publication of your notice has been completed, the newspaper will provide proof of publication. Some newspapers will send the proof of publication directly to the court; others will give it to you for filing with the clerk.
6. Mail the Published Notice to Interested Parties
Within five days after the
Legal Notice of Name Change
has been published for the first time, you are required to mail a copy to all interested parties
.
[3]
Examples of interested parties include:
Family members
Creditors
Government agencies
7. Complete the Decree of Name Change
Complete the Decree of Name Change (DC 6:9.3). Be sure to leave the date and signature fields blank. You will bring this with you to your hearing. The judge will sign and date it if your name change is approved. Some courts require that you bring more than one completed copy. Before your hearing, check with the clerk's office to confirm the required number of copies.
8. Attend Your Hearing
You must attend your hearing and you should be prepared to provide testimony. To prepare, read and complete the Instructions for Your Adult Name Change Hearing (DC 6:9).
The judge will consider all of the information and make a decision. If granted, he or she will sign and date your completed Decree of Name Change.
Once it is signed, the judge will give the decree to you or to a court staff member. If the judge gives the decree directly to you, take it immediately to the clerk and file it. Your name change will not be completed if the decree is not filed.
9. Obtain Certified Copies of the Decree
Once the Decree of Name Change has been filed with the clerk, you can request certified copies. Certified copies are required to change your name on your driver's license, voter registration, and social security card. Be sure to obtain a sufficient number of copies to accomplish all of your name changes. If you do not have an approved fee waiver, you may be charged for these copies and the cost can vary by county.
Driver's License
By law, you are required to apply for a new driver's license or ID within 60 days of your legal name change.[5] In order to apply for your new driver's license, you must present yourself at your local driver's license office with the following documents:[6]
Current driver's license
Evidence of name change (marriage certificate, divorce certificate, court order, or social security card)
Two different proofs of address (utility bill, bank statement, government check, etc.)
Required fee[7]
You will be given a temporary driver's license to use until you receive your new driver's license by mail. It should take around 14 days for your new ID to be delivered. If you have a vehicle title in your previous name, you should renew your title or obtain a duplicate with your new name.
Voter Registration
Updating your voter registration with your new name can be completed online. If you prefer to update your information by mail or in person, complete the Nebraska Voter Registration Application and mail or deliver it to your county election official.
Sources