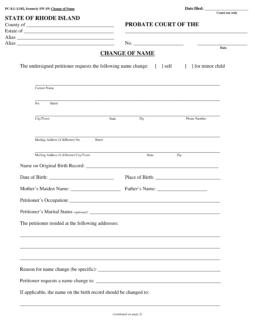 4.8 Stars | 6 Ratings
170 Downloads
Updated August 14, 2023
Rhode Island name change forms can be filled out by any resident wishing to change their name. This form must be completed, signed in front of a notary public, and filed with the probate court in the county where the petitioner resides. A petition is not required for name changes related to a marriage or divorce.
Name Change After

Marriage
Taking a spouse's last name after marriage does not require a petition and can be accomplished with the marriage license application. When a marriage license is issued, this can be used as official proof of the legal name change.
You can obtain a certified copy of a marriage license at the Rhode Island Department of Health's Center for Vital Records. It can also be ordered via mail by completing an Application for a Certified Copy of a Marriage or Civil Union Record and sending it to the Center for Vital Records with the required fee of $25.[1]
Name Change After

Divorce
A person can revert to their maiden name after a divorce by stating their desire to do so in the marital settlement agreement so that it gets included in the final divorce decree. Certified copies of the divorce decree and a birth certificate can be used to update the name on file with the Social Security Administration and the DMV.
To obtain a certified copy of a divorce decree, visit the Rhode Island Supreme Court Judicial Records Center. It can also be obtained via mail by sending the case number, a telephone number, a self-addressed stamped envelope, and the filing fee of $25 to the following address:[2]
Rhode Island Supreme Court
Judicial Records Center
5 Hill Street
Pawtucket, Rhode Island 02860-3913
How to Change Your Name (6 steps)
1. Complete Change of Name Petition
Fill out the Name Change Petition (PC-8.1) and enter all the appropriate information except for your signature, which must be done in the presence of a notary. The judge will fill out the Decree section at the bottom of the form if the name change is approved.
3. Obtain Certified Copy of Birth Certificate
The Name Change Petition must be accompanied by a certified copy of your birth certificate showing your given name. This can be obtained from the state's Center for Vital Records.
4. Get a Background Check
To change your name, you must obtain a background check from the state Bureau of Criminal Identification and Investigation (BCI). Depending on where in the state you reside (and plan to file) the court system may be able to order the background check when your application is filed. Contact the nearest courthouse to the city or town where you reside to determine the policy.
If you must independently obtain a background check, you can request one through the RI Attorney General's Office.
5. File Petition at Courthouse
Attach a copy of the BCI report and your birth certificate to your Change of Name Petition and file your paperwork with the probate court for your city or town. Note that Rhode Island probate courts do not meet as regularly as other courts.
The filing fees vary by jurisdiction. The court clerk will provide a date for you to return to the courthouse and either attend a hearing or pick up your signed decree. This date is usually about 30 days from the filing date.
6. Attend Hearing
Unless the judge has already signed the decree approving your name change, you will be asked to visit the courthouse again to attend a hearing in front of the judge. The judge may ask you a couple of questions, or they may want you to give an official statement.
In Rhode Island, judges are not allowed to consider whether or not an applicant's spouse consents to a name change in deciding whether to grant the petition.[3] If they grant the change of name, they will sign the Decree section of your Change of Name Petition. Ask the clerk to make certified copies of the Decree so you can change your name on any legal documentation.
Driver's License
Under Rhode Island statute, you must notify the Division of Motor Vehicles within 10 days of your name change becoming effective.[4]
Before you can change your name on your Rhode Island driver's license, you must first update your social security card with the Social Security Administration. To do so, complete Form SS-5 and submit it, along with proof of identity, to a Social Security Administration office.
Once your Social Security card is updated, visit your local DMV office and submit the following documents:
Current RI driver's license
Proof of name change (i.e. Social Security card, marriage certificate, divorce decree, or court order)
The fee for updating your driver's license is $27.50.[5]
Voter Registration
Voter registration can be updated online through the Voter Information Center. You can also update it by mail or in person by completing the Rhode Island Voter Registration Form and submitting it to your local board of canvassers.
Sources